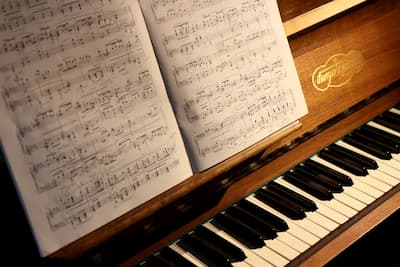 Pianists are very spoilt for choice. We have a huge repertoire to draw on and a seemingly endless array of music to explore, with new music being added to the repertoire all the time. In addition, in the world of piano teaching, there are many wonderful collections and anthologies of music to tempt and inspire pianists of all ages, levels and tastes. From the "core classics" of piano literature by Bach, Haydn, Mozart, Beethoven, Schubert, Brahms, Chopin, Rachmaninoff, Debussy, Bartók, and more, to transcriptions of works for other instruments, songs from the shows, jazz, world and pop music, there is no need to be stuck for repertoire ideas.
And yet those of us who play or teach regularly know that sometimes it can be confusing or difficult to find new repertoire. Less experienced players may find it hard to discover new pieces to play and may be nervous of seeking out new repertoire without guidance, so piano teachers can help here. Going to live concerts or listening to the radio or a streaming service can also offer new ideas, and you will also discover new repertoire by talking to other pianists and piano teachers. Never feel you should learn something: unless there is a valid musical/technical reason to learn certain pieces (a teacher might recommend a particular Étude to practice an aspect of technique), it is far better to select music which you know you will enjoy playing. Finding new pieces can also signal an advance in our progress, a sense that we're moving forward on our musical journey.
From a piano teaching perspective, one of the many roles of teachers is to introduce their students to new repertoire and encourage them to explore the wonderful breadth of literature for the piano which exists today.
Here is a selection of repertoire from easy to advanced to try if you're stuck for ideas – from more traditional pieces from the Classical and Romantic eras, to impressionistic, minimalist and jazz-inspired pieces, and even a transcription of a famous song from a musical, arranged by one of the world's greatest concert pianists.
BEGINNER/EASY
Minuet in F – Leopold Mozart
Leopold was the father of Wolfgang Amadeus Mozart and was a music teacher and composer in his own right. This attractive little Minuet is a good introduction to music from the early Classical period and has plenty of scope for imaginative playing as well as some technical challenges, including different types of articulation, chords, mixed note values, octaves and black notes.
Leopold Mozart: Nannerl's Music Book – No. 2. Menuet in F Major (Alessandro Deljavan, piano)

A Sad Little Tale – Kabalevsky (from 30 Children's Pieces, Op. 27)
Like Bartok, Dmitry Kabalevsky wrote music for children which is both characterful and enjoyable to play but also has pedagogical value, and his Op. 27 suite of pieces is definitely worth exploring from a piano teaching perspective. A Sad Story is highly evocative, its melancholy mood highlighted through piquant harmonies which underpin an expressive, cantabile melody reminiscent of a folksong.
Kabalevsky: 30 Children's Pieces, Op. 27 – No. 6. A Sad Little Tale (Tristan Pfaff, piano)

Northern Light – Karen Tanaka
Contemporary Japanese composer Karen Tanaka often draws inspiration for her music from the natural world. In this atmospheric piece she evokes the mystic wonder and myriad colours of the Northern Lights. This attractive, consonant piece is a very good introduction to contemporary music, and especially minimalist music, for early students and contains both technical and artistic challenges – compound time, crossed hands, use of the sustaining pedal and expression.
Tanaka: Northern Light (Signe Bakke, piano)

INTERMEDIATE
March: 'Song of the Lark' – Tchaikovsky
Tchaikovsky composed one of the most famous piano concertos in the repertoire, but his solo piano music reveals a different aspect of his musical personality. The Seasons, 12 short pieces of contrasting characters and moods, is a lovely introduction to Tchaikovsky's music. 'Song of the Lark' evokes birdsong in a lyrical, ornamented melody while the mood of the piece hovers between hope and reflection: spring is coming and the lark is in fine voice, but the chill of the Russian winter still remains, at least for a few weeks more…
Gargoyles – Lowell Liebermann
Gargoyles are decorative architectural features, often in the form of animals or monsters, found on buildings to serve as rainwater spouts. The third movements of Lowell Libermann's Gargoyles suite has an atmosphere of serene delicacy, created through arpeggio fragments in both hands, overlaid by a simple upper melody, high in the treble register, the use of both the una corda (soft) and sustaining pedal, and fluctuations in dynamics and tempo. The piece has the flavour of an Etude by Chopin or Liszt – technically challenging but also very beautiful and satisfying to play. Liebermann's music has often been described as "neo-Romantic" and this piece would appeal to anyone who likes the water-inspired music of Liszt, Debussy or Ravel.
Liebermann: Gargoyles, Op. 29 – III. Allegro moderato (Yutong Sun, piano)

ADVANCED
Carillon Mystique – Mel Bonis
The music of French composer Mel (Melanie) Bonis has only recently become more widely known. She studied at the Paris Conservatoire alongside Claude Debussy and her music was praised by Camille Saint-Saens. A "carillon" is a set of tuned bells in a belfry, often with quite a wide range of notes. In this expressive piece, Bonis evokes both the resonant chiming of individual bells as well as the tinkling cascades of the carillon. The pedal is used to create bell-like sonorities and also adds to the spiritual character of the piece, as implied by "Mystique" in the title.
My Favorite Things – Richard Rodgers, transcribed for solo piano by Stephen Hough
British pianist Stephen Hough is also a composer and his transcriptions for solo piano of popular melodies from the musicals Carousel, The King and I and The Sound of Music elevate familiar songs such as 'My Favorite Things' (memorably sung by Julie Andrews in the film The Sound of Music) to virtuosic concert pieces. Here there are myriad different keys, fugues, chaconnes, sparkling ornaments and glittering runs, but the essence of the original tune shines through all these devices. These devices save the piece from becoming too camp or mawkish and instead it comes across as a Lisztian take on Richard Rodgers' original. Great fun to play.
Rodgers: The Sound of Music: My Favorite Things (arr. S. Hough) (Stephen Hough, piano)

Blue Air from Colour Suite – Madeleine Dring
I discovered this piece when I was commissioned to write piano teaching notes for the new syllabus by one of the UK's major music exam boards – proof that one can stumble across new repertoire quite unexpectedly.
Madeleine Dring was an English composer who specialised in miniatures and her Colour Suite comprises five pieces each inspired by a particular colour. 'Blue Air' has a languorous, bittersweet character, redolent of the music of George Gershwin and Cole Porter in its bluesy harmonies and nostalgic mood. This atmospheric piece has plenty of scope for expressive playing and will suit an ambitious player with a penchant for jazz, who is confident with syncopation and poly-rhythms.
Dring: Colour Suite – IV. Blue air (Leigh Kaplan, piano)

These are just a few suggestions from the vast repertoire for the piano, but I hope these pieces will inspire you to explore further – perhaps by seeking out more music by the same composer or maybe finding a particular genre of music which really appeals to you. By delving further into the piano's large repertoire, you will find exciting musical pathways and embark on a wonderful voyage of discovery.
For more musical inspiration, articles on piano teaching, pianists, repertoire and composers, reviews of new releases and much more, why not subscribe to the Interlude HK E-Newsletter?