The late 20th century and early 21st century were times of upheaval – whole populations on the move to escape war, to escape famine, to escape persecution, to just escape from the crumbled world that surrounded them. For the more affluent countries within reach, this great influx of refugees caused problems starting with how to absorb this horde of people. Eventually, they would be sorted and organized, some sent back and others made part of the general society. Borders would close and open as the great mass of humanity pushed its way to safety, or to what they perceived as safety.
Vasilije Mokranjac (1923-1984) was a Serbian composer (Serbia was part of Yugoslavia when this work was written) from a distinguished musical dynasty. His piano writing is musically complex and wide-ranging and demands virtuosic skills on the part of the performer.
Six Dances, or as one commentator said, three dances in two blocks, was composed over a seven-year period, 1950 to 1957. Some of the dances sound like Mussorgsky and some like folk song, one is concerned with temperament and another is about rhythm. The work as a whole connects the contemporary with the Romantic.
The first movement combines Mokranjac's own style of neo-romanticism with elements of jazz and blues. You'll hear a bit of Bartók's style in there, as well.
Mokranjac: Six Dances: No. 1. Moderato (Işıl Bengi, piano)

Pianist Işıl Bengi left her home country of Turkey and went to Belgium to study at the conservatory and hasn't returned. Attending conservatory isn't the typical refugee path, but changes in her home country, and many of the feelings she had, such as homesickness, questioning if the right decision had been made, and a longing for 'home' paralleled the feelings in the general mass movement.
Her January 2020 release of HiKAYE ('Stories') took music from all over Europe to show the places that she'd been or been influenced by. Turkey, Greece, Armenia, the former Yugoslavia, Switzerland, and Belgium all have a place on the album. Japan shows up at the end for a melancholic ending.
The recording is a thoughtful and beautiful musical look at the emotions of a refugee through the countries she travelled through. All of the composers come from countries that have become places of transit, either departing or arriving.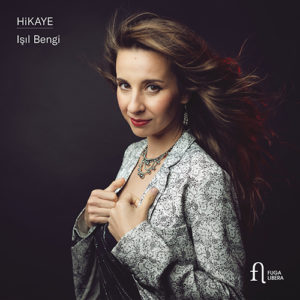 Mokranjac: Six Dances: No. 1. Moderato

Performed by
Işıl Bengi

Official Website