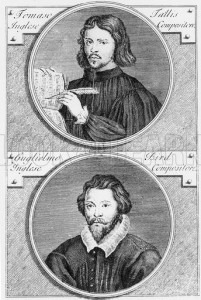 Forget about unattainable lovers, idealized beauty or threatening nature! When it comes to artistic inspiration and musings, nothing has been more popular than death! Indeed, death is a cruel mistress to us all! Gruesome inevitability aside, death has inspired some of the most beautiful and most personal human artistic expressions. Take for example the haunting lament Ye sacred muses, composed by William Byrd in 1585. Byrd touchingly captures the esteem and veneration he held for his teacher and colleague Thomas Tallis. Tallis was appointed composer and organist at the Chapel Royal in 1542. This group of musicians was employed by English Monarchs to perform religious services for the household. Tallis was considered the most important English composer during the middle decades of the 16th century, and his music reflected the religious upheavals and political changes that affected English church music during this period. William Byrd was his composition student, served as assistant organist, and played for choral rehearsals. And Tallis also was godfather to Byrd's son Thomas!

Tallis and Byrd lived in an age of conflict between Catholics and Protestants in England. And Byrd's loyalties were rather severely divided between the two religions. He and his wife were devout Catholics, yet at the same time he held positions in Anglican churches and wrote music for their services. In addition, he had to carefully navigate the volatile political climate. Most of his patrons were fellow Catholics, but the Earl of Northumberland was executed, and Lord Thomas Paget had to flee England in the aftermath of a supposed pro-Catholic plot against Queen Elizabeth I. As anti-Catholic sentiment was rising in England, Byrd and his family were frequently cited as recusants. This simply means that they were absent from services in the Church of England, which could lead to imprisonment and rather hefty fines. However, Byrd was considered loyal to the crown and protected from the harshest punishments because his noble patrons and the queen held him in high esteem.

Actually, it was the queen herself that significantly contributed to Byrd's career. In 1575, she granted to Thomas Tallis and William Byrd a 21-year monopoly for music printing and for lined music paper. This monopoly covered, "set song or songs in parts, composed in English, Latin, French, Italian, or other tongues as long as they served for music in the Church or chamber." Tallis and Byrd immediately took advantage of the patent and produced a collection of 34 Latin motets dedicated to the Queen herself. In spite of good intentions, the book did not do well commercially. Byrd retained the printing patent after Tallis' death, and he gradually retired from active service in the Chapel Royal. Tallis was buried in the chancel of the parish church of St. Alfege, Greenwich. His burial was marked with a brass memorial, lost during WW II. However, Byrd's lament has gloriously endured over the centuries.

Ye sacred Muses, race of Jove,
whom Music's lore delighteth,
Come down from crystal heav'ns above
to earth where sorrow dwelleth,
In mourning weeds, with tears in eyes:
Tallis is dead, and Music dies.
William Byrd: Ye sacred muses