The Parisian salon quickly distinguished itself from court mannerisms by eliminating social hierarchy and encouraged the mixing of different social ranks and orders. "It stimulated socializing between the sexes and brought nobles and bourgeois together, eventually breaking down social barriers and transforming the salon into an institution of Enlightenment." According to the 18th century French philosopher Jean Jacques Rousseau, "A whole world of social arrangements and attitude supported the existence of French salons: an idle aristocracy, an ambitious middle class, an active intellectual life, the social density of a major urban center, sociable traditions, and a certain aristocratic feminism." From the early beginnings of the Enlightenment and through the French Revolution, the Restoration, and all the way into the second half of the 20th century, the Parisian salon was shaped and molded by political, cultural and social currents. And as you might well imagine, music played an important role!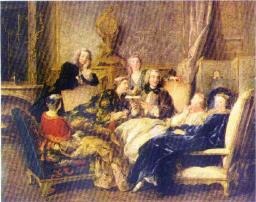 Over the years, Marie Trélat (1837–1914) hosted an extremely fashionable Friday evening salon at 6, rue de Seine. At the age of twenty she had married the famous surgeon Ulysse Trélat, whose patients had included Napoléon III. Fauré, Widor, Saint-Saëns, Massenet, Bizet, Gounod, Charles de Bériot, and Henri Duparc frequented her famous "Fridays," alongside poets Renan, Sully Prudhomme, Hérédia and the academic painters Henner Bonnat and Carolus-Duran. And even more impressively, she was an excellent amateur singer whose mother had studied with Rossini. Fauré wrote, "she is a rare musician, although not a professional singer: and yet, she was the equal of many of the great divas of that last age, the age of bel canto. Supported by a technique which was her greatest asset, she possessed a very pure art, and enlightened awareness, and a deeply moving sensitivity."

Madame Trélat was the vocal tutor of numerous young women of privilege who sought distinction in the salons through their singing. And one of her charges was Lydia Eustis. Trélat wrote to Lydia, "I have had news from Fauré who is absolutely stunned by your voice, your grace and your talent!" One of Fauré's masterpieces "Lydia" was apparently inspired by his fondness for the interpreter, and it is duly dedicated to Mme Marie Trélat.

Gabriel Faure: "Lydia," Op. 4, No. 2

This famous and fashionable muse was also the dedicatee of songs by Massenet, Franck, and Bizet, who became a close personal friend. He took part in many performances in her house and corresponded extensively with her. His setting of "Rose d'amour," a slow-paced contemplation of a rose buffeted by the north wind but caressed and loved by the south wind, pays tender homage to the famous salonnière.

Georges Bizet: Feuilles d'album, No. 5 "Rose d'amour"

Apparently, Charles-Marie Widor also was a lively participant, and described as "a delightful companion, launching from time to time into a tongue-in-cheek epigram, always willing to lend his superb talent to the proceedings." In addition, Widor dedicated his

Six melodies

Op. 14 to Marie Trélat. The Parisian salons always had the distinction of generating a good deal of gossip. And when Tchaikovsky, always a keen observer of sexual tension came to Paris in 1888, he wrote in his diary "Widor at Saint-Sulpice. The Mass. He is an excellent organist. Madame Trélat is his mistress."

Charles-Marie Widor: Six melodies, No. 1 "Nuit d'étoiles"M

Beginning in the late 18th century, something magical happened in Paris on Friday! As a contemporary observer wrote, "Friday is the day that was adopted by most artists as the day to entertain; on this day, everyone visits their painter. You can measure the importance of a painter by the number of cars parked outside his mansion on a Friday." But Friday was not only the day to visit your favorite atelier; it was also the preferred day for the Parisian salon. These venerable gatherings served as a meeting ground for group discussion on issues of political, social, and cultural discourse. As an extension of the institutionalized court where royal women of leadership entertained the city elite, it became a cultural institution. Women of the aristocracy or from the upper bourgeoisie, commonly known as "salonnières," organized the salons from their homes. They set the agenda for individual gatherings, and helped to bring writers, artists, philosophers, musicians and other patrons together.