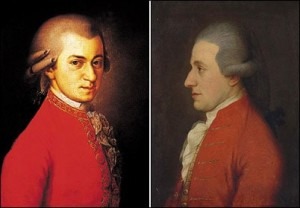 Full of optimism, Wolfgang Amadeus Mozart arrived in Vienna in 1781 ready to make his mark on the Viennese musical scene. By sheer coincidence he was introduced to the Baroness Martha Elisabeth von Waldstädten. She was thirty-seven at that time and estranged from her husband who owned a large estate in a nearby village. The Baroness was uninhibited, seductive and highly experienced in the ways of word; however, she was also an excellent amateur pianist and took an instant liking to Mozart. She probably took a couple of piano lessons from Wolfie, and although he was planning for his marriage to Constanze Weber, he was certainly attracted to her. It has been suggested, "The relationship between them, whatever kind it might have been, was the only one in Mozart's life that followed the familiar pattern of a liaison between an experienced older woman and a relatively inexperienced young man."

Mozart celebrated his feast day on 31 October 1781 at the Waldstädten residence in the suburb of Leopoldstadt. He arrived at noon, and that evening, when everyone in the house was getting ready for bed, he was surprised to hear out his window six musicians perform his Serenade for Winds, K. 375. The musicians, according to Wolfgang, were "poor beggars who, however, play quite well together, particularly the first clarinet and the two horns." The Baroness maintained a private finishing school for young women at her residence. She even accommodated Mozart's fiancé Constanze Weber, who was quarreling with her mother, three times at her residence in 1781 and 1782. During this period, Mozart sat for a portrait session with Joseph Hickel, a painter to the Imperial Court of Austria. He was dressed in a red tunic and a white ruff, with a wig of grey hair and an elegant but slightly hooked nose. Mozart wrote to the Baroness, "I really must have a coat like that, as it's worth it just for the buttons that I've been hankering after for some time. They are mother of pearl with some white stones around the edge and a beautiful yellow stone in the center." Almost instantly, the Baroness had the coat made as a gift for Mozart.

Wolfgang Amadeus Mozart: Rondo for Piano and Orchestra K. 382
In August of 1782, Mozart and Constanze got married, and Baroness von Waldstädten provided the newlyweds with an extravagant, "princely" wedding dinner at her home. In a letter dated 2 October 1782, Mozart tells the baroness that he is sending her a gift of some books and the Rondo in D for Piano and Orchestra, K. 382. He also describes his "unhappiness, sighing and moaning as he watched her in all her beauty at a ball." We don't know what happened after the ball, but Mozart writes, "You smile! You blush! Ah, yes—I am indeed happy. My fortune is made! But alas! Who taps me on the shoulder? Who peeps into my letter? Alas, alas, alas! My wife! Well, well, in the name of Heaven, I have taken her and must keep her!" He then concludes, "My wife, who is an angel of a woman, and I, who am a model husband, send you 1000 kind wishes, and remain your Ladyship's faithful vassals." By January 1783, however, the relationship had cooled significantly. In a letter to his father he declares the Baroness "changeable as the wind," and when Leopold inquires about a prospective piano student Wolfgang responds, "I know her all too well and that at times one should be on guard with her, as she has a habit of taking men into her service for herself and not for her children, and then dismissing them. You may put whatever construction you like on this. Suffice it to say that the result of these scenes is that people speak very lightly about her." The relationship might not have lasted, but the Rondo for Piano and Orchestra K. 382 certainly did!