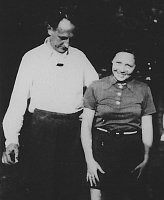 In 1937, Bohuslav Martinů visited the city of Prague to prepare for the premiere of his opera Julietta. During that visit, he met the highly talented composer Vítĕzslava Kaprálová, who had written her first two compositions for piano solo by age nine. Kaprálová, twenty-five years younger than Martinů, had long admired the older composer. It might well have been love at first sight for both, and so it was quickly decided that she should continue her studies with him in Paris. Kaprálová managed to secure a scholarship and by October 1938 was studying conducting with Charles Munch and composition with Martinů in Paris. She became his student and his lover, and they began composing wind trios to rival each other. They even composed respective "Love Carols" for each other! In the event, Martinů was hopelessly in love with Vítĕzslava, and vice versa. The trouble was that Martinů was still a married man!

Vítĕzslava Kaprálová: Partita, Op. 20
She lodged in a hotel overlooking the Luxembourg Gardens, and Martinů showed her the city. He called her Vítĕzslava Pisnicke (Little Song), and she mysteriously nicknamed him Špalíček (little chunk of wood), but his wife, the seamstress Charlotte Quennehen soon received anonymous letters telling her of the clandestine affair.

Charlotte did not want to believe the content of the letters and simply threw them away. By late summer of 1938, Vítĕzslava's scholarship had expired and she was forced to return to her native Czechoslovakia. Between 11 September and 31 December 1938, Martinů wrote her thirty-seven letters and a picture postcard. "I am so longing to see you," he wrote, "and I know that you belong to me and only me and then I can't believe that you could only be mine. You are my only sunshine, my only warming ray that gives me courage and I just can't see how I could stand it if you don't come and if you were not with me all the time. Can't you understand how I feel when I cannot exist without you and when I see you going further and further away?"

By Christmas 1938, Martinů had decided to leave his wife and to ask Vítĕzslava to move in with him. In a series of long and heart-felt letters, he writes; "I'd like you to think about me a lot and remember me, and because it seems that I'll be sad here without you during the holidays, but then I will remember that you are happy at home and that you love me, and that you are looking forward to seeing me, nor not. And tell me, tell me, my Little Song, would you like to be always with me… I would like it so much if one day we had Christmas for the two of us, for the two of us alone, or at most with a tiny crying thing, would you want that? You know, my Fairytale I am convinced that you would be happy with me and that I would do anything to make you content, smiling, and merry, and we would have a Christmas tree and presents and love. After all, I have been expecting you for a long time, my Little Fairytale, I knew that one day you would appear in my life and bring me strength and happiness… I ask myself whether I have the right to request that you join your life with mine when there are so many obstacles, serious and insurmountable…Oh, my Little Flower, my Little Seahorse, you have caused such a confusion in my little head, and I must have been a cause of several bitter moments of yours."

We don't know if Vítĕzslava ever directly responded to Martinů's invite of cohabitation, but when she returned to Paris in January 1939, the mood had changed. Although she stayed on friendly terms with Martinů and even had a couple of composition lessons, her attention had shifted to the Czech writer, Jiri Mucha. She told a friend that Martinů was simply too old for her, and that he was incapable of leaving his wife. Martinů was devastated, but his grief was soon overshadowed by his concern for her health. When Kaprálová married Jiri Mucha on 23 April 1940, she had long been diagnosed with tuberculosis. The following month her condition worsened dramatically, causing acute and severe abdominal pain. Martinů penned a long and concerned letter, "You don't write so I assume that you must have had your surgery and that I have to be patient and believe that everything will now turn to the better. Well, perhaps not everything but at least all that concerns you, and so as soon as it is possible, write me a letter or send me good news, will you? This is such a surreal world in which we all live, and I in particular, because for me something has ended so abruptly, something that was filling my life or at least a big part of it, and now it is over so suddenly, so quickly that I haven't been able to fully process it because those other events cover and deafen it, and the same may have been happening to you, and then in a flash of a moment I catch a glimpse of something resembling a memory, a glitter of light, a distant little image as if one looks through the wrong end of binoculars, a kind of a miniature landscape, so miniscule and yet with everything in place, but in a rather unusual way." Martinů and his wife had moved to the south of France when Kaprálová, at age 25, passed away on 16 June 1940.

Bohuslav Martinů: String Quartet No. 5, H.268
Martinů loved her to the end of his life, and in 1947 wrote in his memoirs. "Everywhere she went she brought Spring. She was patient, kind, friendly, energetic, and instinctive. I seldom had the chance to meet anyone so gifted, so conscious of the task she had and wanted to fulfill. And this is one of the things I cannot explain, why fate took her, why fate gave her such gifts, so precious and unique, only to take them away." Martinů's and Kaprálová's relationship is artistically encoded in a number of compositions that originated during their affair. Her Partita is a close imitation of his compositional style, and his String Quartet No. 5 is one of his most confessional and intimate musical expressions.