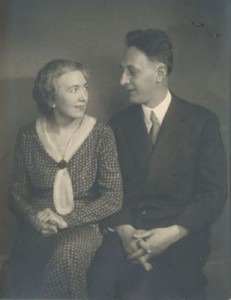 Ernest Hemingway once famously wrote, "If you are lucky enough to have lived in Paris as a young man, then wherever you go for the rest of your life, it stays with you, for Paris is a moveable feast." For Bohuslav Martinů, who led a somewhat dreary existence as a composer in the city of Prague, Paris became the destination of his dreams. And once he received a small scholarship from the Ministry of Education, he turned his back on Prague and arrived in Paris in 1923. For the next 3 years Martinů threw himself into the vibrant artistic environment of the French capital composing a number of significant musical scores. After countless moves in and around Paris, Martinů finally found a living quarter to his liking. The room at 11 bis rue Delambre in Montparnasse was dark, and he used a kerosene stove and a frying pan as his kitchen. In the other corner stood a small upright piano, and the walls were decorated with photographs of a football match, a skyscraper, the beautiful Czech female racer Eliska Junkova, and the Bugatti roadster that she was driving. Proud of his private personal space, his friend considered him a "monk in pursuit of his artistic dream."

In search of artistic inspiration, Martinů attended a performance of the Medrano Circus in November 1926. But it wasn't the clowns that caught his attention that day, but an attractive tall woman with a good figure and vivacious personality. Charlotte Quennehen had gone to the circus with a girlfriend and was sitting in the chair right in front of Martinů. During intermission he slipped her a paper with his name and his address. Charlotte responded with a quick note that they could meet the following Sunday at the Auteuil Cinema. Since Martinů was struggling with a temperamental wisdom tooth, it was decided that they would meet in his room instead. Charlotte came from a poor French family and grew up in the village of Vieux-Moulin about eighty kilometers northeast of Paris. She trained as a dressmaker and quickly found employment in Paris as a seamstress. The young turtledoves usually met on Sundays, going for walks or to the cinema. She also mended his clothes, cooked for him, and helped him with his French.

Once Charlotte moved in with him, they quickly settled into a comfortable routine. She would go to work to make money in the morning, and he stayed home at the piano and composed. In the afternoon they browsed second-hand bookstores, and after dinner, he would socialize with other musicians and artists. Essentially, she was in charge of finances and the household so he could compose undisturbed. They traveled to the countryside together, and even visited his homeland. Although culturally they were far apart, they made the partnership work by understanding each other's limitation. For Martinů, there was no pressing need to legalize the relationship, however, Charlotte thought otherwise. And thus the couple married on 21 March 1931 at the Hôtel de Ville in Paris, incidentally in the same hall that saw the union of Napoleon and Josephine de Beauharnais.

Bohuslav Martinů: Pastorales: Six pieces for cello and piano, H. 190
Charlotte succinctly summarized her marriage to Bohuslav in the following way. "He liked it especially when I took care of him. I realize that if we had had children, he would have shared my care for the children without too much enthusiasm." Minor household incidents would become major crises for him, and Martinů "happily surrendered every day responsibilities and security completely into Charlotte's hands." Freed from the mundane aspects of the everyday, Martinů composed in a dedicated frenzy and soon become an internationally recognized composer. Charlotte remained at his side during his greatest triumphs as a composer, and even during his affair with Vítězslava Kaprálová—more on this in our next episode. She was also with him during their flight from the Gestapo to America in 1941, and shared his disappointment of post-war political developments in Czechoslovakia, which prevented him from returning home. After his death in 1959, Charlotte tirelessly worked to disseminate his musical legacy, and upon her death on 23 November 1978, she was buried with her husband in his home village of Polička.