What started as a tour of Spain for six months in 1882, turned into a research trip on the folk music and dances of Spain. Chabrier's tour took in most of the principal cities of Spain, starting in San Sebastián, and then on to Burgos, Toledo, Sevilla, Granada, Málaga, Cádiz, Cordoba, Valencia, Zaragoza and ending in Barcelona. In writing to a friend, he detailed his discoveries of the various regional dance forms, providing musical examples along with his text.
Although España was originally conceived as a work for piano duet, he turned it into a work for orchestra quite quickly. The original title was 'Jota,' a genre of music and dance from Aragon and other regions, but he decided to encompass the whole of the country under its new title, España (Spain). Although Chabrier was known to call it 'a piece in F and nothing more,' composers such as de Falla praised it, with even Mahler calling it 'the start of modern music.'
The work starts like a plucked guitar before the first theme comes in on muted trumpets. This theme will recur 4 times through the piece, interspersed by a flowing second theme in the bassoons, horns and cellos. The overall feeling is one of a stylish happiness – Chabrier's interest in Spain and in Spanish music and culture come to the fore in this work.
España was influential in starting a fad for works on Spanish themes, including Debussy's Ibéria (1905-1908), part of his Images pour orchestra and Ravel's Rapsodie espagnole (1907). The work was dedicated to the conductor Charles Lamoureux, who conducted the premiere performance in 1883.
This performance, recorded in 1960, was conducted by Pierre Dervaux (1917-1992) leading the Colonne Orchestra. The Concerts Colonne was founded in 1873 by conductor Édouard Colonne with particular emphasis on contemporary music, performing works by Saint-Saëns, Massenet, Charpentier, Fauré, d'Indy, Debussy, Ravel, Widor, Enescu, Dukas and Chabrier. Pierre Dervaux was their president and chief conductor from 1958 to 1992, also leading the Orchestre des Pays de Loire (1971–79) as well as holding similar posts at the Quebec Symphony Orchestra (1968–75) and the Nice Philharmonic (1979–82).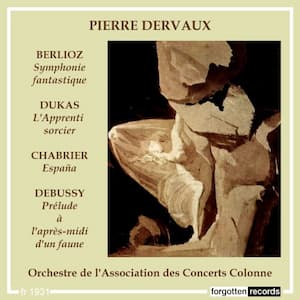 Performed by

Pierre Dervaux
Colonne Orchestra

Recorded in 1960

Official Website
For more of the best in classical music, sign up to our E-Newsletter