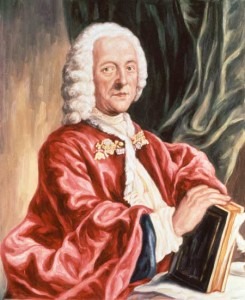 It really is too bad that Georg Philipp Telemann (1681-1767) did not have a large social network following! Throughout his long and industrious career, he wrote well over 3000 works. It's no surprise that 18th-century critics unanimously considered him among the best composers of his time. Leading theorists held up his works as compositional models, and his fame extended to Holland, Switzerland, Belgium, France, Italy, England, Spain, Norway, Denmark and the Baltic lands. Yet by the early years of the 19th century, appreciation of Telemann's music was in rapid decline. The main criticism turned out to be rather tongue in cheek. "In general," a music historian wrote, "Telemann would have been greater had it not been so easy for him to write so unspeakably much. Polygraphs seldom produce masterpieces." And once his music was compared according to the very different aesthetic standards of J. S. Bach, Telemann was judged to be merely "fashionable." Telemann's music has gradually made a comeback beginning in the 1980s, so let's continue to give two thumbs up for one of the most famous and versatile composers of his time!
Georg Philipp Telemann: Nach Finsternis und Todesschatten, TWV 1:1150 (René Jacobs, alto; Berlin Akademie für Alte Musik)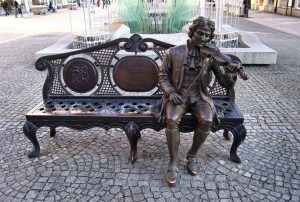 During his career as a composer of church music Telemann wrote at least 1700 cantatas! Always imaginative in his handling of vocal and instrumental color, Telemann's transparent counterpoint was highly valued by his contemporaries. As you might well imagine, his cantata settings embrace a wide range of styles, forms and employment of instrumental forces. Significantly, a substantial number of Telemann's sacred cantatas were not exclusively tied to performances in sacred venues, but could also be used for domestic devotions. In the foreword to the second collection of the Harmonischer Gottes-Dienst (Harmonic Service to the Lord) of 1731 he writes, "Two instruments of dissimilar kinds are so arranged that one person of his own can make us of the clavier without the addition of another instrument."
Georg Philipp Telemann: Suite Burlesque de Quixotte in G Major (Drottningholm Baroque Ensemble)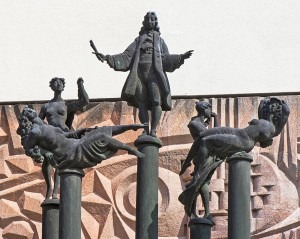 Telemann is known to have composed approximately 125 orchestral suites, 125 concertos, several dozen other orchestral works and sonatas in five to seven parts, nearly 40 quartets, 130 trios, 87 solos, 80 works for one to four instruments without bass and roughly 250 pieces for keyboard. Now that's what I call a life's work! For the most part Telemann wrote his instrumental works for small performing forces, making them appropriate for domestic use. Historically significant, Telemann popularized the French-style orchestral suite in Germany paving the way for the works of J. S. Bach and others. Telemann was a kind and gentle man capable of witty humor, so entire works or individual movements have amusing programmatic titles. The Suite Burlesque de Quixotte includes the famous attack on the windmills, and the Suite La Bourse offers a musical account of the Parisian stock market crash of 1720!
Georg Philipp Telemann: Concerto for Violin and 3 Horns, TWV 54:D2
In his autobiography of 1718, Telemann proudly declared, "I am no great lover of the concerto." Yet his 125 efforts in this genre do represent the history of the concerto in Germany during the first half of the 18th century. Early works resemble contemporary works by Torelli and Albinoni, but gradually Telemann introduced the highly popular ritornello structure used by Vivaldi. Blending the Italian concerto with French stylistic elements produced works that focused on innovations in scoring, style and structure. And did I mention rather unusual instrumental combinations? The point is, Telemann absolutely hated empty displays of virtuosity, instead insisting that every note or unusual instrument serve the musical purpose of the work.
Georg Philipp Telemann: Pimpinone, TWV 21:15 (John Ostendorf, bass-baritone; Julianne Baird, soprano; Myron Lutzke, cello; David Bowles, cello; Robert Wolinsky, harpsichord; St. Luke's Baroque Orchestra; Rudolph Palmer, cond.)

Although only 29 operas are extant today, Telemann claimed to have written more than 50 works over a period of three decades. While we may certainly mourn the permanent loss of so many works, historians have rightfully suggested, "Telemann was the most important composer of German-language opera in the first half of the 18th century." And as you might already have guessed, he had a special gift for writing comic operas. The comic intermezzo Die Ungleiche Heirat zwischen Vespetta und Pimpinone oder Das herrschsüchtige Kammer Mägdchen "The Unequal Marriage Between Vespetta and Pimpinone or The Domineering Chambermaid" was first performed between acts of Handel's Tamerlano in 1725. It recounts the timeless story of a young chambermaid who marries her old but rich employer, and in due course completely dominates the relationship. And if you have read my previous article "The Maid as Mistress", you already know that the subject matter was a mirror of Telemann's own marital situation. You can't but admire a man who laughs at his own misfortune!
For more of the best in classical music, sign up to our E-Newsletter