It seems that whenever Icelandic pianist Vikingur Ólafsson touches a piano, beautiful sounds flow from the instrument – whether it's Bach, Rameau, Debussy or Philip Glass. His latest release on the DG label, From Afar, is no exception, with the added treat of two pianos, offering contrasting colours and timbres.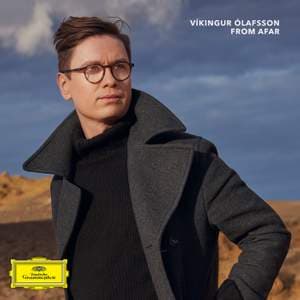 This new album, the most personal of all Ólafsson's recordings to date, reflects his musical DNA, from childhood memories growing up in Iceland to his international career and contemporary inspirations, including the pianist, composer and pedagogue György Kurtág, whose music appears on this disc interleaved with works by J S Bach, Schumann, Brahms, Mozart, Bartók, Ades, and Icelandic composers Kaldalóns and Birgisson.
The inspiration behind the album comes from a life-changing meeting with Kurtág in Budapest in September 2021, which left Ólafsson with "a feeling of lightness and joy" and sparked memories of music he loved as a child – the pieces on the album by Bach, Mozart, Schumann and Bartók. From Afar, its title inspired by Kurtág's Aus der Ferne, is thus both a tribute to his hero and a return to his musical roots. The album is also touchingly dedicated to György Kurtág.
On the first sight, the track listing looks eclectic – we move from Bach to Schumann, Mozart to Kurtág in the space of a few moments (and each piece is no more than around four minutes long), but the selection, organisation and of course the playing of the pieces succeeds in creating a pleasing and intriguing listening experience – and I love the way Ólafsson segues from piece to piece, creating an almost uninterrupted flow of music.
The other intriguing aspect of this recording is that it is a double album, with the pieces recorded on both a Steinway concert grand piano and an upright with a layer of felt covering the strings, effectively a permanent soft pedal. György Kurtág and his wife Márta recorded many of their four-hand Bach transcriptions and pieces from Játékok on a felt-softened upright piano "with marvellous results" (Ólafsson), and so this aspect of the recording is another homage to Kurtág. It also creates a wonderful, nay "marvellous" sound world – delicate, hushed, intimate, tender (and if you, like me, have had the privilege of hearing Mr & Mrs Kurtág performing you will recognise and appreciate this very distinctive, almost whispered sound that the felted piano offers). Here, the microphones are set so close to the piano that you can hear the keys being depressed and released, and the occasional rattle and tap of the keys connecting with the keybed. The upright also calls for a different kind of playing to a grand piano: of course, it has its limitations in terms of breadth of sound, colours, dynamic palette, but there is something deeply appealing about the hushed, of the upright piano. For Olafsson "its imperfections become acoustic opportunities." It also makes a connection with countless music students and domestic piano players whose most familiar instrument was or is an upright piano.
J.S. Bach: Das Orgelbüchlein, BWV 599-644: Christe du Lamm Gottes, BWV 619 (arr. G. Kurtág for 2 pianos) (performed on upright piano) (Vikingur Ólafsson, piano)


With two distinct sound worlds provided by the different instruments, the album explores evocative, wistful themes of home, childhood and family, Hungarian and Icelandic folk songs, pieces inspired by nature, homages, and three previously unreleased transcriptions by Ólafsson: the Adagio from Bach's Sonata for solo violin in C major, Mozart's Laudate Dominum – which he dedicates to Kurtág – and Icelandic composer Sigvaldi Kaldalóns' Ave Maria (the first work Ólafsson ever transcribed). This piece was the first single from the album, which Ólafsson performed as Lockdown Artist in Residence for BBC Radio 4's Front Row programme in 2020. Broadcasting live from an empty Harpa concert hall in Reykjavík, his tender, thoughtful performances brought comfort and a much-needed connection to live music to millions of listeners around the world.
This album offers a similar kind of comfort, with its flow of miniatures, exquisitely, often caressingly played with Ólafsson's beautifully luminous sound, crystalline articulation and sensitive colouring. It feels homely and intimate, the kind of music one would play at home, by oneself or with a small group of friends.
There are some real jewels in this album – Schumann's Vogel als Prophet from Waldszenen, played on the felted upright, Bartók's 3 Hungarian Folksongs from the Csik, and Mozart's Vesperae… are stand out tracks for me, but there is much to enjoy here, such is the variety of repertoire and Ólafsson's sensitive lyricism. It's an album to curl up with on a winter's evening.
Béla Bartók: 3 Hungarian Folksongs from the Csik District, BB 45b (performed on upright piano) – No. 1. Rubato (Vikingur Ólafsson, piano)

From Afar is released on the DG label
For more of the best in classical music, sign up to our E-Newsletter
Víkingur Ólafsson: From Afar (Album Trailer)