Leonard Slatkin
is coming to Hong Kong to conduct a century's worth of music: from a work that will be receiving its Southeast Asian premiere to a late 19th-century warhorse. The first half of the concert will be 20th century works by three Americans:
Christopher Rouse
,
Samuel Barber
, and
Leonard Bernstein
; the second half will be
Tchaikovsky
's
Symphony No. 5
.
We spoke with Maestro Slatkin recently about his tour and the upcoming concert. On his Asian tour, he started with the Guangzhou Symphony Orchestra, playing a program of Bach, Saint-Saëns, and Rachmaninoff. He also played this concert in Beijing with the China Philharmonic, and part of it with the Shanghai Symphony Orchestra. For Maestro Slatkin, repeating the concert materials with three different orchestras gave him an unparalleled opportunity to compare their sound and to see if he could find a 'true Chinese sound.' He found the Shanghai SO the most technically accomplished with its international group of players, but the largely Chinese China Philharmonic had a different feeling and he found that the Guangzhou Philharmonic had more western-trained and Hong Kong–influenced sound. The woodwinds, in particular, were distinctive and he thought the brass sound of the three orchestras was thinner than in American or European orchestras. The string section as a whole played in a more western fashion, using the whole bow and producing a very full sound.
We talked about the education of musicians and he lamented the lack of knowledge of many musicians about the history of performers on their own instruments, even at a time when more music from more time periods is available than ever before. He sees that China understands the western cultural marketplace better, perhaps, than even westerners do.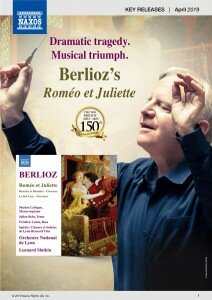 The audiences in Asia were younger and very enthusiastic, and in his years of travelling to China to conduct, Maestro Slatkin has seen the development of a more western concert etiquette: use of cell phones and talking during concerts has decreased and the audiences are concentrating on the quality of the performances more than they had in the past.

When asked about his choices for his Hong Kong concerts, he said that his choice of Christopher Rouse's

The Infernal Machine

was one that tested the sonic limits of the orchestra and had a strongly rhythmic focus. Watch for the point towards the end where the oboes and flutes put down their instruments and play a set of musical glasses. For Hong Kong audiences, it will be an excellent introduction to next year's performance of Rouse's Symphony No. 5.

Rouse: The Infernal Machine (Baltimore Symphony Orchestra; David Zinman, cond.)

Barber's

Adagio for Strings

was developed out of the slow movement of his String Quartet, Op. 11, at the request of

Toscanini

. For American audiences, it became associated with the funeral of Franklin D. Roosevelt, and carries a sound of pathos and reflection. Its indefinite ending, however, leaves the audience with hope.

Leonard Slatkin leads Samuel Barber's moving "Adagio for Strings."

Bernstein's

Chichester Psalms

, written in 1965, will be sung in Hebrew with the

Eton College Chapel Choir

. Maestro Slatkin spoke of the most affecting performance he did of the work, in a concert with the New York Philharmonic two days after the death of Bernstein in 1990. The

Chichester Psalms

closed the concert and as he finished, he could hear the audience weeping behind him. On this Asian tour, Maestro Slatkin did the

Chichester Psalms

with the Osaka Philharmonic and hearing the Japanese choir perform the Hebrew text faultlessly put a new dimension on the idea of music being all encompassing.

Bernstein: Chichester Psalms: II. Psalm 23: Adonai ro-i, lo ehsar (The Lord is my shepherd; I shall not want) – Psalm 2:1–4: Lamah rag'shu gayim (Why do the nations rage) (Pablo Strong, treble; BBC Symphony Chorus; BBC Symphony Orchestra; Leonard Slatkin, cond.)

In a rare debut work for him, Maestro Slatkin will be conducting Tchaikovsky's Fifth Symphony.

Tchaikovsky: Symphony No. 5 in E Minor, Op. 64: I. Andante – Allegro con anima (South West German Radio Orchestra; Roger Norrington, cond.)

In this Asian tour, Maestro Slatkin has used his time before five different orchestras to test their sound, see their strengths, and their individualities. Coming in as a guest conductor, he always wants to keep an orchestra's own characteristics but, at the same time, see how he can develop those sounds.

At this point in his career, Maestro Slatkin is changing his way of travel. Previously, he wouldn't have done the same piece 3 times, as he did on this tour, but now he wants to see the potentials of the orchestras. Once a conductor with a huge repertoire, he's traveling with a more limited selection of pieces and can afford to take time both before and after a concert to acclimate and also explore the local music scene. He's always been a strong advocate of American music and is now starting to see an international appreciation for a wider variety of American composers. Finding new music is also a joy, such as in his recent recording of a long-lost

Copland

work,

Grohg

, dating from his student days in Paris.

Copland: Grohg:: Illumination and Disappearance of Grohg (Detroit Symphony Orchestra; Leonard Slatkin, cond.)

Another recent recording of Maestro Slatkin's was done in celebration of the 150th anniversary of

Hector Berlioz

' death,

Roméo et Juliette

, a large-scale choral symphony, is considered one of Berlioz' finest pieces and is another of his genre-breaking works, combining the elements of symphony, opera, and oratorio.

Berlioz: Roméo et Juliette, Op. 17: Part II: La Reine Mab, ou la Fée des Songes: Scherzo (Lyon National Orchestra; Leonard Slatkin, cond.)

Across the world of his travels, Maestro Slatkin is always looking at the global one-ness these days and is always seeking that which makes us different.

At the end of his Asia tour, conductor