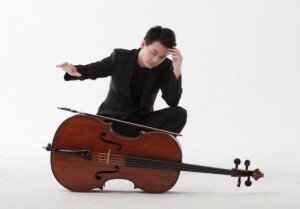 Cellist Li-Wei Qin has just released a recording on Naxos, of Russian Cello Concertos including Tchaikovsky Rococo Variations, and not well-known but lovely works—Rimsky-Korsakov's Serenade, Glazunov's Concerto Ballata, and other short pieces. Born in Shanghai, his early music training was from teachers heavily influenced by the Russian School. His family moved to Australia where he made his debut with the Melbourne Symphony at age 17. Soon after the esteemed cellist Ralph Kirshbaum, the visiting soloist, listened to Li Wei play and Kirshbaum offered Li-Wei a scholarship to study with him at the Royal Northern College of Music in Manchester, UK. After winning the silver medal at the 11th Tchaikovsky Competition and first prize at the 2001 Naumberg competition he was launched!

A charming man, Li-Wei and I caught up recently.

JH: Tell us about your new recording. It has two relatively unknown works by Russian composers.

LQ: We needed a main dish, and settled on Rococo Variations. The first time I performed the piece I was only 17-years-old. Choosing the Tchaikovsky gave me a chance, 20 years later, to revisit the piece with fresh ideas. It's not widely known that Russian composers were partial to the cello, and wrote wonderful repertoire for the instrument both big and small. I had never played the Glazunov 2nd Concerto before. It's fascinating and challenging, extremely melodic and beautiful. We rounded out the recording with charming little works.

Tchaikovsky: Variations on a Rococo Theme in A Major, Op. 33 – Variation 5: Allegro moderato
Variation 7 e Coda: Allegro vivo
JH: How did you feel when you were chosen to be a student of the great cellist Kirshbaum?

LQ: When he visited Australia, I fell in love with his teaching style. Although I had scholarships to study at Indiana University and Juilliard School, I was quite convinced by Kirshbaum's teaching after I attended the Manchester Cello Festival.

JH: What were the most valuable lessons you learned from him?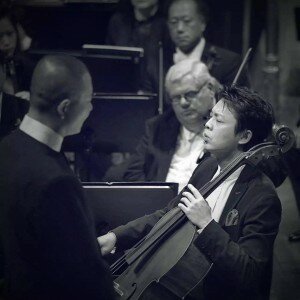 LQ: Here's what made a huge impression on me. I had a lesson on the Barber Cello Sonata as did the principal cello of the London Symphony at the time. After our lessons Rebecca and I sat down to compare notes. Stunned that Kirshbaum pointed out absolutely different things about the music to us, I asked Kirshbaum why. Was I perhaps lacking in ability? Did I have a problem, which necessitated teaching me in an opposite fashion? I was so naïve. Ralph, thrilled with this compliment about his teaching, indicated to me that every student needs specific things, and a lesson can never be "tailor-made." Each individual has singular strengths and weaknesses. This greatly influenced my approach to teaching. I always listen very carefully to the needs of the individual students.

JH: What appeals to you about the cello as an instrument?

LQ: My father is a cellist, principal cello of the Shanghai Symphony, and my mother is a pianist. I started the piano at 4, and the cello at 8. I found the cello much easier than the piano! Reading a single line of music is so much easier. I love that the cello can play many different roles, and portray different characters and emotions. For example, cello ensembles have become very successful—you don't hear about flute or violin ensembles. This is because the cello is so versatile. It can portray the lovely, flighty melodies of the soprano, the throaty tenor, and the tension of the dramatic bass, wonderful as the soloist and the accompanist.

Rimsky-Korsakov: Serenade, Op. 37
JH: I see you are drawn to the romantics' works—Elgar, Walton, Dvořák: What makes them special to you?

LQ: It's true I am more comfortable with the romantic literature, I think due to my earliest music training. But I have also recorded all the Beethoven Sonatas, which was a wonderful experience as the sonatas cover the entire compositional life of Beethoven. And I've performed Schubert's lovely Arpeggione Sonata and recorded the Bach Solo Suites and the Kodály Solo Sonata.

Beethoven: Cello Sonata No. 2 in G Minor, Op. 5, No. 2 – I. Adagio sostenuto e espressivo
JH: You've performed at Lincoln Center Chamber Music Society and at the HK International Chamber Music Festival.

LQ: I have regular piano partners in England, in China, and in Singapore, a Filipino pianist, Albert Tiu. It's wonderful to perform the core repertoire with these artists who bring different points of view to the music. I've learned a lot playing chamber music with brilliant artists.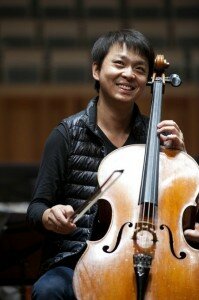 JH: What works are you particularly looking forward to performing next?

LQ: My next project is to record the Prokofiev Sinfonia Concertante on the Naxos label with one of the English Orchestras, who tend to learn repertoire very fast! And I'm looking forward to hosting my cello festival at a coastal town in China this July. The goal is to transmit musical ideas to young cellists in China.

JH: Over your career what has been the most memorable experience for you?

LQ: Certainly it meant a lot to take prizes in two major competitions—great experiences. What jumps to mind though, is performing as cello soloist with the great violinist, Yehudi Menuhin, who was conducting his last tour of Australia. I was so impressed with his dedication to his craft. Even at the age of, by then, 83, he was inspirational—constantly exploring the music, working like a young person to bring something new to the music. When we performed in Queensland, he persuaded me to change a bowing from slurred, or legato, to separate notes, in the Haydn C Major Concerto. It was no more than 5 minutes before walking onstage! But to this day, I play that passage with separate bow strokes, and think of Menuhin's striving for unique approaches for every performance.

JH: You appeared in Vogue magazine. How did that come about?

LQ: Vogue, BMW, Channel… You know classical music in China is quite young. We try to cater to younger audiences and they read Vogue! The photo shoots were fun…I wore expensive clothing…

JH: What advice would you give to other young musicians starting out?

LQ: It's extremely important that a budding musician is very clear about what this profession brings. You cannot be successful or happy if your goal is glory or attention. That is not the path to success. This profession entails a lot of hard work and hardships. You have to be strong mentally. (JH: Li-Wei recently played Don Quixote with pneumonia!) In music, you're always a freelancer, and you can have a bad season. Analyze the reason. Perhaps you need to learn new repertoire, or you need to develop new ideas. In the long run, you can benefit so much by using the slow seasons to study new pieces. Sometimes you have no time to learn new works, so treasure that downtime.