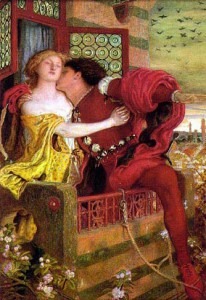 Hector Berlioz's visit to the Odéon Theater in 1827 not only inflamed a deeply burning passion for his future wife, the Irish actress Harriet Smithson, but also for the dramatic genius of William Shakespeare. Berlioz's infatuation with Harriet gave rise to the Symphonie Fantastique, while his literary passion inspired the dramatic symphony Romeo and Juliette. Berlioz saw the play in the edited English version of David Garrick. Berlioz reports, "by the third act, scarcely able to breathe—it was as though an iron hand had gripped me by the heart—I knew that I was lost. I may add that at the time I did not know a word of English; I could only glimpse Shakespeare darkly through the mists of Letourneur's translation; the splendor of the poetry which gives a whole new glowing dimension to this glorious works was lost on me." Berlioz immediately envisioned a musical realization, but with other projects intervening, he only finished the score on 8 September 1839. The libretto was not based on the original play, but on Garrick's edit, which has Juliet awaken from her deathlike sleep before Romeo's death from a much slower poison. Berlioz enlisted the services of the author Emile Deschamps, who deleted the character of the nurse and expanded Shakespeare's brief family reconciliation into a substantial vocal finale. Over the years, the new libretto has been criticized as being un-Shakespearean. However, Berlioz and Deschamps were not looking for a revival of Romeo and Juliet nor were they preparing a scholarly text for publication. Rather, Berlioz sought to recreate Shakespeare on his own terms.

Hector Berlioz: Roméo et Juliette, Op. 17
In Romeo and Juliette, a work that features chorus, vocal solos and a prologue in choral recitative, Berlioz skillfully manipulates all aspects of his composition in order to lead it to a broader artistic end. His primary aim seems to have been a display of subject matter and artistic purpose, rather than one of musical means. The design of the Symphony is indeed revolutionary, as it features seven movements. Small and large choruses, three soloists and an excited range of unusual instrumental combinations and sounds inform a work that is closer to an opera on stage than a symphony. Jeffrey Langford writes, that in its structure "Romeo and Juliette is Berlioz's most perfect synthesis of operatic and symphonic elements—the apotheosis of his notion of dramatic symphony." Above all, Berlioz takes great care in the spatial distribution of sound, as the score is filled with directions for specific placements of players and singers.

Berlioz structures the music in three large sections. It opens with a fugal instrumental introduction that evokes the street fighting between the Capulets and Montagues, with the trombone recitative disclosing the intervention of the Prince of Verona. Subsequently, much of the story of Romeo and Juliet is narrated in an unusual choral recitative, which is interrupted by the alto soloist, who contemplates the nature of first love in a simple aria. This opening section ends with a brief scherzo, as Mercutio and the chorus tease Romeo about his infatuation. Listeners tend to be most familiar with Part II, as it is widely excerpted for orchestral concert and recordings. A musical depiction of Romeo's solitude and erotic yearning leads to an extended movement in which the chorus enacts the end of the Capulet party. The famous "Love Scene" is a purely instrumental affair. Berlioz famously commented that the "Love Scene" had been set many times before as a vocal duet, but that he had turned to the language of instrumental music to "provide a richer, more varied, less restrictive and by its very vagueness incomparably more powerful expression." In this love scene, Berlioz emerges as a composer of startling originality, whose musical accomplishments and personal life are indispensably intertwined, and therefore become a reflection of each other. This section concludes with the bouncy "Queen Mab" scherzo.

The concluding section takes us straight to the play's tragic conclusion. A slow fugue, representing Juliet's funeral procession and a brief choral contribution announces the frantic arrival of the hero. Desolate chords are sounded in bleak wind and brass chorales and intermingled with Juliet's clarinet and Romeo's oboe themes. The chorus returns for the finale and comments on the action, with Friar Laurence urging the Montagues and Capulets to reconcile. Richard Wagner, who first heard the work in 1839, learned a great deal about the ideals of dramatic music. And this sense of drama gradually but continuously builds from the opening chords. All credit goes to the Al Bustan 2016 Festival for performing the work in its entirety rather than simply excerpting a couple of popular passages.