Situated just north-west of Vienna, the Wienerwald, the eastern foothills of the Alps were an enticing area for Vienna's composers – we have many images of composers such as Beethoven and Schubert walking through the Vienna Woods and we have their works that resulted from those walks.
One of the most famous works inspired by the woods was by a composer who, by his own admission, hated walking. Hills were an anathema. The music of southern Austria, the Ländler, is integral to the first part of the piece and then, when the long introduction finishes and after the waltz proper begins, Johann Strauss II puts in a quote from The Swallows (Die Schwalben, Op. 208), a waltz written by his father, Strauss I, 20 years earlier.
What was the waltz in Europe in the 19th century? Up until the point where the waltz became the dance of the hour, country dances such as the ländler, or court dances, such as the minuet, were the height of popularity. In Vienna, the waltz started to become popular in the 1780s and reached England a decade later. It was a turning, whirling dance, done with one's partner clasped in one's arms. The fact that it was a couples' dance and the close proximity of the couple, made it of dubious moral status.
Starting with Johann Strauss I (1804-1849) and continuing through his sons, Johann II, Joseph, and Eduard, the Strauss family became the waltz kings. Johann I did not want his sons in music – they were intended to be bankers, soldiers and diplomats – but a messy divorce resulted in the boys' mother encouraging their musical talent. Johann II was greater musical talent than his father had been, his father's works being noted more for their ingenuity in their rhythms than in the originality of their melodies, but his most important innovation was to name the waltzes he composed, thereby making them saleable.
Johann Strauss II's 1868 waltz Geschichten aus dem Wienerwald (Tales from the Vienna Woods), Op. 325, was dedicated to His Highness Prince Constantin zu Hohenlohe-Schillingsfürst, and given its premiere at his palace in Augarten, Vienna. The countryside of the Wienerwald is evoked by the long introduction, which almost functions as a tone-poem to the woods. There are birds and horn calls, and a zither to set the scene. The waltz picks up with a languorous melody that sweeps us up in the usual bewitching waltz fast-slow tempo.
Johann Strauss II: Tales from the Vienna Woods, Op. 325

The Graunke Symphony Orchestra is led by Alois Melichar in this 1960 recording. The Orchestra was founded in 1945 and in 1990, changed its name to the Munch Symphony Orchestra. Its principal activity has been film recordings, recording music for more than 500 films. Alois Melichar (1896-1976) was a conductor and a prolific composer, with a long record of film music from the 1930s through the 1950s.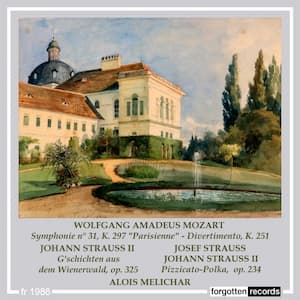 Performed by

Alois Melichar
Graunke Symphony Orchestra

Recorded in 1960

Official Website
For more of the best in classical music, sign up to our E-Newsletter