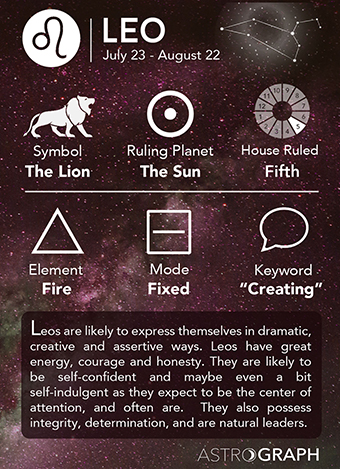 People born under the sign of Leo are natural born leaders, with the astrological symbol of the Lion going back to Greek mythology. The constellation Leo contains many bright stars, and it is associated with the Lion that Heracles overcame in a heroic mythological battle. It has been the symbol of victory, pride, and courage ever since. Leo season begins on July 23 in the western tropical zodiac, and commences the height of Summer in the Northern Hemisphere. As such, the sun is Leo's planetary ruler, and people born under that sign radiate solar confidence and heart-felt courage.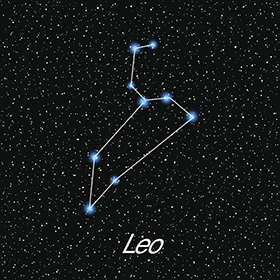 Andy Warhol, one very famous Leo, predicted "in the future, everyone will be world-famous for fifteen minutes." And he added, "That's fifteen minutes for all other signs of the zodiac but twenty-three hours and forty-five minutes for Leos." Leos are impossible to miss since they love being the center of attention, and consequently don't like being ignored or being alone for too long. However, it has been suggested that people born under the sign of Leo are not regal and roaring big cats, but quiet gentle kittens. Essentially, Leos are introverts who hid behind their extroversion.
Margaret Brandman: Cosmic Wheel of the Zodiac – No. 5. Lion Love: Leo (Barbora Polaskova, mezzo-soprano; Matej Chadima, baritone; Petr Ožana, piano)

Claude Debussy
Probably the most famous composer born under the sign of Leo is Claude Debussy. Born on 22 August 1862, Debussy had a highly complex personality and he was not a socially outgoing or bold person. Marguerite Vasnier writes: "He was very quick to take offence and extremely sensitive. The slightest thing put him in good humor or made him sullen or angry. He was very unsociable and never hid his displeasure when my parents invited friends, for he did not often allow himself to be with strangers. … He was original though rather unpolished, but very charming with people he liked." Debussy had a sullen attitude towards life and was remarkably sensitive, uncomfortable, and quick to defend. When Marcel Proust, who adored Debussy, threw a party in his honor, the composer never showed up. As Debussy later explained to the poet, "That's the way I'm made." Once we add depression, two marriages, attempted suicides, secret affairs and an incident with a revolver, we find a personality always chasing for some elusive form of contentment. "I was a happiness addict," he once declared. Debussy doesn't seem to fit the mold when it comes to Leo personality traits with one exception; he was passionately creative.
Debussy: Images, Book 2 (Klára Körmendi, piano)

John Field
Born on 26 July 1782, John Field was a powerful pianist and he was posthumously credited as the inventor of the nocturne for the piano. The English pianist Charles Salaman called Field "a really great player…romantic and poetic, as if interpreting some beautiful dream, while in the singing quality of his touch, the infinite grace and delicacy of his execution, his emotional expressions, he was unrivaled in his day." Field, however, was not a pleasant man, and Moscheles describes him at a party: "His legato playing delights me, but his compositions are not all to my taste. Nothing can afford a more glaring contrast than a Field nocturne and Field's manners, which are often of a cynical order." For much of his life, Field's sensitive side was hidden behind copious amounts of alcohol. In fact, his liking for alcohol in the most expensive forms left him inebriated for weeks on end. One famous anecdote tells of a concert during Lenten season in 1810, when the Governor of Moscow sent the chief of police to find Field and bring him to the concert hall, whatever his condition. Field was eventually found in a bar surrounded by his drinking buddies, and when rushed to the hall, Field stumbled to the piano. He swayed slightly and bowed to the audience who gave him a roar of applause! And we haven't even mentioned his endless love affairs, which became legendary in Russia. Always clamoring for attention and devotion, passionately creative yet stubbornly arrogant and self-centered, John Field could well be the poster boy for composers born under the sign of Leo.
John Field: Nocturne No. 1 in E-Flat Major, H. 24 (Roberte Mamou, piano)

John Field: Nocturne No. 2 in C Minor, H. 25 (Roberte Mamou, piano)

John Field: Nocturne No. 3 in A-Flat Major, H. 26 (Roberte Mamou, piano)

Alexander Glazunov
Another famous Leo, Alexander Glazunov was born on 10 August 1865, and he also seems to have been hiding behind the fumes of alcohol. His most famous student Dmitri Shostakovich reported in great detail how Glazunov always had alcohol hidden on the desk, and that he drank it through a straw. And Igor Stravinsky later wrote, "Glazunov was one of the most disagreeable men I had ever met." Such vitriolic assessment certainly underscores Glazunov's strength of character. He was exceptionally gifted and his private composition teacher Rimsky-Korsakov asserted, "my student progressed not from day to day but from hour to hour." He loved orchestral conducting, and as a composer he reconciled Russian nationalism with European trends. And while the younger composers Prokofiev and Shostakovich abandoned him as old-fashioned, his leadership as director of the St. Petersburg Conservatory was unrivaled. During his long tenure he worked ceaselessly to improve the curriculum, raise the standards of staff and students, and defend the dignity and autonomy of the conservatory. A Leo in the truest possible sense, Glazunov would sometimes jokingly remark, "You can criticize my compositions, but you can't deny that I am a good conductor and a remarkable conservatory Director."
Alexander Glazunov: Symphony No. 6, Op. 58 (BBC National Orchestra of Wales; Tadaaki Otaka, cond.)

Here is a musical quiz question that will probably have you stumped. Which composer claimed that he did not come from Earth, but was actually from the star Sirius? Sirius, as you might know, is the brightest star in the night sky, colloquially known as the "Dog Star." The same composer also wrote "the attacks of 9/11 were the greatest work of art imaginable for the whole cosmos. Minds achieving something in an act that we couldn't even dream of in music, people rehearsing like mad for 10 years, preparing fanatically for a concert, and then dying…" I think we can agree that only a composer born under the sign of Leo could come up with such a statements.
Karlheinz Stockhausen
The composer in question is Karlheinz Stockhausen, born on 22 August 1928. While some critics call him one of the greatest visionaries of 20th century music, other critics predictably, have been less kind. He certainly has done some groundbreaking work in electronic music, and he freely admitted that he was a myth. The consistent driving forces behind Stockhausen's works were religious conviction, and a passion for innovation. For Stockhausen, there was no distinction between pushing musical technique and avant-garde thinking to its limits, and he presented his own sign Leo in his composition Tierkreis (Zodiac). Each of the 12 miniature character pieces is centered on one of the chromatic pitches of that scale. Guess what his own sign Leo is centered upon? It's "A" of course, and see you on Sirius, Karlheinz.
Karlheinz Stockhausen: Tierkreis, Work No. 41½ No. 7 Leo (Capilla Flamenca; Het Collectief)