Aries is one of the oldest constellations of the zodiac. It has been described by a number of ancient cultures, including astronomers in Babylonian, Egypt, Persia, and China. In Greek mythology, it is associated with the golden ram and particularly with the complicated and sordid story of the Golden Fleece. Phrixos and Helle were the son and daughter of King Athamas and his first wife. The king's second wife was very jealous and wished to kill the children. She concocts an evil plan of intrigue and murder, but when the king is about to sacrifice his own son, Aries arrives and rescues the boy.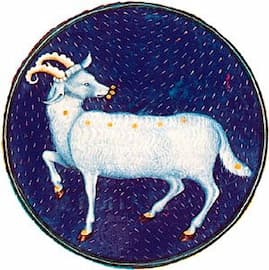 Eternally thankful, the king sacrified the ram to Zeus and the skin was hung in a sacred place where it became known as the Golden Fleece. A dragon guarded the Fleece, and in due course, Jason and the Argonauts stole it, but that's a different story. Aries, in turn, took its rightful place in the heavens. Let's have a first listen how the pianist and organist Roderick Elms musically imagines this powerful sign.
Roderick Elms: 12 Astrological Preludes – No. 4. Aries (Roderick Elms, piano)

Johann Sebastian Bach
Under the tropical zodiac, the Sun transits Aries between 20 March and 21 April. As you might have gathered from the mythology anecdote above, Aries is a very powerful sign, indeed. The primary element is fire, and Mars, the planet of war and energy, rules everything. On a good day, people born under the sign of Aries, are said to be energetic, unstoppable, bold, devoted and encouraging. On a bad day, however, they tend to be proud and self-centered, stubborn, reckless, jealous, bossy and impulsive. They certainly will stand their ground and refuse to be pushed around. At the top of the class in terms of Aries composers, we find Johann Sebastian Bach.
In a recent book, conductor John Elliot Gardiner asserts, "Bach had anger management issues, but that he also had the capacity for tenderness. He had normal flaws and failings, which make him very approachable, but he had this unfathomably brilliant mind and a capacity to hear music and then to deliver music that is beyond the capacity of pretty well any musician before or since." Bach was always fighting with the authorities, and as he once said, "they caused a life of envy and hindrance." Bach was unstoppable in his determination and in his work ethic, a true Aries.
Franz Joseph Haydn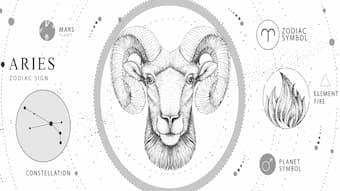 According to astrologers, people born under the Aries sign can be prideful, self-centered and bossy. Born on 31 March, Franz Joseph Haydn doesn't seem to be fitting that particular profile at all. Amongst his contemporaries, Haydn was known to be kind and optimist with a congenial personality. Apparently, he did have a robust sense of humor and he simply loved practical jokes. He was highly respected by colleagues and the musicians he supervised, and he was known to maintain a cordial working environment.
Haydn was a discrete and humble man, who possessed great humanity. A critic wrote, "Haydn's passion was love of music rather than love of fame; and even where love of fame did play a part, there entered not the faintest shadow of ambition. In making music, his preoccupation was to afford pleasure to himself rather than use it as a means to acquire worldly status." Haydn had great determination and even greater amounts of energy, and he was well aware of his own wit. As he famously said, "since God has given me a cheerful heart, he will forgive me for serving him cheerfully." If we take all these aspects of his personality into consideration, Haydn does not seem a particularly close fit for the Aries character profile.
Franz Joseph Haydn: The Creation (Margaret Marshall, soprano; Vinson Cole, tenor; Gwynne Howell, bass; Lucia Popp, soprano; Bernd Weikl, baritone; Hedwig Bilgram, harpsichord; Bavarian Radio Chorus; Bavarian Radio Symphony Orchestra; Rafael Kubelík, cond.)

Béla Bartók
Born on 25 March 1881, Béla Bartók was slight in stature, never weighing more than 116 pound, and sometimes as little as 87. Journalists joked "he looked like a botany professor from a girls college." Despite his small and fragile body, Bartók was endowed with an iron and uncompromising character. Mild-mannered, he had a keen and penetrating intellect that was interested in everything; science, foreign countries, unusual foods, literature, languages, and especially philology. He lived a simple and modest life, yet refused to ask for favors or engage in shameless self-promotion. The pride and integrity of his personality, however, is ever-present in his music. His personal friend, the pianist, teacher and composer Erno Balogh wrote, "It was part of the Bartók tragedy that not until immediately after his death did his popularity spread to every part of the world." Throughout his life Bartók struggled with poor health, and he battled with fever and exhaustion for years before doctors finally diagnosed leukemia as the underlying medical condition. Bartók without doubt, had the willpower, initiative, passion and determination accorded to the Aries, and despite being ignored, never lost the belief in himself or his art.
Béla Bartók: Music for Strings, Percussion and Celesta, BB 114 (Baltimore Symphony Orchestra; Marin Alsop, cond.)

Sergei Rachmaninoff
Astrologers tell us that Aries rule with their head, and that they are naturally brave. They possess youthful strength and energy, "regardless of their age and quickly perform any given tasks." As such, the mythological Ram is ready to become the hero of the day. While Sergei Rachmaninoff, born on 1 April 1873, was the undisputed superstar of the piano circuit during the first decade of the 20th century, all was not well in the glitzy world of musical superstardom. Unbeknownst to his adoring audience, Rachmaninoff was battling severe bouts of depression with the help of the hypnotist Nikolai Dahl. Rachmaninoff went for daily sessions over a period of four months, and hypnotherapy and post-hypnotic suggests were used to improve his sleep and appetite, brighten his mood. Rachmaninoff later reported, "I heard the same hypnotic formula repeated day after day, while I lay half asleep in the armchair in Dahl's study. Dahl would say to me, "You WILL write a Concerto…You WILL work with great facility… It WILL be excellent…" The strategy worked, but his insecurities remained. As he wrote in a letter to a dear friend, "I find faith, hope and love in your letters. They are like an ointment to my deep wounds. It seems I've lost the confidence I had in myself when I was a kid! Please teach me how to sort all these things out." Beautiful music and touching words indeed, but not really indicative of individuals born on the sign of Aries.
For more of the best in classical music, sign up to our E-Newsletter