In the late 20th century, Bernstein's Overture to his opera Candide was the most performed piece of contemporary classical music, or so the secretary at ASCAP told me in the 1980s when I was sent to go pick up the royalty check for his publisher. The work is probably one of the most cheerful and accessible of his orchestral works, despite being attached to a musical / opera that took decades to find its audience.
Candide, Bernstein's third Broadway musical, after West Side Story and Peter Pan, opened on 1 December 1956 and closed a brief 73 performances later. The libretto, by playwright Lillian Hellman, was blamed for not matching the ironies of the Voltaire original. West Side Story, on the other hand, went on tour after 732 performances on Broadway.
There followed decades of revisions. Hellman would not permit her text to be used in the revivals, so a new book was commissioned by Hugh Wheeler. Half the musical numbers were cut, and it opened again in 1973, moving to Broadway in 1974, and closed two years later after 740 performances. The show was expanded in the 1980s to an 'opera house version' that restored most of Bernstein's music. It was given its premiere by New York City Opera and became a long-term staple of the company. In 1988, after Hellman's death, another version was created for Scottish Opera, and then Bernstein looked his music again, creating his 'final revised version' that he recorded in 1989, at the London Barbican Centre. Another revision was done in 1999, after Bernstein's death, by the Royal National Theatre. The text was redone again, and the songs remained as Bernstein left them, except for a few tweaks by lyricists Stephen Sondheim and Richard Wilbur. It's a work that was unsatisfactory from the beginning and the forty years of revision were required to make everyone happy, in the best possible way.
The Overture, on the other hand, was a hit from its first hearing. Bernstein gave its premiere with his New York Philharmonic in January 1957 (while the musical was still on Broadway) and made his own recording with them in 1960. A flood of recording and arrangement followed and it remains a concert staple (see comment from ASCAP above).
Long-time Bernstein assistant Jack Gottlieb provided a succinct analysis of this frothy, rhythmic potpourri: "It begins with a fanfare built on the interval of a minor seventh, followed by a major second—typically Bernstein, which serves as a motto and as a basis for development, throughout the entire operetta. This seventh sets up an expectation of B flat major; but, instead, there is a stumbling, like a pratfall, into E flat. This, in the body of the show, becomes Battle Scene music. Next, a lyrical contrast from the duet Oh, Happy We is stated. This entire section is then repeated with lighter orchestration (note the devilish glee of the solo violin) and is succeeded by a brilliant codetta derived from the end of the aria Glitter and Be Gay. The overture concludes with a shower of musical sparks utilizing fragments of everything already heard."
As measure of the esteem in which Bernstein and this work are held, the New York Philharmonic holds to its tradition, started at their memorial concert in 1990, of performing the work without a conductor.
Leonard Bernstein: Candide Overture (São Paulo Symphony Orchestra, Marin Alsop, cond.)

Marin Alsop has a particularly close connection with Bernstein and his music, beginning with her work at Tanglewood in 1989. He had been her hero as a conductor and after her work at Tanglewood, he became her mentor. She was appointed principal conductor of the São Paulo State Symphony Orchestra in 2012 and in 2013 was given the title of music director. She left the orchestra in December 2019 and now holds the position of honorary conductor.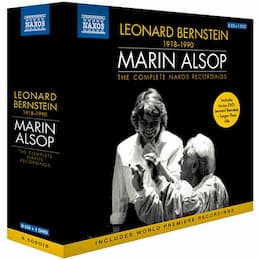 Leonard Bernstein: Candide Overture

Performed by
São Paulo Symphony Orchestra
Marin Alsop

Official Website
For more of the best in classical music, sign up to our E-Newsletter