To end the Beethoven year, there will be a performance of Beethoven's Ninth Symphony in Vienna. A simple enough statement but when you add in all the conditions: nothing live, social distancing, pandemic aware, then that statement becomes immensely complicated. Lawyers become involved.
However, all the negotiations have been completed, agreements have been made and over three days, broadcast at 8 pm in the major time zones (see the end of this article for a list), thanks to streaming platform ON AIR you can watch Austrian conductor Johannes Vogel and the Synchron Stage Orchestra bring you Beethoven's Ninth Symphony. It won't be from a majestic concert hall but from a recording studio, but that's an advantage in these parlous times. It won't be live for audiences, but a digital broadcast, but that's good, too.
We caught up with Maestro Vogel after his first day of rehearsal for the broadcast.
The edition that will be performed will be Mahler's 1895 edition. Hmm, you may ask, why, during the year that celebrates all of Beethoven, is a performance in Beethoven's city, Vienna, done using a score from a century later? A lot of that has to do with the conductor, who is a fan of both composers, and with how orchestras changed in the 200 years since the work was written.
Ludwig van Beethoven: Symphony No. 9 in D Minor, Op. 125, "Choral" (orch. G. Mahler) – I. Allegro ma non troppo, un poco maestoso (Cincinnati Philharmonia Orchestra; Gerhard Samuel, cond.)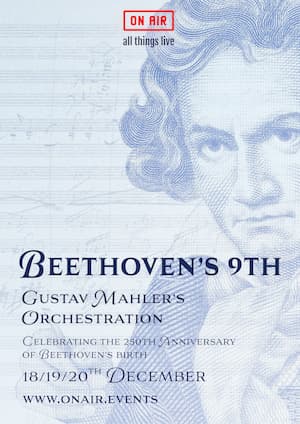 Maestro Vogel likes the vision that Mahler had of Beethoven. He feels that it stays close to Beethoven's intention and gives us both a modern and visionary approach to the composer.
Mahler's changes to the Beethoven's original were actually Mahler's additions to Wagner's changes to Beethoven's original. Wagner's edition doubled many of the woodwind passages. In his 1824 Dresden performance of the work, Wagner was the first to place the chorus and soloists behind the orchestra, as all performances now follow today. Mahler's changes to the orchestration were to 'make it sound like what he believed Beethoven would have wanted if given a modern orchestra.' He upped the dynamics; where Beethoven's extremes were pp and ff, Mahler went to ppp, pppp, fff and ffff. Mahler added four horns to the original four horns, but the additional horns didn't just double the horn sound, he used them to double other instruments, such as the violas and cellos, to bring out the inner lines. Woodwinds were added to double the flute parts. At the beginning of the fourth movement, the violas double the cellos to give a more lyric and dramatic flair to the opening, and so on. Mahler sought to make Beethoven's final symphony more fitting for the modern orchestra and he did it through emphasis and support of lines that were now difficult to hear.
Ludwig van Beethoven: Symphony No. 9 in D Minor, Op. 125, "Choral" (orch. G. Mahler) – II. Molto vivace – Presto (Cincinnati Philharmonia Orchestra; Gerhard Samuel, cond.)

This performance also has some contributions by the conductor. A timpanist, he felt that the timpani lines weren't fully addressed in either Wagner's or Mahler's reorchestrations, so he's made his own contribution to the new edition.
And, in this time of social distancing and the like, the chorus will not be a chorus of thousands. It will be a chorus of 32. Eight voices per part, plus soloists. This is where modern technology steps in. As this will be performed in a recording studio, the chorus will have the advantage of microphones to boost their sound.
Maestro Vogel sees Beethoven as a minimalist – he does a great deal with a minimal amount of material. He's not a melodist like Mozart but uses rhythm to convey his messages. Maestro Vogel sees the third movement in particular as being at once romantic and modern, with much of the movement being a polyrhythmic play between an eighth note and a triplet rhythm.
Ludwig van Beethoven: Symphony No. 9 in D Minor, Op. 125, "Choral" (orch. G. Mahler) – III. Adagio molto e cantabile – Andante moderato (Cincinnati Philharmonia Orchestra; Gerhard Samuel, cond.)

We talked about the fourth movement. Although it is always understood as a plea for brotherhood: 'Alle Menschen werden Brüder' etc., Maestro Vogel reads something darker in the movement: not all men are brothers but rather, wouldn't it be great too if humanity could work together, implying, of course, that we aren't working together. In the end, it's all about us, not about a god. This can be taken as a pandemic message as well: it's only in working together that we can defeat COVID-19.
Maestro Vogel sees the whole works as a symphony of life and death. When the first movement starts, it's dead – how can the composer put life into soulless matter? For Beethoven, it becomes a question of 'When does music start?' By the fourth movement, it's like those visions one has when dying, revisiting one's life (the symphony) and then, brought back to life, changing it all.
Ludwig van Beethoven: Symphony No. 9 in D Minor, Op. 125, "Choral" (orch. G. Mahler) – IV. Presto – Recitativo – Allegro assai – Allegro assai vivace. Alla marcia – Andante maestoso – Allegro energico, sempre ben marcato – Allegro ma non troppo – Prestissimo (Rie Hagwara, soprano; Catherine Cook, mezzo; Walter Pool, tenor; Richard Zeller, bass; University of Cincinnati College-Conservatory Chamber Choir and Chorale-Motet Choir; Cincinnati Philharmonia Orchestra; Gerhard Samuel, cond.)

The much-anticipated Beethoven Year was destroyed by the pandemic. All over Vienna and the world, Beethoven concerts were cancelled and where the performances of the Ninth Symphony should have been the climax of the year, they were cancelled one after another. However, one of the other advantages of 2020 is that technology has advanced. This concert was pulled together at the last minute by ON AIR, in the last month of the Beethoven year and now, thanks to an international effort, this recording will be done using the company's latest technologies. They are renowned for producing high quality concerts in more mainstream fields, and this is their first classical music broadcast. The performance will be shot in 8K, and the sound will be captured on more than 70 tracks mixed for a true surround sound. This won't come across as well in the streaming broadcast but will be there in the reference recordings, and potential repeat performances in 2021.
Tickets are available at https://www.onair.events/en-int/page/beethoven and the concert will be broadcast at 8pm on 18, 19 and 20 December in the following time zones:
ACDT – Australian Central Daylight Time
JST – Japan Standard Time
CET – Central European Time
GMT – Greenwich Mean Time
EST – Eastern Standard Time
PST – Pacific Standard Time
Close the Beethoven year the way it was supposed to be. Hear Beethoven performed and presented using the highest technology available and in an edition that was modernized by the greatest composers of the 19th and 20th centuries.
For more of the best in classical music, sign up to our E-Newsletter