Pianist Dinu Lipatti (1917-1950) is best known as one of the leading pianists of the 20th century but less for his compositions. This dual life of composer / pianist had been his since childhood where he was a wunderkind on the piano while also composing and improvising. He graduated from the Bucharest Royal Academy of music in 1932 and the next year won second prize at the Vienna International Piano Competition and second prize at the G. Enescu International Competition for his Sonatina for violin and piano.
Alfred Cortot, who felt that Lipatti should have been awarded first prize, quit the Vienna International Piano Competition and invited Lipatti to join him at the École Normale in Paris for further study. He did so in 1934, having in the meantime been awarded first prize at the G. Enescu International Competition for his symphonic suite Satrarii. Immediately, he was studying and working with the leading pianists and composers in France, including Cortot on piano, and with Paul Dukas, Nadia Boulanger, and Igor Stravinsky for composition. He also studied conducting with Charles Munch. After a brilliant career in performance, his life was cut short by leukemia and he died at age 33.
His Piano Concerto in the Classical Style takes the traditional form such as sonata form and creates a neo-classical world in the modern age. The final Allegro molto movement seems to sweep us up and takes us along in a Haydn-esque style.
Italian pianist Marco Vincenzi studies at the Genoa Conservatory and, as part of his thesis work, wrote on Dinu Lipatti. He's recorded many of Lipatti's piano works, bringing this forgotten master back to life.
Lipatti: Piano Concertino in the Classical Style, Op. 3: IV. Allegro molto (Marco Vincenzi, piano; Padova e del Veneto Orchestra; Gert Meditz, cond.)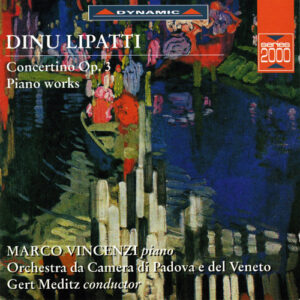 Lipatti: Piano Concertino in the Classical Style, Op. 3: IV. Allegro molto

Performed by
Marco Vincenzi
Padova e del Veneto Orchestra
Gert Meditz

Official Website