Claude Debussy (1862-1918), better known for his piano and orchestral works, was also a master of the string quartet. He wrote his first one in 1893 and planned a second one to go into a series of six chamber works. He only finished three of the planned works before his death. Nonetheless, his Cello Sonata, his Flute, Viola and Harp Sonata, and his Violin Sonata stand as valuable contributions to the chamber repertoire.
His first and only string quartet is Debussy at the beginning of his career. He had returned from an unhappy stay in Rome as winner of the Prix de Rome 1887, entered into a stormy relationship with Gabrielle Dupont in 1888 that was to last for 9 years, interrupted by his engagement in 1894 to the singer Thérèse Roger that caused a rupture in his friendship with the composer Chausson. Gaby Dupont unsuccessfully attempted suicide in 1897, in 1899, Debussy married her friend Rosalie Texier, who he deserted in 1904 to pursue a married woman who became his second wife. He had complicated relationships that caused personal and professional problems through his entire life.
The string quartet looks forward in many ways to the musical language that Debussy would make his own: subtle harmonies are reinforced with the use of modal and whole-tone scale. Supporting this sound is extremely clear form. The four movements of the quartet are thematically related, just as Debussy would have seen in the works of César Franck.
The first movement, marked Animé and trés decide, Animated and very decided, immediately swirls us away. This is in keeping with Debussy's philosophy, expressed in 1910, that:
"Music must be freed from all learned bombast. It must endeavour with modesty to give joy; within these limits perhaps the greatest beauty is possible. Exaggerated complication is the opposite of art. Beauty must be sensually perceivable so that it can provide us with direct enjoyment, so that it can enter into us or penetrate us without us having difficulty understanding it."
This is the beginning of Debussy's impressionism – he doesn't try to give us the theme in a clear and memorable manner (this is a movement in traditional sonata form, after all), but places us in the middle of a complex sound world – rather like opening your eyes in the middle of a complex patterned carpet – and then invites you to move through the landscape of sound.
Claude Debussy: String Quartet in G minor – I. Animé et très décidé (Paganini Quartet)

The performers on this recording, the Paganini Quartet, were an American quartet founded in 1946 by Robert Maas (cello) and Henri Temianka (violin). This recording was made in 1958, with Henri Temianka on first violin, Charles Libove on 2nd violin, David Schwartz, viola, and Lucien Laporte, cello. The quartet got its name from the fact that each player used a Stradivarius instrument that had been owned by the violin virtuoso Niccolò Paganini, purchased for the quartet by their first sponsor, Anna Clark, widow of the copper millionaire William A. Clark. In 1946-47, the original Quartet played all the Beethoven string quartets at the Library of Congress on the Paganini instruments – the concerts sold out in an hour.
The instruments themselves have an interesting history. They were among Paganini's most cherished possessions. As a quartet of instruments made by Antonio Stradivari, they are rare, with only six extant sets known today.
– The first violin, the "Comte Cozio di Salabue," was made by Stradivari in 1727 and was played by Paganini himself, after he acquired it from Count Cozio de Salabue in 1817.
– The second violin, the "Desaint," was made by Stradivari in 1680. It is an example of Stradivari's early Amatise style.
– The viola, the "Mendelssohn," was made in 1731, when Stradivari was 86 years old. It is one of fewer than a dozen surviving Strad violas and was the instrument that inspired Paganini to commission Hector Berlioz to write his symphonic poem Harold in Italy. Paganini never played the work because he didn't like how much the viola was silent. He expected the viola to be in continual action.
– The cello is the "Ladenburg" of 1736. It was owned by the Mendelssohn family before coming into Paganini's possession.
Mrs. Clark specified that the instruments were not to be separated. After the Paganini Quartet disbanded in 1966, the instruments were played by the Cleveland String Quartet, The Toyko String Quartet until 2013, until 2017 by the Hagen Quartet, and since 2019, they have been on loan to the Quartetto di Cremona.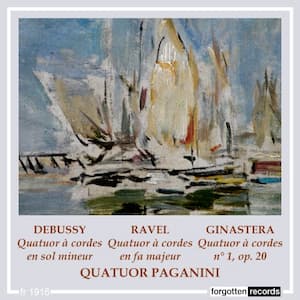 Performed by

Paganini Quartet

Recorded in 1958

Official Website
For more of the best in classical music, sign up to our E-Newsletter