We interviewed digital performer and arranger Francis Gorgé in February 2022 and took a look at his orchestration of Debussy's Preludes Book I in January 2023. Now he's extended his work to Debussy's Preludes, Book II, a work by Florent Schmitt, and two works by Ravel.
In his first recording Gorgé said about his work, 'I identified myself with a contemporary of Claude Debussy' when he created his orchestration. For Book II, Gorgé used a more contemporary sound, utilizing more percussion, 'timbre melodies and sound effects' with the goal of removing Debussy from the Impressionist shroud that seems to cover him. Gorgé sweeps back the mists to display all of the inventiveness in Debussy's music.
The technique that Gorgé uses starts with the music. He transcribes the score into his Digital Audio Workstation and from there, like a painter, begins to set the sounds he wants. The digital advantage is that he can hear his efforts immediately. The digital disadvantage is that the DAW can play only what is in the coding – there's no nuance, there's no interpretation, and there's only the notes on the page.
We all know, however, that the notes are only the beginning of a work – it's the minute changes that make a work truly sing. Gorgé's orchestration includes all the fine-tunings of a work: placement of notes, changes in duration, modifications of intensity, moderation of attacks, variations in tempo, and so on. In short, all those elements that we rely on any interpreter to add to a work, Gorgé has to do in his much more highly developed and sympathetic orchestration.
As a digital orchestrator, he also doesn't have to worry about the limitations of the orchestrator: an instrument can appear only once for one note, add its perfect sound, and vanish off the stage. Lines aren't limited by a breath, or by a performer's ability to play. Yet, at the same time, the goal is to create a digital piece that replicates a live performance. Gorgé writes, 'With my digital orchestrations, I wish the listener to rediscover the sensations he or she would have when listening to the musicians of an actual orchestra'. It's not the medium that's the message here, but the result.
And the results are really lovely. Debussy wrote Book II between the end of 1912 and April 1913. His titles for the Preludes are just as random as they were for Book I:
I. Brouillards (Mists)
II. Feuilles mortes (Dead Leaves)
III. La puerta del Vino (The Wine Gate)
IV. «Les fées sont d'exquises danseuses» ("Fairies are exquisite dancers")
V. Bruyères (Heather or a Town in Eastern France)
VI. Général Lavine – eccentric
VII. La terrasse des audiences du clair de lune (The terrace of the audiences of moonlight)
VIII. Ondine
IX. Hommage à S. Pickwick Esq. P.P.M.P.C. (Homage to S. Pickwick)
X. Canope (Canopic Jar)
XI. Les tierces alternées (Alternating Thirds)
XII. Feux d'artifice (Fireworks)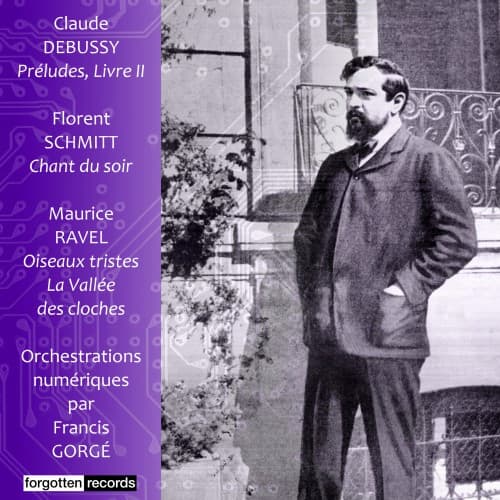 As with Debussy's Prelude Book I, the titles of the works in Book II are written at the end of the work – with the intent that the performer not know Debussy's title until he had performed it. The works cover a number of styles: No. VI., Général Lavine – eccentric: Dans le style et le mouvement d'un Cakewalk is in homage to the American clown Edward Lavine, who performed in Paris in 1910 and 1912. A cakewalk comes from American black dance traditions and is a stylized partner dance performed with comic formality.
Claude Debussy: Preludes, Book II – VI. Général Lavine – eccentric
The final Prelude, No. 12. Feux d'artifice, really gains from its orchestration. The many colours of the orchestra give us the many colours of the fireworks exploding around us.
Claude Debussy: Preludes, Book II – XII. Feux d'artifice
Two additional composers are on this recording, Florent Schmitt and Maurice Ravel. Florent Schmitt (1870–1958) was a graduate of the Paris Conservatoire, studying under Gabriel Fauré and Jules Massenet, Chant du soir, Op. 7, was written in 1895 for violin and piano. It definitely shows the influence of the mystic Debussy in its opening.
Maurice Ravel (1875–1937) has two works from his collection Miroirs of 1905 orchestrated by Gorgé: no. 2, Oiseaux tristes and no. 5, La Vallée des cloches. Oiseaux tristes is intended to be 'birds lost in the torpor of a dark forest during the hottest hours of the summer' while La Vallée des cloches is a discussion between three bells.
As additions to Debussy's work, they add a depth of context to the Preludes. Gorgé's orchestrations take us deeper into the music and the addition of Schmitt and Ravel shows us the influence that Debussy's sound had on other composers.
Hear Debussy in a new way, with new emphases and contours. Rediscover what you loved about French music in the early 20th century, now with a modernized sound of a digital orchestra.
For more of the best in classical music, sign up for our E-Newsletter
Debussy-Préludes, Book II (Digital Orchestrations by Francis Gorgé)