We interviewed digital performer and arranger Francis Gorgé in February 2022 and now look at this recording as our Music of the Week.
In Debussy's Préludes, Book I, the second piece has the title Voiles, which can be translated as either 'Sails' or 'Veils'. The work's distinctive tonal region is based on the whole tone scale, where every note is a whole tone away from its predecessor: C-D-E-F#-G#-A#-C, which gives us an abbreviated scale of 6 notes rather than the usual 7-note scale. Because there are no half-steps, we lack a leading tone (such as F# to G or B to C) and so we lack focus. The sound is often described as blurred or indistinct.
In a work such as Voiles, which is mostly interpreted as depicting an exotic dancer, this vague quality helps with the idea of things floating in air. When you think of the dancer Loïe Fuller, who came to Europe and was an immediate hit at the Folies-Bergère in November 1892, we may have a clue to an interpretation. Fuller made floating fabric the core of her dance style and you can see where this work by Debussy, written in early 1910, could have had inspiration. In fact, looking at the titles of the first 4 preludes in Préludes, Book I, we could carry this idea further: 1. Danseuses de Delphes (Dancers of Delphi), 2. Voiles (Veils), 3. Le vent dans la plaine (The Wind in the Plain), 4. «Les sons et les parfums tournent dans l'air du soir» ('The sound and fragrances swirl through the air').
Loïe Fuller was so popular in Paris that she had her own theatre at the 1900 International Exposition in Paris and was the inspiration for the flowing Art Nouveau styles seen in Toulouse-Lautrec, Alphonse Mucha, and others. Sculpters, too, took up her liquid lines.
But this is all supposition – we don't know who or what Debussy was thinking of when he composed this work.
Gorgé's digital orchestration of Debussy's piece allows him to remove the weight of the piano from the work and make it lighter, he can invoke the sounds like that of the celeste and the higher strings to raise the timbre of the work to something that could be Fuller's sweeping gown, or the wind through the trees, or over the grass. It has a lightness that neither the piano or even a standard orchestration can give it.
Claude Debussy: Préludes, Book I (Orchestrations Numériques Par Francis Gorgé)
Gorgé gives us a new Debussy – light and floating, but still depicting a real concept.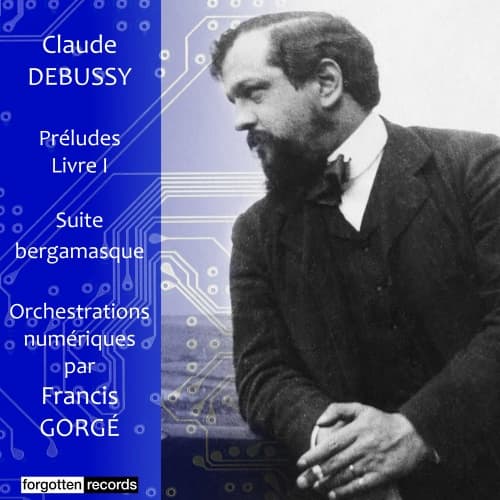 Orchestrations by

Francis Gorgé

Recorded in 2020

Official Website
For more of the best in classical music, sign up to our E-Newsletter