Talent certainly runs in the family. Celebrity brothers and sisters are everywhere. Take for example Casey and Ben Affleck, actors, Venus and Serena Williams, tennis players, or Alec and Evelyn Waugh, authors of Island in The Sun and Brideshead Revisited respectively. The music world is full of sizzling siblings too, from the great jazz playing brothers Branford and Wynton Marsalis to many classical music pairs!
Adam and Iván Fischer
Hungarian conductors Adam and Iván Fischer are just over a year apart in age. I've had the privilege of working with both of them here in Minneapolis. The brothers were born into a family of conductors. Their father Sándor conducted the Budapest Radio Orchestra and their cousin György conducts as well. Iván is the music director of the Budapest Festival Orchestra. Earning rave reviews, Iván's concerts are well attended for his vivid and evocative performances. A New York Times review from Jan 22, 2013 said, "Mr. Fischer repeatedly showed off his glassblower's sense of heat and timing, an intuitive understanding of when to mold a phrase with a few swift gestures and when to hold back and allow it to settle."
Iván has implemented new and unconventional presentations, to say the least, often bolstered by his musicians who contribute ideas for concert programming. He's started cocoa-concerts—a series for young children and the Titok-koncert – secret concert series where the program is unannounced beforehand. He addresses the audience during his popular "one forint concerts," (the forint is the Hungarian currency. One forint is less than one dollar,) and tens of thousands of people attend his open-air concerts. Iván presents concerts at midnight to attract young people placing beanbag seats and bleachers within the orchestra so that the youth can get an up-close and personal look at the music. I remember being mesmerized by his interpretation of Bartók's Miraculous Mandarin—one of my favorite pieces to perform.
Iván Fischer Conducts Mahler's Symphony No. 1 – II. Scherzo
Adam began his career as the rehearsal conductor at the Vienna State Opera. At the last minute he had to take over for an ailing Karl Böhm one night and conducted Beethoven's opera Fidelio in Munich, Germany. This led to many engagements. He founded the Austro-Hungarian Haydn Orchestra during the Communist era with musicians from both the Vienna Philharmonic and Hungarian orchestras. As music director, Adam's purpose was "to musically overcome the border" between Austria and Hungary by playing Haydn's music. They perform in the Esterházy Palace's Haydensaal where Haydn himself had a position, in the room where Haydn premiered his symphonies and they have recorded all of Haydn's symphonies. Adam like his brother regularly appears worldwide.
Gil and Orli Shaham
Violinist Gil Shaham is well known as an international soloist but he and his sister, pianist Orli Shaham, perform often as a duo. Gil has a beautiful rich sound. I'll never forget performing with him at the Concertgebouw in Amsterdam. The stage is quite small and Gil, who is a modest guy, kept backing up from the edge of the stage right into our music stand, nearly toppling it over. My stand partner slammed his foot on the base of our stand to keep it upright while we continued to play the Mozart Violin Concerto!
Orli, a wonderful pianist and speaker, is doing some inspiring things. She founded the Baby Got Bach Series of interactive music performances for children three to six years of age, which are held at the 92nd Street Y in New York City. The children have a chance to try musical instruments and then to hear Orli perform the great chamber music literature with her friends.
Renaud and Gautier Capuçon
There's a very hot and handsome brother team making the headlines these days—a pair of French classical musical prodigies— the Capuçon brothers, Renaud, violinist, and Gautier, cellist. The brothers are inspired to change the perception of young people who find the traditional presentation of classical music too formal. In June of 2011, they took up a Hollywood-esque project. Appearing with the charismatic conductor Gustavo Dudamel they performed an unconventional Brahms Double Concerto, for violin, cello and orchestra. The final concert presented an immersive sights-and-sounds experience, which included footage of the rehearsal and interviews with the performers. This contemporary presentation was broadcast live in movie theaters around North America. About the experience, Renaud said, "Beyond the magnificent music, the idea of people eating popcorn and drinking Cokes and watching us — a couple of French guys who show up in Los Angeles to play Brahms — is very exciting." This past July they again appeared with Dudamel, at the Hollywood Bowl. The Capuçons were featured in the Beethoven Triple Concerto for violin, cello and piano, with pianist Jean-Yves Thibaudet, another French virtuoso.
The Capuçon Brothers Play Brahms' Double Concerto
Maria, Lucia and Angella Ahn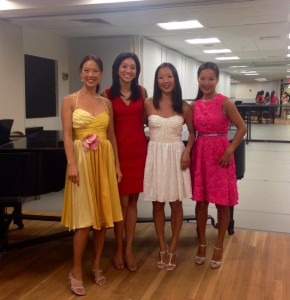 Speaking of hot… can there be anything steamier than the Ahn Trio? The three sisters, cellist Maria, pianist Lucia and violinist Angella were born in Seoul, Korea, and educated at Juilliard. They are taking a new look at the piano-trio literature—probably my favorite repertoire. The Ahns have been actively promoting new music and have commissioned works from visionary composers such as Michael Nyman, Maurice Jarre, Pat Metheny, Paul Schoenfield, Mark O'Connor, Kenji Bunch, Nikolai Kapustin and Paul Chihara. Just the title of the trio's CD Lullaby for My Favorite Insomniac is intriguing, featuring vibrant and original music. Their collaborations with dancers, pop artists, painters, designers and photographers have led to major international tours and sold out shows.
In these families we tend not to worry too much about the debate whether talent is nature or nurture.
For more of the best in classical music, sign up to our E-Newsletter
The Ahn Trio Play Piazzolla's Oblivion