16 December 2020: Schubert
This concert will be live streamed on the Wigmore Hall website in HD, and all concerts in the Autumn Series will be available on demand for 30 days after the date of the concert. This generous gesture, which is offered free of charge (though the hall welcomes donations from viewers), will enable thousands of people around the world to enjoy fine music-making from London's premier chamber music venue. For full details, please visit the Wigmore Hall's website.
Franz Schubert: Piano Sonata No. 15 in C Major, D. 840, "Reliquie" – I. Moderato (Mitsuko Uchida, piano)


Mitsuko Uchida's performances are always introspective and intimate affairs. "Through the limpid, intense quality of her sound, her subtly shaded dynamics and careful voicing, she is able to draw audiences into her world and the distinctive soundscapes of her favorite composers," foremost among them Franz Schubert. "I feel more connected with Schubert than anyone else," she explains. "His music is ever so slightly minimalistic: There's nothing unnecessary…" Uchida is adamant that "she will never be done with Schubert… The great composers always change. And as you change, they change. Especially with the Schubert sonatas, I discovered that I truly have changed." In today's Wigmore Hall programme, Uchida engages anew with two fabulous Schubert sonatas, the "Reliquie" D840 and the Fantasy Sonata D894.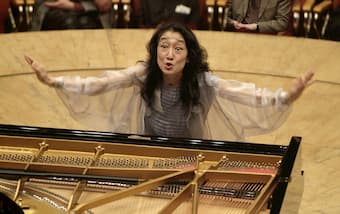 Franz Peter Schubert (1797-1828) started work on the Sonata in C Major, D840 ("Reliquie") during April of 1825. It was first published in Leipzig in 1861 and dubbed the "Reliquie," based on the mistaken assumption that it was Schubert's last piano sonata. Schubert did leave this sonata unfinished. He did completed the "Moderato" first movement and the "Andante" second movement. The third-movement "Minuetto" in A-flat Major comprises an incomplete "Minuetto" section that breaks off after about 80 measures, and a complete "Trio" in G-sharp minor. The concluding "Allegro" is scored in the tonic key, but the music breaks off at measure 271 in the key of A Major.
Initially it was presumed that the sonata was left incomplete because of the composer's death. Once that particular myth had been discarded, it became a common assumption that Schubert was frustrated with the score of the "Reliquie" and was unsure how to go about completing the work. In the event, it is more likely that Schubert simply set the unfinished movements aside in order to begin work on some new compositions. In Schubert's mind, presumably, the sonata was complete. Given the large scope and extent of the material that Schubert left for the incomplete movements, the "Reliquie" has inspired various composers and performers to undertake completions. Be that as it may, the two opening movements, which we will hear today, convey an extraordinary sense of space and time while exploring a complex and dense web of harmony.
Uchida's approach to this sonata, and to Schubert in general, is to communicate a deep sense of intimacy. Her interpretations are rich with ideas about beauty and mortality, and she maintains restrained lightness and lyricism throughout. Her vision of Schubert is rarely forceful, and her dynamic explosions—primarily psychological punctuations—reserved for rare occasions. Her engagement with Schubert has been a lifelong process, and that process, according to Uchida, is never finished. Uchida refuses to listen to her own recordings, as "she doesn't want to peep into what I did in the past. If I like it, the danger is that I will imitate myself, which is the last thing I want to do. And if I don't like it, I will just be depressed. The score is there. Why do I need to listen to myself?"
Franz Schubert: Piano Sonata No. 18 in G Major, Op. 78, D. 894 – III. Menuetto: Allegro moderato (Mitsuko Uchida, piano)


Robert Schumann described Schubert's Fantasy Sonata in G Major, D894 as "the most perfect in form and conception." The pianist and Schubert specialist Imogen Cooper added, "it is one of the rare complete serene sonatas that Schubert wrote." Primarily leisurely and lyrical, the opening movement impassionedly explores distant harmonic areas and colorful keys, while the slow movement presents a serene theme in alternation with two stormy episodes. While the "Menuetto" unfolds in the style of a Ländler and includes a delicate trio, the finale seemingly finds inspiration in Beethoven. It is a movement of great poignancy, according to Cooper "as if a cloud suddenly covered the sun, and then the sun comes out again." In today's performance, Uchida will undoubtedly try to catch that particular moment and sentiment. "Every day of my life that I am allowed to play Mozart, Beethoven, Schubert and the music of our own time too," she writes, "is a gift from somewhere. If heaven existed, this is heaven."
For more of the best in classical music, sign up to our E-Newsletter