"Minors of the Majors" invites you to discover compositions by the great classical composers that for one reason or another have not reached the musical mainstream. Please enjoy, and keep listening!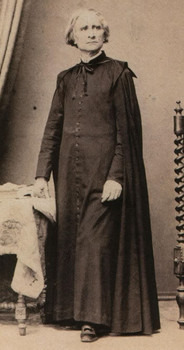 The 1860's were not particularly kind to Franz Liszt. For one, the Tsar of Russia successfully blocked his long-awaited marriage to the Princess Carolyne Sayn-Wittgenstein. Furthermore, his son Daniel—a promising pianist and gifted scholar—died of a massive tuberculosis infection at age 20. And barely two years later, on 11 September 1862, his daughter Blandine expired during childbirth, aged 26. Later, when his married daughter Cosima left her husband for Richard Wagner, Liszt furiously wrote, "Where are you going? What are you telling me? What! Everything is dead for you except a single person to whom you think you are necessary, because he says he cannot do without you? Alas! God save me from judging you wrongly. I know that nothing infamous, nothing low, nothing futile is subjugating you, but you have become giddy and are dissipating the vital and holy forces of your soul by sealing an evil deed with approval. This perversion, this adulteration of God's fits breaks my heart." After this series of personal misfortunes, Liszt was looking for comfort and reassurance from the Catholic Church. He entered the clergy and received minor orders in 1865.
Franz Liszt: Cantantibus organis , S7/R481 (version for chorus, organ and piano) (Tamara Takacs, contralto; Istvan Denes, piano; Zsuzsa Elekes, organ; Hungarian Youth Ensemble Choir; Kalman Strausz, cond.)

Following his conversion, Liszt attempted to revolutionize liturgical music by advocating the revival of Gregorian chant and Renaissance polyphony. His antiphonal setting Cantantibus organis dates from 1879, and pays homage to Saint Cecilia, the patron saint of musicians and church music. The chorus introduces a free-flowing chant melody. In turn, the Soprano soloist, representing Saint Cecilia, answers this musical prayer with the words "Let my heart be innocent, so that I may suffer no humiliation." Highly emotional and passionate, this dramatic setting is subtly attuned to the inflections of the Latin text. Avoiding wide leaps and dynamic contrasts, it offers convincing testimony of the sincerity and personal conviction of Liszt's religious views.
For more of the best in classical music, sign up for our E-Newsletter