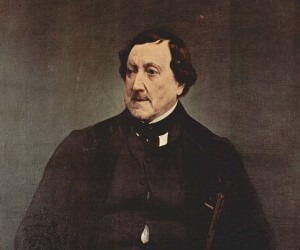 "Minors of the Majors" invites you to discover compositions by the great classical composers that for one reason or another have not reached the musical mainstream. Please enjoy, and keep listening!

In 1829, Gioachino Rossini (1792-1868) completed his thirty-fourth opera, William Tell. Financially secure and at the height of his operatic career, Rossini spontaneously decided to retire. The compositional hyperactivity of his early life was now followed by almost four decades of inactivity. Although opera houses frequently begged him to compose new works, Rossini would graciously decline all offers. Instead, he began to direct his attention towards sacred music, incorporating a dramatic operatic content into a sacred repertoire. After the success of his large-scale Stabat mater, Rossini turned towards smaller performing forces and composed Three religious choruses for soprano, female chorus and piano in 1844.

Gioacchino Rossini: 3 Choeurs Religieux
Rossini used poetry by H. Lucas for his setting of "La Speranza." Rapid ornamentation and dramatic inflections, in both the virtuoso solo sections and the homophonic parts of the chorus, are supported by tremolo passages in the piano throughout. "La Carità" opens in a grand operatic style, with highly virtuoso passages presented by the soloist. Eventually joined by the women chorus, the soloist continues to provide jubilant descant passages. By contrast, a brief piano introduction sets the tone for the setting of "La Fède." Cast in a leisurely triple meter, the first phrase concludes with fleeting grace notes, directly borrowed from the operatic stage. Single notes in the high register juxtapose punctuating chords. The introduction gradually looses intensity, and includes a typical modulation to the minor key. The chorus, including the soprano soloist, enters in a quiet unison that rapidly ascends to a fortissimo dynamic. In conclusion, a graceful vocal descent initiates a joyous setting of the lyrics by Prosper-Perfect Goubaux.