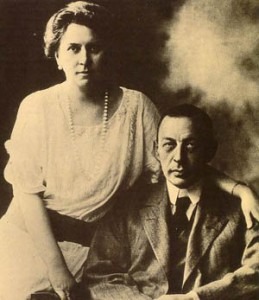 Sergei Rachmaninoff and Natalya Satina knew each other since childhood. This is hardly surprising as Natalya was the child of Alexander Alexandrovich Satin and Varvara Arkadyevna Rachmaninoff. Her mother Varvara, as such, was the sister of Sergei Rachmaninoff's father, Vasily Arkadyevich Rachmaninoff. All complicated genealogy aside; it simply means that Sergei and Natalya were first cousins. However, the reason why Sergei and Natalya started to develop romantic feelings for each other can be attributed to an incident during the boy's early musical education.
Rachmaninoff, alongside Scriabin, was taking piano lessons with the famous teacher Nikolai Zverev. As was customary at that time, students would actually lodge with their respective teachers. Once Rachmaninoff became interested in composition, he lamented the fact that all the pianos in Zverev's house were located in one single room. Since there was always somebody practicing, it was impossible to compose without distractions. So he asked his teacher to buy him another piano and put it in a separate room. For some reason, Zverev was furious and threatened to kick Rachmaninoff out of the house. Unexpectedly, it was Varvara Satina, his father's sister, who offered to house and feed Rachmaninoff while he finished his studies at the Moscow Conservatory. And thus, the Satin family became Rachmaninoff's second home.
Over time, the Satin children had become Rachmaninoff's most intimate and trusted friends. And that was certainly true of Natalya, four years his junior, who was also an accomplished pianist. She had also studied with Zverev for a period of time, and then transferred to Igumnov's class at the Conservatory. Given their shared interest in music and their close proximity to each other, it is not surprising that romance blossomed as well. The news of their engagement hit like a bomb explosion! Besides some major reluctance on part of her family, first cousins were forbidden marriage within the Orthodox Church. A close family member reports, "All of us were aware of the many obstacles to this marriage, family, civil, clerical. In the first place Sergei was not a regular churchgoer and did not go to confession, and no priest would marry him without a certificate that he did both these things. And yet Sergei refused to attend confession." Through family connections, it was finally arranged that the couple would secretly wed at a military barracks, since barrack priests reported not to the Holy Synod, but to the generals.
However, there was one last barrier to overcome, and that was to get permission from the Tzar for first cousins to marry. This one was tricky, as the petition had to be sent during the marriage ceremony itself, for if the Tzar should refuse, no priest would agree to perform the marriage. Natalya writes, "My mother took on the challenge with her one-of-a-kind energy and zeal. She thus bustled all through winter, and only in March it transpired that a petition had to be sent to the Czar. The wedding was postponed until the end of April due to the arrival of Lent." On 29 April 1902, with a heavy spring rain pouring outside, Sergei Rachmaninoff married Natalia Satina in an army chapel of suburban Moscow, with Alexander Siloti and Anatoli Brandukov as best men. The blushing bride reports, "I rode in the carriage in my wedding dress, with the rain pouring relentlessly. The sole entry into the church was via a long succession of barracks. The soldiers stared at us in amazement."
Sergei Rachmaninoff: 12 Songs, Op. 21: No. 2. Nad svezhey mogiloy (By a fresh grave) (Sergey Leiferkus, bass; Howard Shelley, piano)

Racked by scathing reviews of his first symphony—the nationalist composer César Cui had likened the work to a depiction of the ten plagues of Egypt, only admired by the inmates of a music conservatory in hell—and his uncertainty about being allowed to marry his beloved, Rachmaninoff nevertheless completed his second piano concerto during the period of his courtship and engagement to Natalya. In early April 1902, Sergei turned his attention to 12 Romances for voice and piano. Op. 21. According to Natalya, he composed "one daily to earn money for our trip to Italy after the wedding." The couple eventually did spend part of their honeymoon on Lake Lucerne, where Rachmaninoff completed this group of songs. While the opening song recreates the psychological anguish of Beethoven's fifth symphony, there is also a sense of contentment in "How peaceful," specifically dedicated to his wife. Rich lyrical lines in the voice are delicately embedded in a luxurious and sensuous harmonic progression. As far as we know, this marriage of cousins was a happy one, and the couple had two perfectly healthy daughters.
For more of the best in classical music, sign up to our E-Newsletter