Giacomo Meyerbeer (1791-1864), born the year Mozart died, found his own musical art in his youth. His first production, a ballet, was staged when he was 19 and still a student. After studying in Germany, Meyerbeer went to Italy, where he discovered the art of Italian opera. His first attempt in the field, an 1814 opera called Die beiden Kalifen (The Two Caliphs), was a failure in Vienna.
This prompted his trip to Italy where the young Rossini, age 24, was head of both major opera houses in Naples. Meyerbeer created a series of operas that were given their premiers in Italy: Romilda e Costanza (Padua, 1817), Semiramide riconosciuta (Turin, 1819), Emma di Resburgo (Venice, 1819), Margherita d'Anjou (Milan, 1820) and L'esule di Granata (Milan, 1821). Written on Rossinian models, they were Meyerbeer's first operatic successes. It was while in Italy that Jakob Leibmann Beer, who had written his earlier works under the name Meyer-Beer, a combination of names from his parents: Jakob Herz Beer and Amalia Meyer Wulff, changed his full name to Giacomo Meyerbeer.
Meyerbeer in Italy was like a composer awakening: his music is full of light and sparkling invention, his tunes are accessible and filled out with florid decoration that never goes too far. His German training kicks in with excellent orchestration, full of colour. He's learned to write for an orchestra that supports, rather than buries the voices.
Romilda e Costanza is an opera semiseria, full of the usual problems of jealousy between brothers, false imprisonment, and rescue from the same. The work opens with Beethoven-like austerity before moving to a dancing dotted rhythm. Much of the style can be tied to Rossini's Le barbiere di Sevilla, including the short and long development sections. Meyerbeer was learning his lessons in Italy and this early work shows how well he could apply those lessons.
Giacomo Meyerbeer: Romilda e Costanza: Overture (Czech Chamber Philharmonic Orchestra, Pardubice; Dario Salvi, cond.)


The Czech Chamber Philharmonic Orchestra Pardubice is a small symphonic 'Mozart-Haydnesque' orchestra. Dario Salvi is one of the leading figures in researching and reviving lost works. His editions include music by composers from Adam to Ziehrer, including the new edition of the opera Romilda e Costanza.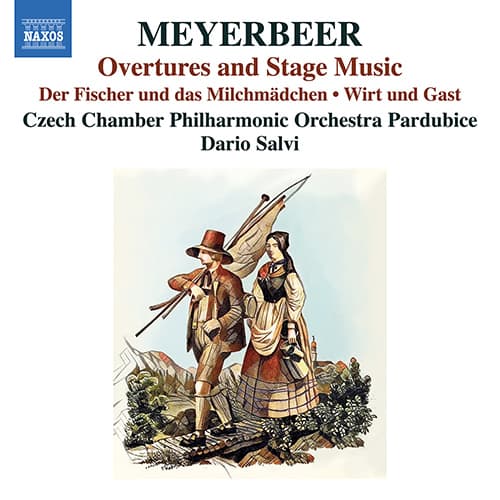 Giacomo Meyerbeer: Romilda e Costanza: Overture

Performed by
Czech Chamber Philharmonic Orchestra, Pardubice
Dario Salvi

Official Website
For more of the best in classical music, sign up to our E-Newsletter