Last year, I was invited to perform during a special week of commemoration and celebration upon the 100th birthday of Leonard Bernstein, and the 70th anniversary of his appearance at the Displaced Persons camp in Landsberg, Germany. It's a picturesque, medieval town 50 miles from Munich, and 42 miles from the infamous concentration camp Dachau. The largest DP camp in the American Zone after World War II, Holocaust survivors languished waiting for news of loved ones and paperwork to emigrate. Prior to their liberation in 1945, there were 11 slave labor camps located there—subcamps of Dachau.
Bernstein led a small orchestra of survivors—17 members—in concerts of hope. My father was one of the two cellists in the group, performing morale-boosting songs, works of Weber, Bizet, and Gershwin's Rhapsody in Blue, Bernstein at the piano.
The townspeople of Landsberg planned to replicate the 1948 program, and initiated a young composer's award to honor Wolf Durmashkin an exceptionally talented composer, who perished in the Holocaust. One of the presenters invited me to play Kol Nidrei by Max Bruch. Imagine performing the very place my father had played with the great maestro, 70 years later to the day. Guy Mintus, an Israeli-born, New York-based jazz pianist and composer, was asked to play Rhapsody in Blue on the program in Leonard Bernstein's stead.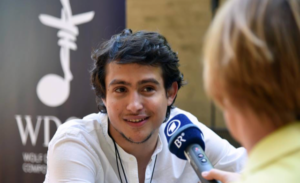 I had never met Guy and was immediately drawn to this shy, handsome, exceptionally gifted young man. His playing knocked our socks off. Guy comes from a mixed heritage of Iraqi, Moroccan, and Polish Jews and draws inspiration from the middle-eastern scales, rhythms, and the diverse musical traditions he grew up with. A trained concert pianist, with the energy of a rock-star, and a jazz musician's sense of adventure, his performances are boundary–crossing and unique. Recording loops, through technology that enables you to repeat sequences of sound and the playback of a line of music, he mixes vocal hums, piano sounds, and swishes and whooshes, and superimposes his on-the-spot pianos improvisations. I heard sounds I've never heard before. One reviewer said, "Guy is a mad scientist… His passionate melodious compositions combine stride piano to Ottoman Makams, Indian rhythms to Bach-styled counterpoint and Flamenco…"
We'd stayed in touch on Facebook. In August, I received a message that he would be passing through Minneapolis, "Would I happen to know of anyone willing to host a home concert?" "I have just the place!" I wrote back. Guy arrived early September, and came over several hours before our event to visit, but more important, to try the piano. I was impressed. He first warmed up slowly with scales and arpeggios, and then worked through thorny passages note by note—just like we classical musicians do!
Carefully positioning rented chairs, we were able to squeeze fifty people into our parlor to hear Guy. Our piano will never be the same! He played a great variety of pieces, eloquently introducing each work, stirring us with the sentiments behind his music—from "Little Italy" one of his own compositions, to works eliciting exoticism and spirituality, such as an improvisation on a traditional Jewish prayer. He ended with the grand finale—his exploration of Rhapsody in Blue. Did I mention he crooned in several languages even scat?
Guy dazzled us with his amazing piano technique, his powerful propulsive sound, and the subtle delicacies he was able to seduce out of the piano as it approached midnight.
Later Guy told me that since we met last year, he has been constantly on the go, recently performing in Brazil, India, Bulgaria, Switzerland, France, Germany, and cities in the US and Canada. A passionate educator, and a strong believer in the unique power of music to heal, connect, and inspire people, he has taught workshops at the Royal Conservatory of Madrid, at US universities in the mid-west, and Refugee Camps around Europe.
Most recently, supporting the idea of coexistence, he released a musical short film, which went viral called, "Can You Tell the Difference?", filmed at several Jewish-Arab primary schools in Israel. Guy played the theme song in our home and many of us were in tears by the end.
A versatile performer, equally at home in ensembles, The Guy Mintus Trio cultivates and unifies diverse musical traditions leading to electrifying and unique performances, "keeping the entire hall holding their breath" (Barka Fabianova, Full Moon Zine Magazine). The trio's debut recording Connecting the Dots brings together Horace Silver and Zohar Argov, Barbara Streisand and Fairouz, and the Sufi poet Rumi. The CD was selected Editor's Pick by DownBeat Magazine and led to performances at New York's Jazz at Lincoln Center, Winter JazzFest at the Montreal Jazz Festival 2019, and debuts in Turkey, Europe, and Kazakhstan.
Just recently, the new documentary about Fiddler on the Roof: Miracle of Miracles by HBO director Max Lewkowicz was released. Guy composed the film score. Guy also premiered his first piano concerto with the Israeli Chamber Orchestra.
I'm thrilled his remarkable talent is being recognized—and he's still only in his twenties!
As the performance came to a close, Guy graciously engaged with all of the guests. None of us were willing to let the electrifying evening end. Even my dog piped in! The guests consider our jazz spectacular with Guy Mintus among the highlights of their year.