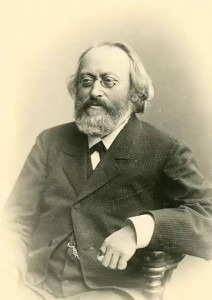 "Minors of the Majors" invites you to discover compositions by the great classical composers that for one reason or another have not reached the musical mainstream. Please enjoy, and keep listening!

Celebrating his 75th birthday in 1906, the legendary violinist Joseph Joachim declared that Germany had four great violin concertos. Among the four—of course including the superb singular efforts in this genre by Beethoven, Mendelssohn and Brahms—Joachim also included the G-minor concerto by Max Bruch (1838-1920). He even suggested that Bruch had written the richest and most seductive violin concerto of them all. In one form or another, Joachim had been intimately connected with all four masterworks, but he was clearly instrumental in making the Bruch G-minor concerto one of the most popular works in the repertoire. In all, Bruch wrote a total of three concertos for the violin, but the popularity of his first effort in the genre remains unrivaled. Throughout his long and industrious musical career, Max Bruch actually composed more than 200 works, among them operas, symphonies, large-scale dramatic works for chorus and orchestra, and a variety of concertos. His compositions are thoroughly grounded in a conservative German romantic tradition, exhibiting a clear sense of structure, and reliance on melodic processes.

Max Bruch: Concerto for Clarinet and Viola in E minor, Op. 88
The Double Concerto for viola and clarinet was expressly written for his son Max Felix Bruch, a gifted clarinetist who was sometimes compared to Richard Mühlfeld. Premiered in 1912, the work was described as "harmless, weak, unexciting, first and foremost too restrained, and its effect is unoriginal." We can probably better understand this scathing review if we keep in mind that Stravinsky's Sacre du Printemps premiered only 2 years later! Scored in three movements, virtuosity throughout serves the expressive qualities of the music, and the slow harmonic and metrical motion imparts the music with a sense of rhapsodic beauty. The Double Concerto was first published in 1942—22 years after the composer's death—but it took the discovery of the original autograph score in 1991 for the work to be officially included into the collected works.