When we think of Austria and the Waltz, we think of the Strauss family (Johann, Johann II, Josef, and Eduard) but they didn't hold the monopoly on waltz music in Vienna. Karl Michael Ziehrer (1843-1922) was one of their primary rivals, not only as a composer but also as a conductor with his own orchestra, always seeking to supersede the Strauss empire. In his conducting career, he was military bandmaster three times and this seems to lend a kind of brashness to his compositions not often found in the Strauss repertoire.
His orchestras waxed and waned and it wasn't until 1885, as bandmaster of the Hoch-und Deutschmeister Regiment that he made his name not only nationally but also internationally. He went to America and appeared in the Chicago World's Fair in 1893, competing nightly 'against' America's most famous band, that of John Philip Sousa. Following his appearance at the World's Fair, he led an extensive American tour. Unfortunately, because of his US tour, he overstayed his leave and was dismissed from the military band.
In 1903, he formed the Wiener-Tonkünstler Orchestra, the forerunner of the Vienna Symphony Orchestra, with the goal of bringing high standard to the performance of popular music. This, in turn, led to his appointment 1909 by Emperor Franz Joseph as Imperial Court Ball Director. He was the only director not from the Strauss family, and he held the position until 1914, when he conducted the last of the Imperial Court Balls to be held in the 20th century.
One of the waltzes written during his time as bandmaster of the Hoch-und Deutschmeister Regiment was Weaner Madl'n (Viennese Girls or Viennese Beauties). It has a unique element – a whistling theme, an innovation of Ziehrer's. First performed in Vienna on 23 January 1899, this waltz quickly established itself as one of Ziehrer's most famous, equal to any of those of his Strauss contemporaries.
Karl Michael Ziehrer: Weaner Madl'n, op. 388
As well as being a waltz composer, Ziehrer also contributed to that other famous Vienna form, the operetta. His farce Die Landstreicher (The Tramps, 1899) ran for a record 1,500 performances and his Fremdenführer (Tourist Guide) of 1902 was an even greater hit.
With the fall of the Austro-Hungarian Empire after WWI, Ziehrer, with all his military and musical connections, also fell from power, dying penniless in 1922.
Leading the Vienna Philharmonic in this 1931 recording is the legendary Austrian conductor Clemens Krauss (1893-1954). He had become music director of the Vienna Philharmonic in 1930, and, at the same time, was director of the Vienna State Opera. This performance, unfortunately, omits the whistling section that would have been popular in its band recordings, but was probably too much of a novelty for the Vienna Philharmonic.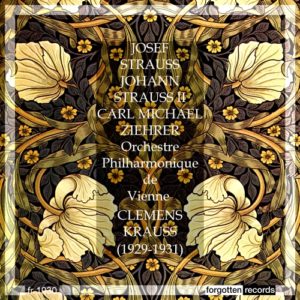 Performed by
Clemens Krauss
Orchestre Philharmonique de Vienne

Recorded in 1929-1931

Official Website