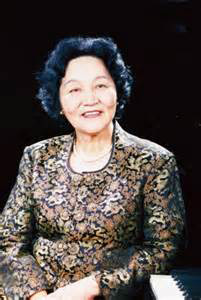 It is estimated that 30-35 million young people play the piano in China. The sudden prominence of outstanding Chinese pianists today including Yuja Wang, Li Yundi, Chen Jie and Lang Lang, and other Chinese instrumentalists, can be attributed to Zhou Guangren, pianist, ardent educator, composer and activist. Zhou Guangren, has been on the forefront of the piano-playing explosion and resurgence of interest in western classical music in China. It was not easy. During her early life she had to overcome major challenges only to be thwarted by the suppression and persecution of the Cultural Revolution when the piano and all western music were condemned.

Zhou Guangren is a prominent member of the faculty at the Central Conservatory of Music in Beijing and is one of China's most important educators. Countless great pianists have benefited from her guidance and teaching.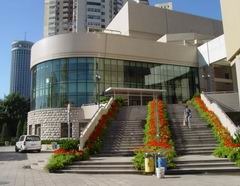 Zhou Guangren was born in Hannover, Germany in 1928 of Chinese parents. They returned to China in 1933 so that Zhou could study in a German school in Shanghai. Her parents were certain that Zhou would have advantages if she were bilingual. The school was exceedingly strict and focused on mathematics, science, Latin and German, and music classes. Piano education was seen as a necessary part of a proper education. Zhou fell in love with the piano. She fantasized about owning a piano but they were prohibitively expensive. Zhou's pleading worked when she promised to put schoolwork first. Once she turned nine, her parents relented and rented a piano.

During WWII, fascism permeated the school. German Nazi songs were sung; the repulsive hand salute was required. Zhou refused to participate and withdrew from the school. The bright future in foreign affairs, which her father envisioned, was not to be. Her passion for the piano continued unabated. Mr. Zhou was infuriated that Guangren wanted to major in music. He believed that a life playing the piano was untenable and so refused to pay for her music lessons. Guangren rebelled and left home. To support her own education she started a piano studio. She was only sixteen.


Guangren's talent was evident. She began her solo career in the 1940's. By 1949 she was appointed to the Shanghai Conservatory and soon she received prizes in East Germany, one in 1951 and subsequently a prize at the Schumann International Competition in 1956. Very few Chinese musicians were allowed to travel through Eastern Europe at that time and she was one of the first Chinese musicians to receive an international prize. It changed her life.
Her teaching career at the Central Conservatory and her concertizing was rapidly overshadowed by the machinations of the regime in China. Denied party membership and subsequently marginalized, Guangren had to withdraw from performing. Then tragedy struck. Western "bourgeois" music was forbidden. Once the Communist leader Mao Zedong launched the Cultural Revolution in 1966, teachers were assaulted, instruments were destroyed, and artists were persecuted. Guangren was banished to the countryside and forced to work as a laborer erecting fences, tilling the soil, cleaning sheds. Not only did this ruin her hands. Her humiliated and distraught husband committed suicide.
Years later in 1978 the Central Conservatory reopened and slowly regained its stature. One of the first steps was to invite Guangren to direct the Piano Pedagogy department. Her musical endeavors were again permitted.
Li Ying Hai "Flute and Drum Music at Sunset" for piano
Zhou Guangren began to champion Chinese music and piano music in particular. Her work led to an invitation in 1980 from the Edgar Snow Foundation at the University of Missouri, in Kansas. Zhou's performance and presentation, The Development of Chinese Piano Music, broadcast throughout the United States, was so well received that invitations from other universities streamed in. She became known for her performances of not only the standard repertory— Mozart, Beethoven and Chopin, but also music by Chinese composers such as He Luting's Cowherd's Song, Li Yinghai's Flutes and Drums at Sunset, and the beautiful Autumn Moon Over the Calm Lake—a piano transcription by Chen Peixun of a Chinese folk song written by Lü Wencheng about an exquisite place of tranquility, Hangzhou's West Lake. Zhou also performed her own compositions such as Sinkiang Dance No. 1, suitable for elementary players.

Sinkiang Dance No. 1 – Performed by Zhou Guangren
In 1982 she suffered another disaster. Zhou was practicing for a performance when she noticed that the piano was not quite in the right location. She tried to reposition it. One of the legs of the grand piano split off and the piano collapsed onto her hand, crushing several of her fingers. It took years of painful rehabilitation to recuperate. Miraculously by 1989, she was able to play a recital in East Berlin and in 1995 she played Mozart's Piano Concerto in A, No.23, in London.

During her long recovery Zhou began to formulate her ideas about offering music education to all children. She immersed herself in the study of education, piano pedagogy and psychology, and came up with a system. Zhou then founded the Xinghai Youth Piano School followed by the "Yueyou" (Friends of Music) Piano School. Piano teacher training was included in the curriculum. In fact, between 1995 and 2005, she held ten teacher training courses successfully molding one thousand six hundred new piano instructors. Not yet content, in 2004 she established the Zhou Guangren Piano Art Center for piano teacher training. Her books and articles about piano instruction—The Basic Training of Piano Performance and two volumes of Beginning Piano Curriculum are widely read.

A recipient of numerous prizes, Zhou Guangren has organized competitions within China, including the First International Piano competition and has served as adjudicator for many of the world's leading piano competitions such as the Van Cliburn, Gina Bachauer, Leeds, and Marguerite Long contests. She is the editor-in-chief of Piano Artistry Magazine.

Today the Central Conservatory of Music is a bustling modern building. The strings, brass, winds and piano departments each have their own well-designed auditorium. Piano studios house two Steinway pianos. Thanks to the tireless efforts of Zhou Guangren, music study has a special place of importance in Chinese culture.

Lang –Lang Autumn Moon Over the Calm Lake
Chinese Music – Joy of Emancipation – Performed by Zhou Guangren