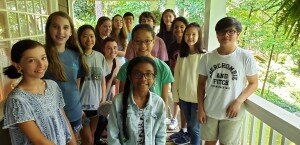 You'd never suspect that in a lovely suburb in Atlanta, in a home surrounded by statuesque trees and a pond full of raucous frogs, young people ages 8-18 are playing chamber music at an amazing level. Founded by long-time Atlanta Symphony violinist and educator extraordinaire, Ronda Respess, Franklin Pond now entering its 20th year, is a unique combination of concentrated coaching and inspiring musical nurturing for serious young musicians. Between retreats, masterclasses, coaching sessions, and performances in the community, the students become friends for life.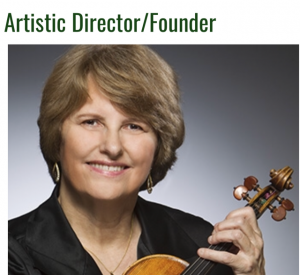 In July, I had the privilege of giving master classes and lessons to these musicians of the future. I arrived at Ronda's sprawling home on a steamy day. Large enough to accommodate several different string quartet groups, it felt like I was entering an enchanted rainforest. Beethoven, Schubert, Mozart, Mendelssohn, and Bach emanated. Ronda had prepared a schedule that ran like clockwork. This was one of the all-day sessions for the young people beginning with early morning coaching sessions, followed by a catered lunch, the masterclass, and then a rehearsal.
After the morning practice, the kids knew the drill. They heaped their plates with salad, fruit, and a main course, headed out to the picturesque outdoor setting, giggled through lunch, then cleared their plates, put them in the dishwasher, and gathered in the living room to hear each other perform in the masterclass.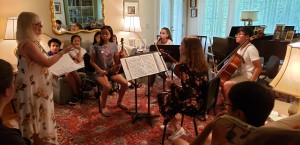 We all gathered in the living room where in every corner there was a figurine of a frog—all gifts from the students to Ronda. I was handed a binder with all the musical scores and the names and ages of the young people who'd be playing for me. We began with the two youngest musicians playing a cello duo by Kummer. The young ladies were a bit anxious as they'd never played in a masterclass before. Just as they sat down, Ronda piped in, "Stand up please. Who are you and what are you playing?" Shyly and inaudibly they introduced themselves. "Say again?" Ronda interjected, "Speak. S-l-ow-l-y and CL-EAR-ly!" After they played, just as I was about to make some suggestions, Ronda piped in one more time, "Stand! Bow! Look down at your toes." The kids tittered. We all realized that the day's preparation included important skills—public speaking and stage deportment.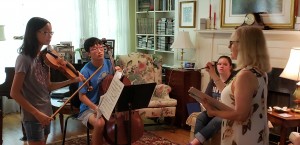 A masterclass is different than a private lesson. While addressing a particular group, remarks need to be pertinent to all the musicians in attendance, which will benefit everyone.
The duo, despite being novices, did a great job performing the Kummer work. I focused on the importance of taking turns. The first cellist will have the main line while the other accompanies. Later, the music features the second cellist and the first cello must move into a complementary role. The accompanying performer will always need to play much more softly than they think, so the audience is able to hear the main line clearly at all times. In any piece of chamber music this give-and-take is vital to the interpretation of the piece.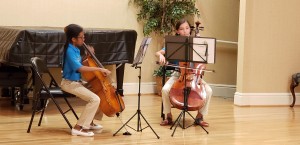 Next—The Passacaglia in G minor on a Theme from George Frederick Handel, by Norwegian composer Johan Halvorsen. Halvorsen adapted the melody from a harpsichord suite into a popular set of variations for violin and viola. We would hear a version for violin and cello. The two accomplished young musicians played with panache and conviction. Taking a piece to the next level is difficult. "How would you like it to sound?" I asked. "What's missing?"
Halvorsen: Passacaglia in G Minor (after G.F. Handel's Keyboard Suite No. 7 in G Minor, HWV 432: VI. Passacaille)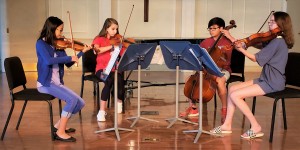 We discussed the fact that this is a virtuoso piece, which builds to a breathless climax. The essential element is to make it sound effortless. We focused on ease—lifting left-hand fingers quickly rather than pressing them down hard, releasing double stops and stretches as soon as possible, and also the importance of good posture. It's essential to sit on a chair, which allows your knees to descend from your hips so your weight can be forward and on your feet. Your torso should face forward, keeping your shoulders down, so you are able to maintain a lumbar curve in your back. This position, whatever instrument you play, will allow all your power to travel through your back and arms to the instrument via body weight rather than force. As soon as the musicians "let go" and stopped working so hard, the piece flowed more naturally.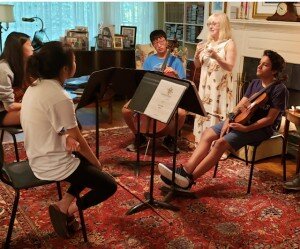 The following groups were all string quartets performing Beethoven, Mozart, Dvořák and Mendelsohn. We discussed how important it is to listen to each other, and to avoid being so buried in our music that we forget to maintain eye contact with our partners. In chamber music, we communicate with body language, and lead with a sniff or a breath or a nod of the head. We need to know our own individual parts well enough to look up at each other. We talked about how difficult maintaining good intonation can be, and the importance of steady rhythm. When we are performing it's easy for our nerves to get the better of us. We might tend to rush the tempo or not take sufficient time at the end of a phrase.
Mendelssohn: String Quartet No. 3 in D Major, Op. 44, No. 1, MWV R30
We also spent time choosing adjectives to describe the mood of the music we are trying to convey, which if we write that word in our part, can help us capture the right atmosphere in the throes of performance. Is the music joyful, or melancholy; mysterious or despairing, enraged or peaceful? Sweet, spirited, or wistful?
After three hours, we had a few minutes for me to answer a few general questions. The kids then quickly packed up for another rehearsal. All the students readied themselves to play the first movement of the Bach Brandenburg Concerto. No 3 with no conductor! While they practiced, I prepared to give four private lessons and heard the sounds of both Bach and frogs croaking outside.
The last week was busy. Each student group played two community concerts and the final concert—and the performances ran the gamut of experiences we musicians often face—cold churches, resulting in cold hands and strings going out of tune, nerves affecting our listening and therefore our communication with each other and the audience. But most important, they experienced joy. The audience responded with enthusiasm to the performances acknowledging the amount of work it took these young musicians to attain this level of music-making.
The Franklin Ponders benefited greatly from this years' rhythm/pulse class given by David Fairchild, and a masterclass with Tom Key early on in the program about public speaking. All in all, they learned a lot, and had fun in the process. The kids were happy, the parents were delighted, and the teachers were proud.
In a mere four weeks, the musicians had performed the great masterworks of chamber music literature, interacted with renown artists, and developed their creativity and their communication skills, which will enhance not only their music-making but also their other endeavors in life.
The summer program runs for 4 weeks in July. "Fall into Spring" runs from October through May. The kids couldn't wait to sign up for the next sessions.