July is coming and for Americans and the French, it's a time for fireworks. Le feu d'artifice! Times of joy for young and old. Colourful explosions in the air, designs and flourishes in ephemeral light, and the boom of excitement.
In music, they take a variety of guises. We'll start with a fanfare to fireworks. The Tivoli Gardens is an amusement park and pleasure garden founded in 1843 in Copenhagen, Denmark. The Tivoli Youth Guard was founded in 1844 and 2016, the Guard commissioned their conductor for a suite that encompassed the various pieces they played, including the Fireworks Fanfare.
David M.A.P Palmquist: The Tivoli Suite: Tivoli Fireworks Fanfare (Tivoli Youth Guard; David M.A.P Palmquist, cond.)
One of the earliest surviving piano works by American composer George Antheil, this 1919 work combines bombastic fireworks and a kind of 'boasting virtuosity' with a dreamy Romantic waltz.
George Antheil: Fireworks and the Profane Waltzers (Gottlieb Wallisch, piano)

For Howard Hanson, fireworks rise and fall and shower light everywhere.
Howard Hanson: For the First Time – X. Fireworks (Eastman Philharmonia; Howard Hanson, cond)

For Oliver Knussen, the fireworks seem to come alive and dance across the sky – whirling and sparking in the night.
Oliver Knussen: Flourish with Fireworks, Op. 22 (London Sinfonietta; Oliver Knussen, cond.)

Can a clarinet become a firework? In this work by French-Swiss composer Karol Beffa, it's a clarinet quartet that paints the picture for us. Like others, he sees the fireworks as dancing, and so his first movement is done 'with swing.'
Karol Beffa: Feux d'artifice (Fireworks) – I. Avec swing (Vendome Quartet)

Debussy closed his second book of Préludes with his own set of fireworks. Debussy entitled the piece simple as XII and placed the title only on the fourth page of the piece. Can you imagine playing this for the first time and only discovering the title at the end?
Claude Debussy: Préludes, Book 2 – No. 12. Feux d'artifice (François-Frédéric Guy, piano)
Debussy's fireworks inspired American composer David Rakowski to write an arpeggio etude as part of his 100 Etudes series. Etude no. 80, Fireworks, builds from small gestures to a climax where the arpeggios come faster and louder, then die away in the end.
David Rakowski: Études, Book 8 – Étude No. 80, "Fireworks" (Amy Briggs, piano)

For his cycle Sports et divertissements, French composer Erik Satie chose fireworks for the penultimate diversion. The piece captures the brilliance of the ascent and the fading away of the light in a mere 26 seconds.
Erik Satie: Sports et divertissements – XX. Le feu d'artifice (Fireworks) (Noriko Ogawa, piano)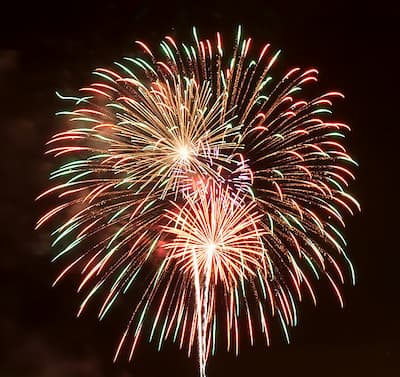 There are other ways that fireworks influenced composers beyond just the sight and sound. American composer Dorothy Hindman sampled 18 seconds of a July 4th fireworks show to derive the rhythm for Fireworks. She says: 'Over five repetitions, the noise of the explosions morphs into pitch structures taken from the fireworks' spectra. The title for the work Contents Under Pressure, refers to the pressure needed to make a sound on a woodwind instrument. The second part of the work, appropriately enough, is Popcorn.
Dorothy Hindman: Contents Under Pressure – I. Fireworks (Splinter Reeds)

There are dozens of other firework pieces, with works for saxophone, tuba, and choir. There are works celebrating fireworks in China and fireworks in Kansas. However, we will close with a rare piece for voice and piano about fireworks being over by Japanese composer Kyoko Hagi.
Kyoko Hagi: Hanabi ga Owaruto (When the fireworks are over) (Satoshi Oishi, vocals; Mariko Hattori, piano)

Explosions are bad… unless they're good and light up our skies with colour and stars.
For more of the best in classical music, sign up to our E-Newsletter