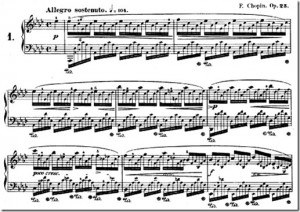 The piano study or 'Étude' has long engaged and challenged pianists, and the practice of writing Études to provide practice material for perfecting a particular pianistic technique, such as playing octaves, thirds or rapid scalic passages, developed in the early 19th century alongside the growing popularity of the piano as a domestic instrument. Those of us who had piano lessons as children will remember working on studies by the likes of Clementi and Czerny. Most of them are unrelievedly boring and Claude Debussy pokes fun at these dull piano exercises in the first of his own Études and pays homage to Clementi Gradus ad Parnassum (Steps to Parnassus) in his satirical etude Dr Gradus ad Parnassum from 'Children's Corner'. Pianists today still swear by the studies of Clementi and Czerny, and other exercises by Hanon, Brahms and Dohnanyi.

Claude Debussy: Children's Corner: Dr Gradus ad Parnassum (Pascal Rogé, piano)

Frédéric Chopin elevated the student study into a work of great artistry and poetry, turning humble exercises into glittering concert pieces, and his Op.10 and 25 Études remain amongst the most popular works written for piano, regularly recorded and performed in concert. Each Étude tests a particular aspect of technique, such as arpeggios, octaves, left hand melody, but these glorious works never feel like exercises. They reveal Chopin's profound understanding of the mechanics of the pianist's hand and fingers, and although difficult, they are some of the most satisfying music in the piano repertoire to play.

Frédéric Chopin: Op 10 No. 1 (Maurizio Pollini, piano)

The most well-loved is perhaps Op 10, No 3 in E major ('Tristesse), a study in expression and cantabile playing, in which the right hand plays both the melody and part of the semiquaver accompaniment. Other famous Études are Op 10, No 12 in C minor, the Revolutionary, a highly dramatic work composed in 1831 under the impression that Warsaw had been captured by the Russian army; Op 25, No 1 the 'Aeolian Harp', a study in wrist flexibility and finger dexterity, and Op 25, No 11, the stormy 'Winter Wind'. Leopold Godowsky went a step further and composed his '53 Studies on Chopin Études'. These are works of incredible complexity: one of them is a study comprising not just one but the two G flat Études of Chopin, to be played simultaneously.

Liszt – Mazeppa
Franz Liszt built on Chopin's model of the piano Étude to create his Transcendental Etudes, Concert Etudes, and Paganini Etudes. Rather than concentrate on specific aspects of technique, these Études offer challenges within the context of performance at the technical highest level: i.e. one must already possess the requisite technique in order to play them successfully and their difficulty reflects Liszt's own prowess at the piano.

Other notable composers of piano Études include Alkan, Scriabin, Rachmaninoff, Szymanowski and Debussy, and the practice of writing piano etudes has continued into the modern era with composers such as Gyorgy Ligeti, John Cage, Morton Gould, Nikolai Kapustin, David Rakowski, Unsuk Chin and Philip Glass. These modern and contemporary Etudes represent some of the most innovative, invigorating and imaginative writing for piano and offer the skilled pianist the opportunity to explore what the piano is truly capable of.

Gyorgy Ligeti: Etudes Book1 No.5: Arc-en-Ciel (Jeremy Denk, piano)

Morton Gould: Boogie Woogie Etude (Benjamin Grosvenor, piano)

David Rakowski: Etudes Book 3 No. 30: A Gliss is Just a Gliss (Amy Dissanayake, piano)

Philip Glass: Etudes Book 2: Etude No 20 (Nicolas Horvath, piano)

Études not only test fleetness of fingers and some of the most memorable in the repertoire are moody, haunting works where the pianist's ability to create a beautiful singing line of melody is uppermost, as in Chopin's Op 25 No. 7, Rachmaninov's Op 33, No. 8 or No 20 of Philip Glass's Etudes, which is redolent of Rachmaninoff in its romanticism and expansiveness.
For more of the best in classical music, sign up to our E-Newsletter