Broadway on my Mind!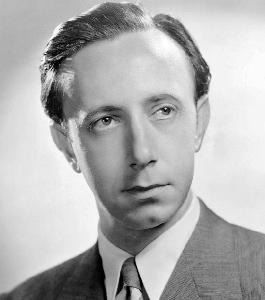 Morton Gould: Chorale and Fugue in Jazz

Some composers effortlessly move between the worlds of popular and classical music. Take for example Morton Gould (1913-1996), an American composer, conductor, arranger, and pianist who was equally at home with a symphony orchestra, musical comedy, film music, jazz and popular music. Most of his compositions offer few challenges to listeners, easily mingling popular and classical styles and incorporating well-known tunes of patriotic or folk origin. Gould was destined for a career in music, as he began playing the piano at age four and composed his first piece by age six. At the tender age of eight he entered the New York Institute of Musical Art — later famously renamed the Juilliard School — and subsequently studied at the New York University School of Music. Astonishingly, he had completed all University requirements by age fifteen! Trying to make a living, Gould performed in dance bands, vaudeville programs and eventually composed, conducted and arranged a series of orchestral programs for WOR Mutual Radio, New York.

In the 1930's he concordantly composed a number of symphonic works, including the Chorale and Fugue in Jazz — first performed by Leopold Stokowski and the Philadelphia Orchestra in 1935 — followed by his Piano Concerto (1937), Violin Concerto (1938) and Foster Gallery — a work based on popular Stephen Foster tunes. Although he continued to compose classical music, including four Symphonies and a Viola Concerto, Broadway eventually captured his attention and his heart. He scored the music for Billion Dollar Baby in 1945, and Arms and the Girl in 1950. Engagements at the major film studios in Hollywood were not far behind, and Gould wrote the music for the films Delightfully Dangerous (1944), Cinerama Holiday (1955), and Windjammer (1958). Additionally he composed various ballet scores, including Interplay (1945) written for Jerome Robbins, Fall River Legend (1947) with choreography by Agnes de Mille, and Audubon (1969) for George Balanchine.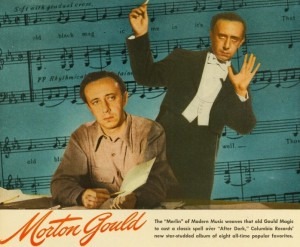 For television, he scored the mini-series Holocaust (1978), which featured Meryl Streep. Gould was a sought-after conductor and won a Grammy Award for his recording of the Symphony No. 1 by Charles Ives with the Chicago Symphony Orchestra. As expected, he also received various awards for his musical activities and contributions to American culture, including the Pulitzer Prize in 1995. "I have always been and still am stimulated by the vernacular, by the sound of spirituals, jazz and the like," he once said. "Although I might venture into more complicated abstractions, there is always present in one form or another at least the residue of those elements." The New York Times obituary suggests that "Gould's music matched his lifestyle: rhythmically profuse, filled with dynamic energy, and not afraid to incorporate American culture even in its most blaring forms. Yet there is a sophisticated use of counterpoint and meter, and an ease of handling such 20th-century procedures as Serialism. If his music did not shake the modern soul to its roots, it was a clear and undistorted reflection of what it was to live in musical America in the last half of the 20th century."