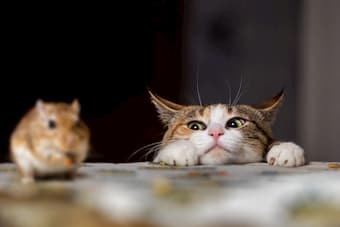 Most of us are familiar with 'Saint-Saens' 'Carnival of the Animals' or Prokofiev's 'Peter and The Wolf', two works in which animals are brought to life and characterised through imaginative instrumentation, melody and rhythm – from the shimmering, darting fish in Saint-Saens' Aquarium to the wily cat, portrayed by the clarinet, in Peter and The Wolf.
Music abounds with animal and bird life – Schubert's supple, joyful Trout, Rameau's agitated clucking hen, the ethereal, fluttering busyness of Grieg's Schmetterling (butterfly), or Vaughan Williams' soaring, tender Lark Ascending, to name but a few.
Here is just a handful of my favourite pieces featuring animals and birds.
As a cat lover, I was delighted to discover a few years ago, when working with a singer, Samuel Barber's 'The Monk and His Cat' from the Hermit Songs. In this setting of a poem by W H Auden, Barber deftly portrays, through dissonant, ascending note clusters, the cat's soft-padded footsteps as he hunts a mouse. A more excitable exchange between cat and mouse is presented in Aaron Copland's Humoristic Scherzo, as the cat stealthily stalks the mouse which scampers and scurries about the keyboard.
Samuel Barber: Hermit Songs, Op. 29 – No. 8. The Monk and his Cat (Barbara Bonney, soprano; André Previn, piano)

Aaron Copland: Humoristic Scherzo: The Cat and the Mouse (Leo Smit, piano)

The French composer Olivier Messiaen was an avid ornithologist and filled up hundreds of notebooks carefully collecting and notating the songs of myriad varieties of birds. His Catalogue d'Oiseaux, composed in (1958) is one of the most original keyboard works of the 20th century. Divided into 13 sections, 77 varieties of bird are represented in the work. Messiaen uses the piano's timbre along with rhythm, melody and harmony to portray different varieties of birds, native to France, in their natural habitat. These are not "impressions" of birdsong, but accurate transcriptions, each recognisable and distinctive.
Olivier Messiaen: Catalogue d'oiseaux (Catalogue of Birds) – No. 6. L'Alouette-lulu (Wood Lark) (Pierre-Laurent Aimard, piano)

Fragments of stylised birdsong appear in Messiaen's earlier piano works, including in the monumental Vingt regards sur l'enfant Jesus. He regarded birds as the augurs and recurring rites of spring, representatives of hope and light.
"The greatest influence on me, by a long way, is birdsong…They were the first to make music on this planet" – Olivier Messiaen
According to one of his biographers, Chopin was inspired to write his famous 'Minute' Waltz (Op. 64, No. 1) after watching a little dog called Marquis chasing its tail. The molto perpetuo nature of the outer sections of the Waltz certainly suggest the gleeful activity of a little dog, while in the middle section the grace notes are supposed to represent the bell on the dog's collar.
Frédéric Chopin: Waltz No. 6 in D-Flat Major, Op. 64, No. 1, "Minute" (Alexandre Tharaud, piano)

The strutting steps and wagging tails of dogs out for a walk on the deck of an ocean liner are charmingly portrayed in Gershwin's Promenade (Walking the Dog), composed for the film Shall We Dance, starring Fred Astaire and Ginger Rogers. Gershwin wittily portrays canine quirks and gestures – stopping to sniff out something interesting along the walk, and even a brief tussle with another dog.
George Gershwin: Promenade (arr. H. Borne for piano) (Frank Braley, piano)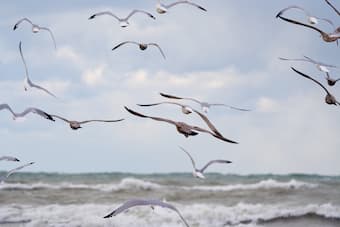 Rachmaninoff's Etude-Tableau Op. 39, No. 2 is known as 'The Sea and The Seagulls'. I started learning it not long after I moved from London to the Jurassic Coast in Dorset where the call of seagulls (more correctly called 'herring gulls') is a near-constant natural soundtrack. Rachmaninoff evocatively portrays the undulating ocean and the plaintive call of seagulls through 'sighing' phrases and a beautiful but simple lyrical melody, embellished with ornaments.
Sergei Rachmaninoff: Etudes-tableaux, Op. 39 – No. 2 in A Minor: Lento assai (Boris Giltburg, piano)

For more of the best in classical music, sign up to our E-Newsletter