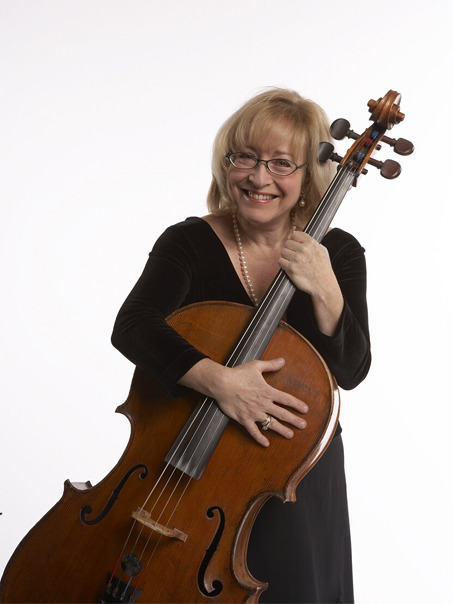 Music may achieve the highest of all missions: she may be a bond between nations, races and states, who are strangers to one another in may wanys; she may unite what is disunited and bring peace to what is hostile.
DR. MAX BENDER

Janet Horvath, wears many hats. She has been the associate principal cello of the Minnesota Orchestra for over three decades, is also a soloist, writer, anti-racism spokesperson and award winning advocate for injury prevention.
| | |
| --- | --- |
| | Orchestra Musician and Soloist Born in Toronto, Canadian native Janet Horvath joined the Minnesota Orchestra in 1980 as associate principal cello. She has appeared frequently as soloist with the Minnesota Orchestra as well other orchestras.In 2010 she was the guest soloist for the choral group One Voice and performed a Holocaust Cantata for chorus, soloists, solo cello and piano. |
| | Recitalist Horvath made her international recital debut in London's Wigmore Hall in 1986; she has subsequently performed in recitals throughout the United States, Canada, Europe and Asia. |
| | Chamber Musician An active chamber musician, Janet has performed at the Mainly Mozart Festival and the Marlboro and Blossom festivals. In 2010 she performed the Bloch Piano Quintet, Ravel Trio for violin piano and cello, Elgar's Piano Quintet as well as Astor Piazzolla's Grand Tango for Cello and Piano for which she commissioned Tango dancers. |
| | Anti-Racism Educator Janet is committed to fighting genocide. She has recently created written and produced a multi-media anti-racism work entitled It's Not Too Late to Stop the Hate. She tells her story in verse while 175 archival photos are presented in a slide show and she performs her cello at several key places in the work. |
| | Author:Horvath is a recognized authority and pioneer in the area of medical problems of performing artists. She is a recipient of the Richard J. Lederman Lecture Award presented by the Performing Arts Medicine Association. She has published numerous articles in professional journals on the subject. She initially self-published her book, |
Playing (less) Hurt—An Injury Prevention Guide for Musicians.
Her 2009 edition won the gold medal in the health category from the Independent Publishers Book Awards 2009, and attracted the attention of the world- wide publisher Hal Leonard Performing Arts Publishing Group. The book is now available Internationally at halleonardbooks.com in a rewritten, redesigned and updated 2010 edition.
Horvath's noted seminars have been presented for professional orchestras, for youth orchestras, at conservatories, conferences, festivals, workshops and for hospitals from coast to coast and recently at the Westminster Reference Library of the Performing Arts, in London England.
A trail-blazer in speaking and writing openly about the physical stresses experienced by musicians she has contributed importantly to the awareness of musicians' workrelated ailments and their prevention.
Horvath received a Bachelor's degree from the University of Toronto and a Master's degree from Indiana University. Her teachers have included George Horvath (her late father) who was a member of the Toronto Symphony for 38 years, Vladimir Orloff and Janos Starker.