I contacted David Hertzberg and lucky for me he was eager to discuss his collection. I learned that David has an extensive YouTube channel that I couldn't wait to explore.
We had several Facebook conversations. David mentioned that he lives in the Washington, D.C. area and last April I had the opportunity to go there for an in-person interview.
JH. – You have an extensive collection of archival photos of classical musicians. How did you become interested in classical music?
DH. – I taught myself to play the drums as a teenager. I even got into a small, neighborhood band for a couple of years. I soon gravitated to piano, and began to teach myself to play, learning some easy classical pieces at first.
JH. – Was that here in the U.S.?
DH. – Yes but in the mid-1970s, when I was about 15 my family moved to Warsaw (a move resulting from my father's job). I started to get into classical music. In 1975, I was lucky enough to attend the Chopin competition in Warsaw – the year Zimmerman won. I was hooked. Chopin was mesmerizing, and I wanted to know more. I bought a lot of books and music at the time.
JH. – So was this what you pursued in college?
DH. – My major in college was Soviet Studies. I learned Russian, and eventually got a position with the State Department where I've worked for thirty-three years in the Bureau of Intelligence and Research. My first mentors were Sovietologists who taught me basic research and investigative techniques. Although I've been a writer for most of my adult life, I've been collecting records since I was about fourteen. When cassettes came out I bought those in the thousands!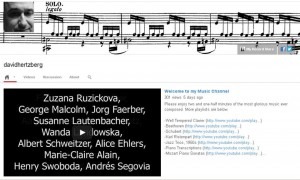 JH. – What about the photographs on Facebook?
DH – Actually, I am a latecomer to Facebook. My passion initially was to share original and unique recordings that are unavailable on CD. I get a great deal of satisfaction from interacting with others who have a similar passion for rare recordings. Many of us love the clicks and imperfections of older LP's. About 12 years ago I built an online record store (Classic Vinyl LPs,
http://classicvinyl.com
) that is separate from my YouTube channel (
https://www.youtube.com/davidhertzberg
).
Most businesses have a Facebook presence now, so the creation of a Facebook page came next. At first I had minimal interactions. I was pleasantly surprised when I began communicating on Facebook with a circle of interesting and dedicated music lovers. In the last year or so this circle of Facebook friends has grown and it has been a terrific and enriching experience for me.
Images are very popular on Facebook. Initially, I posted the original album covers (from the 50s and 60s, the sort of artwork that you no longer see). But young people do love photos. I hoped that if I posted interesting photographs, I could reach a younger audience and perhaps pique their interest in classical music.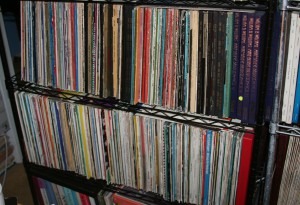 That motivated me. I see a lack of interest among young people, including my own kids, in the great classics, and I think it is in part due to a lack of familiarity with the music. Believe it or not, the old photos — of Arthur Rubinstein, maestros Bruno Walter, Herbert Von Karajan and Arturo Toscanini and scores of other musical legends — have increased the interest in the works of the composers who wrote the music. The research techniques I learned early on in my professional career have helped me locate these rare photos. I enjoy the detective work. Many of them are available online — the trick is how to find them.

JH. – You have made so many LP recordings available that would not be heard otherwise.

DH. – Yes, I've read that only about 30% of LP's have been converted to CD format. Tens of thousands of great recordings are languishing in storerooms and basements.

JH. – You have quite a diverse collection. Tell me more about that.

DH. – I have eclectic interests – Gregorian chant all the way up through and including the rock and roll of the 1960s and 70s. I especially love Bach – he pushed the envelope both in the technical and emotional possibilities of polyphonic music. In my opinion it remains unique in all of music.

I love to analyze the details in his works. It's also like detective work. I've always tried to understand the composer's intentions. Why did they choose to write a phrase in a certain way? You can tell Bach loved composing. The third movement of his Italian concerto, for example – the way he tweaks the melody is subtle yet ingenious and simply forces one to smile

Chopin builds tension in a very interesting way especially in the finale of his B minor sonata.

JH. – What works stand out for you?

DH. – I gravitate to Bach's Goldberg Variations and Brandenburg Concerti, the Brahms Symphonies and piano concerti, the Beethoven symphonies, the Mozart Requiem – all warhorses, of course, but still titanic works of great genius. There are intentional surprises in the score, sudden key changes, and curious variations — all gems of notation — that to me are mind-blowing. It's all there to discover.

JH. – You often combine your YouTube videos with your photographs, images of the LP and the LP slipcase, and sometimes the sheet music itself.


DH. – Researchers look at YouTube as an archive; I think it's important to document these musical performances with as much detail as I can, both for research purposes and to assure that the viewer has confidence that they are listening to the work as I have advertised.

When someone visits my You Tube channel my goal is to enhance each person's experience. Music is an integral part of my being and always has been since I was a small child. I aim to give my listener that experience too — of not only the audio but to learn something, through the imagery, and through hearing about the recording and the artists who are performing.

It gives me tremendous pleasure to know that I can share this with others.

Are you a Facebook addict? I admit it. I am. Many of my friends are musicians, of course. Recently, I noticed that one of my friends has a "friend" who began posting some of the most amazing archival photos I'd ever seen – of the greatest musical artists of the last century — legendary classical musicians and the great artists of other genres. I was very curious to hear how he had acquired these impressive photos.