After an outstanding career in New York as a singer, working with and performing the music of Leonard Bernstein, Philip Glass, Gunther Schuller, and Igor Stravinsky, soprano Adrienne Albert (b. 1941) returned to California and started on a new but related career, that of a composer.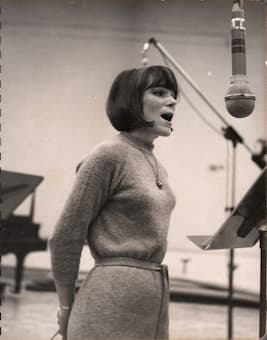 As a singer in Los Angeles, she made her name as the go-to singer for parts written for the straight sound of adolescent boys. Through working with the Gregg Smith Singers, she was introduced to Igor Stravinsky who referred to her as his 'favourite boy alto.' She was the alto soloist in the "Gloria" in his recording of his Mass. Because of her 15 years of piano studies, her perfect pitch, and the ability to sightread any single line, Adrienne says that her voice had the advantage of not being a classically trained as she came to classical music through folk and jazz singing. She arrived in New York in 1966 and left some 25 years later.
One recording that won particular praise for her vocal quality was her 1970 recording of Charles Ives' Like a Sick Eagle that won praise for its sliding, nearly microtonal performance.
Charles Ives: Like a Sick Eagle
Her recordings include many works by Stravinsky, including Les Noces, Cantata, 4 Russian Songs, and his last recorded work, The Owl and the Pussycat.
Igor Stravinsky: Cantata – Ricercar No. 1. The Maidens Came (Adrienne Albert, mezzo-soprano; Columbia Chamber Ensemble; Igor Stravinsky, cond.)

You'll also see her as part of the women's chorus in the Leonard Bernstein documentary on The Making of West Side Story with Kiri te Kanawa and Jose Carreras. Adrienne was the contractor of the voices for the Sharks and Jets as well as a singer on the documentary The Making Of West Side Story.
The Making of West Side Story Documentary
Her first attempts as a composer were writing a series of depressed songs about her state of mind. Once she decided to study composition seriously, she entered UCLA to study film music composition as she thought her music was very visual. But, shortly thereafter, she decided she would prefer to compose music that used her own voice and struck out on her own.
Her first works were for small ensembles, driven by the need to write for her degree and her first work for the public was her Concerto for Alto Sax, Trumpet and Orchestra (1997), commissioned by the Henry Mancini Institute.
When she spoke about composing, the first thing she said was that she "loves being a composer." She quickly found out that the turmoil of your inner life doesn't need to determine your musical mood and that somewhere in the centre, you are always writing from the heart and not the brain. She wants her listeners to have an emotional response to her music.
Growing up as the daughter of two professional violinists, she was surrounded by classical music – even in the womb she declares. Her parents playing string quartets was her music to sleep by.
We asked Ms. Albert what pieces of hers she would particularly recommend and the first was an early orchestral work, Courage, that she wrote following a bout with breast cancer.
Adrienne Albert: "Courage" Overture
Another work that she's fond of is Doppler Effect, which had its inspiration while she was sitting in a café in Rome. The noise of the street surrounded her, especially the traffic noise, and that particular doppler effect as police cars would pass with their sirens blazing.
Adrienne Albert: Doppler Effect for Flute, Viola and Harp (1998)
The original version was for the 'Debussy trio' of flute, viola, and harp, but since then she's made transcriptions for any number of different trio combinations: flute, bassoon, and harp; flute, clarinet, and piano; flute, horn, and piano; flute, saxophone, and harp; and so on. She's made the transcriptions at request, because she finds something new in the re-writing and can add changes that are idiosyncratic for the particular instruments of the trio.
A recent work for flute is Sunswept, here performed by Aleksandr Haskin of the Qatar Philharmonic and Mary Au.
Adrienne Albert: Sunswept
We made the acquaintance of Ms. Albert after writing about her performance of Stravinsky's The Owl and the Pussycat.
Igor Stravinsky: The Owl and the Pussycat (Adrienne Albert, soprano; Robert Craft, piano)


Ms. Albert brought her own setting of the poem to our attention, and we have to say that we like it more than the Stravinsky setting – much more straightforward and with much more humour. Written by a composer with decades of experience as a vocal performer, much of the humour comes from what the soprano does. There's a wonderfully happy side to this setting. In her vocal writing, Ms. Albert writes music that flexes and flows, as it must do to match the musical line presented by the words themselves.
Adrienne Albert: The Owl and the Pussycat for Soprano and Piano (2010)
We spoke about the COVID-19 pandemic and the global lockdowns and she said that for the first few months, she was just frozen. She had nothing to say and couldn't express what was happening around her. So, she went back to school. She took three classes on writing for solo woodwind instruments, a class each on the flute, the oboe, and the bassoon. In a one-week intensive class that began with a 3-hour morning Zoom class and culminated on Friday with a 4- to 5-minute piece to present to the class, she learned an enormous amount about solo instrumental writing.
Upcoming, a flautist at California State University will be doing an evening of her solo flute, flute and piano, and flute trio music and for that concert, he's requested a piece about the past year. He'd lost a parent and she's writing an Elegy for the concert.
Reflecting on her career, she noted that there are few people left, like her, who worked directly with Stravinsky, who died in 1971. Robert Craft, his long-time assistant, died in 2015, and with him, died one of the strongest of Stravinsky's advocates. Ms. Albert's career started in the pop world with jingle singing, progressed into classical where her pop background brought a new voice, and then her new career as a composer has permitted her to show what she's learned over time.
Updated on 13 July, 2021
For more of the best in classical music, sign up to our E-Newsletter