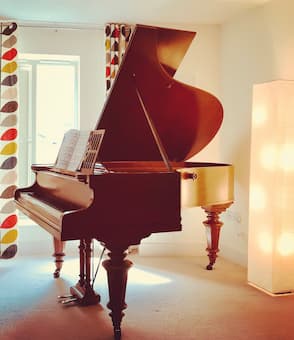 When people learn that I'm a pianist, they usually say "oh I'd love to learn the piano" or "I wish I'd kept up piano lessons". The piano is one of the most popular instruments to learn, especially for children as it's possible to create sounds from the instrument right from the outset.
It's quite possible that this is what initially drew me to the piano as a young child. My paternal grandparents had an Edwardian upright piano in their front room which my grandfather could play quite competently. I recall perching next to him, watching his hands moving around the keys and enjoying the sounds. I also found the piano stool intriguing; an old-fashioned affair with a lift-up seat, it was the repository of a treasure trove of scores and song books. When I began having piano lessons, these old scores provided hours of entertainment. I would ramble through sonatas by Haydn and Mozart, playing badly but not caring. I was just enjoying the sounds of the instrument and the sensation of the silky ivory keys beneath my fingers. I probably didn't realise it at the time, but these explorations were also crucial in honing my sight-reading skills.
It's important to love the instrument you choose to play; otherwise why else would you bother? I learnt the clarinet in my early teens, in order to play in the school orchestra, but this was my father's chosen instrument and I always felt I was intruding on his world. But the piano was mine, it was my instrument, and the upright we had at home, rescued from a summerhouse and lovingly restored, was a companion and a place where stories and adventures were created.
Another aspect of the piano which fascinated me – and still does – was the apparent "loneliness" of the pianist (something I have written about here The Pianist's Solitude). The pianist, alone on the stage, has a particular mystique. While other musicians, be they soloists, ensembles or orchestras, generally sit facing the audience, the pianist does not, and this immediately changes the dynamic between performer and audience. I wonder if that sense of aloneness perhaps appealed to my only child sensibilities?
Claude Debussy: Estampes – No. 1. Pagodes (Chenyin Li, piano)

The piano's range of sound and colours is extraordinary. It can sing the sweetest arias, loudly declaim, rumble, whisper, stutter…. Its sounds can hang in the air, long after the last note has sounded. It can surprise, soothe, enthral and entertain. Fleeting and effervescent at one moment, gritty and powerful the next, few other instruments have anything like the range of the piano – both tonally and dynamically. This gives composers and players a vast "playground" of timbres – Debussy's kaleidoscopic Pagodes, for example, or the plangent sonorities of Busoni's transcription of Bach's mighty D minor Chaconne. In addition, one can be both soloist and accompanist, or even a full orchestra – and one only has to look to the declamary opening of Beethoven's 'Hammerklavier' sonata, for example, to appreciate the piano's orchestral qualities.
Ludwig van Beethoven: Piano Sonata No. 29 in B-Flat Major, Op. 106, "Hammerklavier" – I. Allegro (Beth Levin, piano)

And then we come to the repertoire! No other instrumentalist has the range of choice, at once a luxury and a headache. What on earth should I play next?? But the repertoire is so vast that it can satisfy every taste and level of ability. It is perhaps a mark of the instrument's wide repertoire, that my tastes change frequently: after weeks spent working on Liszt's rich textures, Bach's elegance is refreshing; Debussy's sensuousness is tempered by the spare clarity of a contemporary miniature by Howard Skempton.
Howard Skempton: Solitary Highland Song (William Howard, piano)

Through this wonderful repertoire we are connected to some of mankind's greatest creators, and as players we can share this extraordinary creation with others.
For more of the best in classical music, sign up to our E-Newsletter