Dracula
. Written by the Irish author Bram Stoker in 1897, the novel tells the story of Count Dracula's move from Transylvania to England to spread the undead curse, and his battle against the resistance led by Professor Van Helsing. But the tale opens with the newly qualified English solicitor Jonathan Harker visiting the Count in the Carpathian Mountains to provide legal support for a real estate transaction. Here then is the little tricky quiz question for today. What beverage did the Count serve to Harker on his first night in Dracula's castle?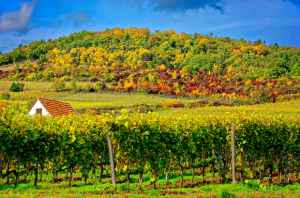 It was something much tastier than blood, namely a super sweet desert wine made from grapes "affected by noble rot." That wine comes from the Tokay region in Hungary or the adjoining land in Slovakia, and it is even mentioned in the Hungarian national anthem. It was King Louis XIV of France who provided the fitting epithet for
Tokay wine
, "Vinum Regum, Rex Vinorum" (Wine of Kings, King of Wines). It was served at the French Royal court at Versailles, and it frequently featured in song.
Franz Schubert: Lob des Tokayers, (Praise to the Tokay Wine) Op. 118, No.4, D. 248
Tokay wine quickly became all the rage. Napoleon III, the last French Emperor, ordered 30–40 barrels of Tokay wine for the French Royal Court every year. And when Pope Pius IV set around the Council of Trent for decades, he supposedly exclaimed, "Summum pontificem talia vina decent!" (This is the type of wine that should be on the papal table).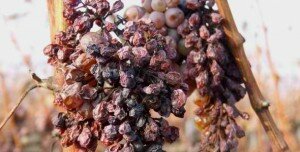 The lips of Gustav III, King of Sweden, would only touch Tokay wine, and the House of Romanov in Russia simply couldn't get enough of this delicious nectar. And then there was President Thomas Jefferson of the United States, who purchased what he called "the highest price per bottle, I have ever paid for wine." Naturally, his purchase of Hungarian wines included 36 bottles of Tokay. But it was Emperor Franz Josef of Austria/Hungary who probably established the most lavish Tokay tradition. Every year for her birthday, he sent Queen Victoria of England one bottle of Tokay for every month she had lived, 12 bottles for each year. On her final birthday in 1900, with Queen Victoria turning 81, she received a total of 972 bottles!
Fred Raymond: Die Perle von Tokay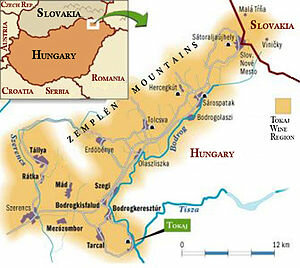 Prior to the fall of the Austro-Hungarian Empire in 1918, Tokay wine could not be purchased, but it was reserved for the Imperial cellars of the Hapsburg Monarchy. The Tokay grapes are still traditionally grown on a small plateau near the Carpathian Mountains in volcanic soil with a high concentration of iron and lime. The area has a unique microclimate, featuring bitterly cold and windy winters and brutally hot summers. Autumn generally brings chilly rains, followed by an extended Indian summer. And it is during the rainy period that the grapes develop the "noble rot" or characteristic mold. The grapes are left off the vine until late December or early January. The first mention of this particular wine dates from 1576, and the 18th century saw the establishment of vineyard classification depending on soil, sun, exposure and the potential to develop "noble rot." Empress Maria Theresa sent a bottle of Tokay to Pope Benedict XIV, who exclaimed, "Blessed be the earth that has produced it, blessed be the lady that sent it to me, and blessed be I for having been able to try it."

Noel Coward: "Tokay" (When we're thoroughly wined and dined), Bitter-Sweet

Tokay wine was not in the exclusive domain of the rich and royal, but also attracted the arts community.

Franz Liszt

predictably couldn't resist a "glass of fiery Tokay," and

Joseph Haydn

lived in the services of Prince Esterházy, who owned his private vineyards in Tokay. A portion of Haydn's salary was paid in wine, and when Haydn started to suffer age-related ailments, he asked for Tokay wine for his health. According to a famous anecdote, Prince Esterházy offered the older Haydn a personal coach to get around, and although Haydn thanked him politely for this tremendous honor, he suggested that " he would prefer it if he could turn this into a payment in Tokay wine. That would be even more conducive to my health."

Rossini

is said to have always had a glass of Tokay on his piano when composing, and a music lover sent

Beethoven

six bottles of Tokay in 1823 to fortify the composer against his intestinal disorders. Beethoven offered the following assessment, "The Tokay is not for the summer but for the autumn, and indeed for a fiddler who is able to respond to its noble fire and who can keep his footing in stormy weather." My favorite assessment of Tokay, however, comes from Voltaire who wrote, "This wine invigorates every fiber of my brain and, deep in my soul, produces a charming glint of intelligence and good humor."

Georges Boulanger: Tokay

I am sure you are all familiar with the gothic tale