Hélène Grimaud is a woman of multiple talents, intellectually sparkling in various directions. While she is a critically acclaimed performance and recording artist, she is also a committed wildlife conservationist, and a compassionate human rights activist. She campaigns on behalf of important environmental issues, and she is a prolific author and writer. Grimaud is synesthetic, which means that she sees sounds, music and voices as colors. According to Grimaud, "this ability greatly enhances my capacity for memorizing musical scores." She was born in Aix-en-Provence in 1969, and describes herself as "a difficult child." When she was instructed in school to draw chickens, she "drew pictures of wire mesh." Her parents introduced her to judo, tennis, and dance lessons but Grimaud hated them all. She particularly despised ballet lessons, but at the age of seven she discovered the piano. "Playing music, she finally met a task absorbing and complex enough to satisfy her, and she became obsessed." She started her studies at the local conservatory with Jacqueline Courtin before going on to work with Pierre Barbizet in Marseille. Grimaud entered the Conservatoire de Paris in 1982, at age 13, studying with Jacques Rouvier. Astonishingly, only three years later she won 1st Prize at the Conservatory and the Grand Prix du Disque of the Académie Charles Cros for her recording of the Rachmaninoff Piano Sonata No. 2.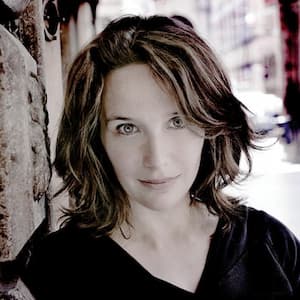 Critics were immediately divided over Grimaud's playing, and one critic compared her way "of approaching the concert stage to that of a little goat." Grimaud furthered her studies with Leon Fleisher, and with György Sándor. Sándor had studied piano with Béla Bartók and composition with Zoltán Kodály. He was described as the "complete pianist, full of rhythmic vitality but free of exaggerated personal interpretations." Sándor brought awareness of Bartók and Prokofiev to Western audiences, and he was classified as a "Bartók pianist" in the United States. "He is one of the great composers," Sándor explained, "and if you play Bartók very well, you will probably play Mozart and Beethoven just as well." In 1981, Sándor published his book On Piano Playing: Motion, Sound, and Expression. This publication features an introduction to the fundamental relationships among motions and emotions. Sándor writes, "We must try to avoid any excesses and exaggerations throughout our pianistic activities… Today more than ever, audiences mistake the excessively tense muscular activities of the performer for an intense musical experience, and all too often we see the public impressed and awed by convulsive distortions and spastic gyrations."
For Sándor, the mood of a performance had to be created, and "that the emotions we feel when playing the piano create certain motions… moods are created by your attitude and by the performance of the music." Grimaud certainly took Sándor's teachings on board, and she has stayed well clear of convulsive distortions, spastic gyrations or using her dress code or appearance as publicity tokens.
Grimaud, however, also found further inspiration in Martha Argerich, whom she first met in the summer of 1989. "She plays pieces when she feels like it and as she feels them, rather than as the audience expects to hear them." Grimaud relates "there was an immensely comforting feeling about being in her presence," and "that she learned from her less about technique than about approach." Grimaud openly admires "extreme players and independent-minded musicians like Argerich, people who aren't afraid to play their conception to the end." Grimaud has been described as "a re-inventor of phrasing, a taker of chances." As she wrote in her autobiography, "A wrong note that is played out of élan, you hear it differently than one that is played out of fear."
Grimaud has been compared to Glenn Gould, as "she has the same willingness to take a piece of music apart and free herself from the general body of practice that has grown up around it." She made her début with the New York Philharmonic, under Kurt Masur in 1999, and her Carnegie Hall début playing the Schumann concerto, in 2002. Already at that time, the critical divide over her style was well established. One critic praised her as "a focused, at times ferocious, pianist who favors a big steely sound and bold, unsentimental playing." Others have been less kind, finding "her playing if not frightening, deeply disturbing." Grimaud explains her approach to playing with a metaphor borrowed from medicine. "The tip of the needle becomes the center of your universe," she says. "You know, it's the sound, it's the center of the sound, it's the bottom of—it's the—it's everything." Although her performances can be somewhat disorienting to the listener, Grimaud presents her "program with intense commitment, sustaining a mood from piece to piece, so that audiences feel pulled into a narrative." Grimaud is certainly absorbed in the music, and for her "a concert must be an emotional event, or who needs it? Otherwise you can just stay home and listen to your favorite recordings." And while it is not difficult to find the eccentricities in her musical interpretations, it is difficult to argue against her convictions, musical or otherwise. "You can go with the flow," she writes, "because it's easier or you can let your convictions guide your actions if you are prepared to face the consequences. And I preferred the latter."
For more of the best in classical music, sign up to our E-Newsletter