Mily Alexeyevich Balakirev (1837-1910) was a Russian composer, pianist and conductor who saw those he promoted go on to greatness while he always seemed to elude the same spotlight. He, along with Vladimir Stasov, brought together The Five (Borodin, Cui, Mussorgsky, Rimsky-Korsakov) who came to be the new sound of Russian music. Of the Five, Balakirev was the only professional musician of the group until they developed their skills, but of all of them, he's the one least remembered today.
His Nocturne No. 2 in B minor of 1901 has many elements that might be more familiar from others' works. Its simple opening seems reminiscent of Mussorgsky's Pictures at an Exhibition, while its second theme seems to be more like some of the Slavic church music that was beginning to make its way into concert halls.
Balakirev wrote in many different genres, but his primary output was piano music and songs. He also wrote 2 piano concertos. For many years his piano music never made it onto the page but existed solely in his head as improvisations. He aged out of his career – he was appointed director of the Imperial Chapel Choir in 1883 but was so busy, his composing had to be set aside. When he was writing his best music in the first decade of the 20th century, many of those who had supported him had died and his own career as a pianist was no longer active. When he could devote himself to full-time composing, he was writing in what was considered an old-fashioned style and never made it into the popular repertoire.
The Nocturne, in B minor, has a haunting opening, with frequent silences. Nocturnes are night pieces and he seems to be painting a vision of a cold icy night, crystal clear in its vision, but lonely. The more majestic second theme brings us the architecture of the ice – a poem, perhaps, to visions of a ceremony.
Mily Alexeyevich Balakirev: Nocturne No. 2
Pianist Natalie Ryshna was born in 1926 in Pennsylvania and died in 2012. She studied first at the Philadelphia Conservatory of Music before attending the Juilliard School on a seven-year scholarship. Her debut came in 1953 in New York at Town Hall with a concert of Rameau, Beethoven, Bartók, Ravel and Persichetti before closing with the Mephisto Waltz by Franz Liszt. This recording was made in 1960.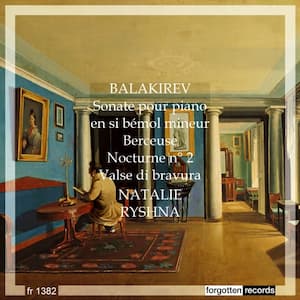 Performed by

Natalie Ryshna

Recorded in 1960

Official Website
For more of the best in classical music, sign up to our E-Newsletter