For well over one hundred years, Mozart's Piano Concerto No. 9, K271, carried the mysterious nickname "Jeunehomme." That nickname turned out to be the invention of the art and music critic Théodore de Wyzewa and the Mozart specialist Georges de Saint-Foix, who collaborated on a Mozart biography in the early 20th century. Supposedly, the work was written for a young French keyboard player, who visited Salzburg during the winter of 1776/77. Since Mozart described the work as "the one for the Jenomy" in 1777, Wyzewa and Saint-Foix assumed that Mozart was not proficient in his French writing skills and the name "Jeunehomme" was born. Subsequent scholars simply copied the imaginary nickname, and as such, it was left to the Viennese musicologist Michael Lorenz to set the record straight in 2003. It turns out that Mozart wasn't entirely incorrect in his "Jenomy" description, as the pianist in question was Victoire Jenamy (1749-1812).
Victoire Jenamy was the highly talented daughter of the famed dancer and choreographer Jean-Georges Noverre. Noverre made his debut at the Opéra-Comique in 1743, and as the ballet master in Versailles he danced for Louis XV. He subsequently held employment in London, Berlin, and Lyon, and at the height of his fame he created almost one hundred works for Stuttgart and Vienna. He returned to Paris in 1775 and Marie-Antoinette, who had been his dance student in Vienna, appointed him Ballet Master at the Académie Royale de Musique. His Lettres sur la danse et sur les ballets, published in 1760, gives testimony to his avant-gardist vision of ballet, "which strove to be considered as an art in its own right through the linking of music, sets and direction." Noverre introduced drama and human emotion into ballet, and when Mozart and his mother visited Paris, they had dinner with Noverre and his family. In fact, Mozart composed music for Noverre's ballet Les petits riens in 1778.
Louise Victoire Jenamy, the eldest child of Jean Georges Noverre, had almost certainly never been to Salzburg. We do know, however, that she married the wealthy Viennese merchant Joseph Jenamy in 1768, and that she was a fine amateur pianist.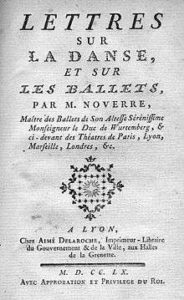 Apparently, she performed a piano concerto in Vienna in 1773 that was, according to critics, "executed with much artistry and ease." Instead of a completely unknown traveling virtuoso, we finally understand that "Mozart found inspiration within the family of a professional colleague." K271 has been called "the first unequivocal masterpiece of the classical style," or as the music critic Michael Steinberg puts it, "this is the concerto in which Mozart became Mozart." The relationship between Noverre and Mozart, which turned sour after the performance of Les petits riens, awaits further research. And so does the mystery, as Alfred Brendel puts it, what inspired "the sudden highest mastery that unfold in the work composed for her [Victoire Jenamy]." Old nicknames apparently die hard as a 2019 concert by the London Mozart Players entitled "Mozart's Women" still speculates on the existence of the "French piano virtuoso Victoire Jeunehomme!"