In 1920, Henry Prunières, editor of the journal Revue Musicale, commissioned 10 of the leading composers of the day to contribute to a work in memory of Claude Debussy, who had died 2 years earlier.
The works were a mixed assortment of piano works by Paul Dukas, Albert Roussel, Gian Francesco Malipiero, Eugène Goossens, Béla Bartók and Florent Schmitt, a guitar piece by Manuel de Falla, a work by Maurice Ravel for violin and cello, a melody by Erik Satie, and from Igor Stravinsky, a piano reduction from his Symphonies d'instruments à vent. The cover design was by the post-Impressionist painter Raoul Dufy.
Le Tombeau de Claude Debussy received its debut in 1921 as part of the concerts of the Société Musicale Indépendente (SMI).
A 'tombeau,' derived from the French word for 'tomb,' is a work commemorating the death of famous person. Initially prominent in the 17th and 18th century (where we have Marin Marais' Tombeau de M. Lully and Charles Dollé's Tombeau de Marin Marais, as well as François Defaut and Louis Couperin each writing a Tombeau de Monsieur Blancrocher) the tombeau vanished in the 19th century and then reappeared in the 20th century.
The first work in the book was Paul Dukas' La Plainte, au loin, du faune…, his homage to one of the best known of Debussy's works, the Prelude to the Afternoon of a Faun.
Reduced to a piano work, we have a work that brings forth the elegant lines and longing in Debussy's signature work. Yet, as this is a memory piece, it's as though the faun is only a memory, and perhaps a memory seen through a haze.
Paul Dukas: Le Tombeau de Claude Debussy: No. 1. La plainte, au loin, du faune … (Lev Tomer, piano)


Pianist Lev Tomer has a multi-track career as a solo pianist, a chamber musician, and teacher. His international career as a performer has included performance with the Royal Philharmonic Orchestra, English Chamber Orchestra and Israel Philharmonic, and many others. His recital and chamber music performances have been heard from New York to Buenos Aires as well as in all of Israel's major halls. He is currently director of the Buchmann-Mehta School of Music at Tel-Aviv University.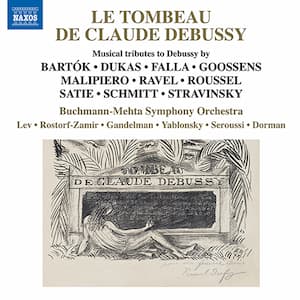 Paul Dukas: Le Tombeau de Claude Debussy: No. 1. La plainte, au loin, du faune …

Performed by
Lev Tomer

Official Website
For more of the best in classical music, sign up to our E-Newsletter