Slowly, sleepily, and lasciviously, the faun awakes. So begins Debussy's Prélude à l'après-midi d'un faune, taking us to the imaginary world of a mythical creature.
The work should really be entitled Prélude à 'l'après-midi d'un faune' because it is a 'very free illustration' (in Debussy's words) of the poem L'après-midi d'un faune by Stéphane Mallarmé that described the sensual awakening of a slumbering faun. He tells of his encounter with some nymphs before he drifts back again into his dream world.
Mallarmé's poem was written in 1865 and finally published in 1876, with 4 illustrations by his friend, the painter Édouard Manet. It is the best-known work by Mallarmé and important hallmark in symbolist poetry.
In 1894, Claude Debussy (1862-1918) used Mallarmé's poem as the inspiration for his symphonic poem and it is the opening line with the solo flute that has come to define not only this work but also Debussy's musical Impressionism.
Debussy created the work on the request of Mallarmé, who asked him to write incidental music for dramatic presentation of the poem. Originally intended to be triptych of Prélude, Interlude et Paraphrase finale pour l'Après-midi d'un Faune, Debussy only ever wrote the first part. Far from being unhappy about this, upon hearing the work, Mallarmé wrote to Debussy: 'The only way in which your illustration of the Afternoon of a faun is discordant with my text is that it goes further, truly, in its evocations of nostalgia and of light, with such finesse, uneasiness and richness.' In 110-bars, Debussy set Mallarmé's 110-line poem with a new freedom in melody, harmony and rhythm, and even form, so as to create a work that remains an evocation of the dreams, light and shadow, and colour of Impressionism.
This arrangement of the work for piano 4-hands was made by the composer Maurice Ravel in 1910 at the request of the publisher.
Claude Debussy: Prélude à l'après-midi d'un faune (arr. M. Ravel for piano 4 hands) (Jean-Pierre Armengaud and Olivier Chauzu, pianos)


Known for his interpretation and recordings of French music, pianist Jean-Pierre Armengaud is joined on this recording by pianist Olivier Chauzu, who was awarded the Prix Claude Debussy in the Yvonne Lefébure competition in Saint-Germain- en-Laye in 1990. He is also known for his French piano performances as part of a larger interest in a wide range of keyboard music from Bach to Stockhausen.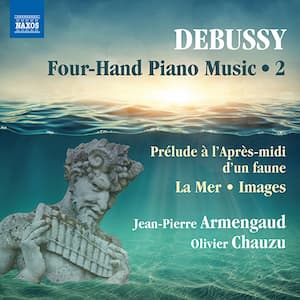 Claude Debussy: Prélude à l'après-midi d'un faune

Performed by
Jean-Pierre Armengaud
Olivier Chauzu

Official Website
For more of the best in classical music, sign up to our E-Newsletter