We credit Haydn for codifying it, Mozart for extending it, and Beethoven for bringing it to its highest level. We look to Norwegian composer Edvard Grieg (1843-1907), however, to take Beethoven's ideas and move them forward yet again.
We generally consider Grieg in his nationalistic garb, as the composer of Peer Gynt and folkloric works such as Wedding Day at Troldhaugen. However, his sole string quartet, completed in 1877 and given its premiere in Cologne in 1878, pushed Beethoven's op. 133 boundaries further again.
Through the work, Grieg uses double stop techniques and more-than-four-part chords (the first movement opens with a 12-part chord), techniques more familiar from orchestral music than string quartet writing. His bold harmonies, the drama and intensity in his writing, and the orchestral effects were more than even Brahms would go in his quartet writing.
In writing to friend about the work, Grieg said 'it strives towards breadth, soaring flight and above all resonance for the instruments for which it is written.' Integral to the work, but invisible to the listener, is a poem by Ibsen that reflects 'the thoughts of a musician separated from his beloved, meditating, as he walks on a summer evening by a stream, on the possibility of some water spirit bringing his beloved to him again.' Set as a song by Grieg, the melody operates as a unifying melody across the whole of the quartet. The final of the quartet uses a saltarello rhythm as its driving force after a slow introduction.
Grieg's usual publisher, C.F. Peters rejected the work because of the double stopping caused them to fear that the work would have to be rewritten adding a piano (as a piano quartet or quintet), so Grieg found another publisher and it was only after the success of that first edition that Peters decided to publish it as well.
Although Grieg attempted three quartets, this is the only complete one. The first was lost, this is the second, and a third one is incomplete.
Edvard Grieg: String Quartet in G major, Op. 27 – IV. Finale: Lento – Presto e saltarello
This recording, made in 1952, was performed by the Komitas Quartet, members Avet Gabrielyan (1st violin), Rafael Davidyan (2nd violin), Henrik Talalyan (viola), and Sergey Aslamazyan (cello). The first violinist and the cellist were two of the founding members of the group in November 1924. The Quartet was founded in Moscow and is the oldest-established string quartet in the world that is still performing and is now in its 96th year. It is also the best-known musical group from Armenia.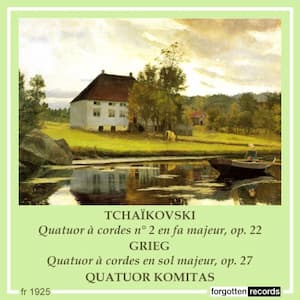 Performed by

Komitas Quartet

Recorded in 1952

Official Website
For more of the best in classical music, sign up to our E-Newsletter