The pianists Yuja Wang, Lang-Lang, and Ji Liu, cellist Yo Yo Ma, composers Chen Yi and Tan Dun, and pipa player Wu Man are household names in the world of music. There are an astounding number of Chinese people joining the ranks as classical music students and professionals. China has become an important stop on orchestra and soloist's tours after the Philadelphia Orchestra led the way in 1973 and the huge numbers of young people hoping to study music led the Juilliard School to open an overseas campus in China in 2019.
Directly or indirectly, China's millions of music students are related to an unusual and relatively unknown part of history, that of Shanghai.
The city, a modern melting pot by 1895, became the fourth largest city in the world with an impressive skyline and a booming export business a mere thirty years later. China's first city to open to western trade, Shanghai developed into one of the world's largest seaports and the financial, entrepreneurial, and publishing capital of China.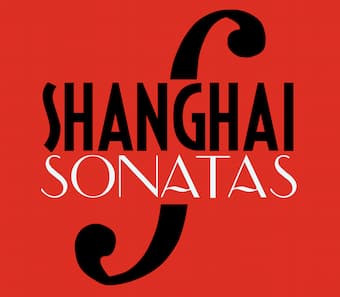 Two wealthy and influential Jewish families the Sassoons and Kadoories, from Bagdad and Britain respectively, helped guide and open Chinese businesses to the world.
When the Japanese, after years of brutal skirmishes with China, succeeded in occupying the country in 1937, as many as 18,000 Jews, including thousands of children, were fleeing from the clutches of Nazism, traveling 5,000 miles from Europe to Shanghai, to one of the very few places open to Jewish refugees. The Sassoons and Kadoories intervened with authorities on their behalf and offered help and protection. The only safe haven for Jews, the Chinese people aided and sheltered these refugees, and facing no persecution, the Jewish people lived in harmony with the Chinese community.
Once World War II began the Japanese military allied themselves with Germany. In 1941 the Japanese occupiers forced the approximately 23,000 refugees in Shanghai into what they euphemistically called "Restricted Sector for Stateless Refugees." In other words, the émigrés were once again uprooted and required to move into ghettos surrounded by barbed wire. They faced squalid and miserable conditions; they faced starvation, horrific sanitation, and rampant disease.
And yet there was music. Jewish cultural life continued. Since many of the refugees were musicians, they continued to play and to teach classical music to the local Chinese people. Today's success of classical musicians from China can be attributed in part, to the contributions of Jewish refugees.
Audiences will be astonished to hear about life in the Shanghai Ghetto, a relatively unknown history of the Second World War, in the musical the Shanghai Sonatas based on the memoirs of the refugees who found sanctuary in Shanghai and who were able to survive the war through their music-making. The two-act presentation was inspired especially by the memoir entitled Once my Name was Sara written by Betty Grebenschikoff, one of the Jewish refugees from Shanghai. Sara was eight years old when her family fled Berlin in 1939, traveling east to Shanghai. Her family could not understand why no other country would accept European Jews. The author recounts the difficulties of adjusting to a foreign land during her formative years—the cramped living conditions, abject poverty, rampant disease, constant air raid sirens, and the brutality of the occupying Japanese.
Creator-composer of the Shanghai Sonatas, Xiang "Sean" Goa, named one of Musical America's Top 30 Professionals in 2021, is one of the world's most successful presenters, producers, composers, pedagogues, and violin soloists. Gao has created this ground-breaking musical that combines musical theatre, live classical music, and visual art in order to fulfill his dedication to bringing music to young audiences.
The work includes fourteen cast members who sing fifteen original songs, and the costumes, lighting, and set design were created by artists and historians from the US, China, Europe, and Israel. Tony award-winning producers are currently developing a concert version suitable for touring.
Shanghai Sonatas is an attempt to promote diversity, equity, inclusion, tolerance, and cultural exchange. Gao hopes audience members will be spurred to come together through the powerful stories, and the all-embracing music from classical music to jazz, and from traditional Chinese to Jewish music. Each performance includes educational activities.
Even more impressive, some of the instruments used on the stage for select Shanghai Sonatas productions belonged to Holocaust victims. These instruments were collected and restored by Israeli violinmakers Amnon and Avshi Weinstein, father and son, whose own family were caught in the conflagration. The "Violins of Hope" collection gives voice to the victims of the Holocaust and is a tribute to those who perished.
Today the former synagogue in Shanghai, Ohel Moshe Synagogue, has been converted to the Shanghai Jewish Refugees Museum founded in 2007. After a three-year renovation, it re-opened in 2020 and houses 1,000 exhibits in their 4,000-square meter space, such as a wedding dress, wedding certificates, travel documents, work permits, and video testimonies and personal stories.
Gao has embarked on other unique projects. He founded the violin, erhu, and piano ensemble
6-WIRE who were featured in 2018 with Bright Sheng at the Hong Kong University of Science and Technology. The following piece Sunshine, a Chinese folk song, sounds to me, very much like Jewish Klezmer music! Have a listen.
6-wire performs "Sunshine"
The new musical still in development is looking for producing partners and monetary gifts to bring this little-known part of history to life. We all look forward to the opportunity to see this production in person!
For more of the best in classical music, sign up to our E-Newsletter
Shanghai Sonatas Trailer