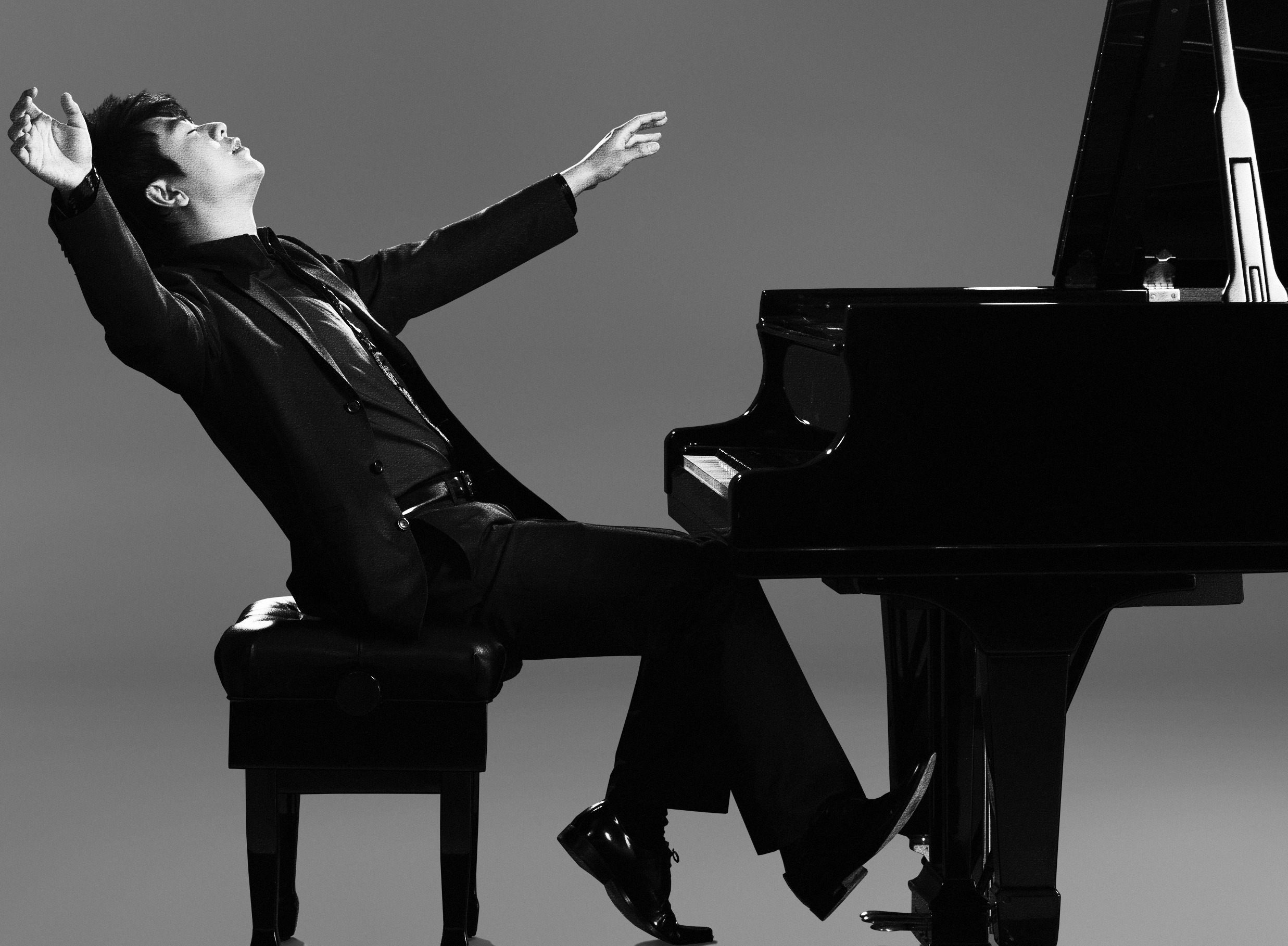 First of all, I have to declare that I am definitively not a fan of Lang Lang. As a matter of fact, I strongly dislike his public image, his musical taste, what he has to say with his music, and the portrayal of his persona through music.
No doubt, most of the world disagrees with me, as he is the most recognized pre-eminent concert pianist out there, the quintessential rock star of the classical world, and the ultimate box-office wonder! His fame eclipsed most classical musicians; he performed to sold out concert halls in every major city around the world; and according to his official website, he was "the first Chinese pianist to be engaged by the Vienna Philharmonic, Berlin Philharmonic and the New York Philharmonic orchestras". Though it was indeed his privilege to perform with these prestigious orchestras, I would have been uneasy with the fact that they had not hired any Chinese pianists historically. If that is true I would be curious why that was the case.

Despite all his accolades, I still cannot tolerate the way Lang Lang performs ( even with my eyes closed ), nor can I appreciate the idea that he is hero to an estimated 50 million piano students in China, who put him on a pedestal to revere, not to mention the 100 million accompanying parents who pressure their children – those budding pianists – to emulate his playing and duplicate his success. Lang Lang, to me, is the greatest disaster that bombarded the sphere of classical music to date! Just to be fair, I decided to verify all the above intuitive opinions with more in-depth research, in hope of finding evidence that may convince me to think otherwise. So, I began my research with "The Good".
The Good :
Is Lang Lang a genuine musical genius, a charming manipulator of the masses, or simply a lucky fellow who exploded onto the classical music scene as a Chinese boy wonder at the right place at the right time? He is unquestionably an enormous talent, well trained from a young age by superb teachers in China. His first teacher, Prof. Zhu, assigned him a Bach piece to study and memorize every week, and taught him solid fundamentals on which to build his technique and musicianship. At age 13, he came to the US to study under the tutelage of Gary Graffman at the Curtis Institute, where he was equipped with a flawless technique, remarkable fluency, unharnessed expressiveness in the Western genre, and unsurpassed virtuosity in the Russian tradition of Horowitz. I have great admiration for his charisma, as he emphatically commands my full attention, even when I am totally tortured by his playing. Above all, he is a keen learner, humble in attitude, bright to comprehend, and quick to replicate – every teacher's dream student.
At interviews, Lang Lang often speaks of master musicians he is eager to learn from, through mentoring or collaboration, such as Martha Argerich and Cecilia Bartoli. I highly recommend the videos of his master classes with Daniel Barenboim on the Beethoven Sonatas. Both teacher and student were exemplary in each of their roles. Equally impressive was his duet rendition of Ravel's Mother Goose Suite with Martha Argerich. He instantly captured the essence of the music, and instinctively spoke his partner's musical language. Blessed with abundant facilities, willful confidence and free imagination, he has developed a unique personal style, though such style often supersedes substance. Indeed, there are signs that he is maturing, as evident in his recent collaboration with Christoph Eschenbach at the Kennedy Centre in a recital consisting of Mozart's Sonata in D for Two Pianos ( K448 ), Schubert's Fantasie in F minor ( D940 ), and Debussy's Petite Suite. It appeared that the conductor was able to contain Lang Lang's habitual indulgence, resulting in interpretations that are stylistically commendable. He is lucky to receive generous mentorship from such venerable musicians. Their coaching and influence have definitely "gentrified" his playing.
Stories of Lang Lang's past are well known : how the family was separated when he was nine, with father and son relocating to Beijing, living in slums, while he pursued piano studies at the Conservatory, with mother at home making a living to support the family; how one teacher, nick-named Professor Angry, "fired" Lang Lang for lack of talent, and his obsessed and distraught father urged him to kill himself ; how in retaliation, he almost broke his hands in a temper tantrum. I am sure there were many more memories of unmentionable hardship and trauma, but through them all, Lang Lang emerged strong and resilient, even immensely successful. That is a testimony to his endurance and determination – to not only survive, but excel. I have a deep respect for his character, integrity and toughness.
However, I think his major contribution to society is the so-called "Lang Lang Effect", a syndrome pervasive in China, where millions of youngsters not only are exposed to classical music, but their potential and skills earnestly developed by surrounding adults. Piano is currently the most popular instrument in China, and every household has the need to provide their children ( or only child ) with a piano and piano lessons. That translates to full enrolment in piano studios and music conservatories, long-term employment for piano teachers, which subsequently leads to packed concert halls, and continuous engagements for concert performers. We have Lang Lang to thank for keeping this "business" alive and thriving! He also established a "Lang Lang International Music Foundation" to support young pianists aged 6 to 12, and he himself frequently conducts masterclasses inspiring other aspiring pianists. My hope is that : in time, through high quality education, China's overall cultural standard will eventually improve, musical taste of the population will become more sophisticated, and classical music will evolve into the genteel art form that it is meant to be.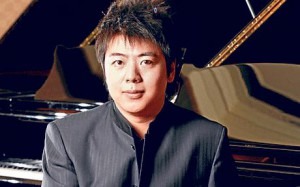 The Bad :
On the contrary, Nancy Pellegrini, the classical music editor of "Time Out" in Beijing and Shanghai says that the Lang Lang Effect may not be "all good". The following quote from her was very disturbing to me : "In developing countries, music is seen as a way out of poverty. Since the success of Lang Lang, people think that if you're really good at piano you can become an international superstar with more money than you know what to do with. So a lot of kids have been pushed into piano………Parents collect money from all their relatives, and sell everything they have and it's because Lang Lang made this a wise career choice in a way that no other musician has before him. Lang's father once told him to kill himself, but in China he's seen as a role model by parents and he's written books on how to be a good father."
For every Lang Lang, there will be many who practised equally hard, made substantial sacrifices, but never made it. Ignorant parents focus so much on insignificant short term results ( e.g.winning obscure local competitions ) that they either gloat and boast about their children's minuscule success when they win, or, even worse, punish or dismiss them when they do not. Every child is constantly pressured to be "Number One", otherwise he or she will bring shame to the entire clan – their false hopes crushed and shattered. Yoheved Kaplinsky, current head of the piano department at Julliard School of Music remarked, that nowadays, her Chinese students think that if they do not make it to Carnegie Hall by age 18, they and their families would write them off as confirmed failures. She advocated that "time", that precious commodity, is vital to realizing artistic maturity. Most of the great pianists never had a career till they reached their forties, and even then, their playing did not "gel" till much later on in life. Unfortunately, Lang Lang has set such an unrealistic and unattainable benchmark for young pianists – a tragic phenomenon.
Lang Lang's reputation in the classical music establishment is by no means worth celebrating. Here are some select quotes from learned critics : referred to as "Bang Bang"; "he has nothing much to say………….lacked the mysteries of depth and soul"; "sounded calculated, mannered and violently affected"; "tends to impose his ebullience on the music, whether or not the music demands it"; "content to remain more a phenomenon than an artist, an ego with breakneck digits". Despite criticism, mockery and sarcasm, his career thrives. His trademark is his mass appeal, his income is astounding, and his parents' return on investment, purely from the perspective of fame and fortune, has exceeded their utmost expectations. On the other hand, countless outstanding pianists out there with comparable ( if not superior ) talent, sensitivity and ability are struggling to make a living, their "voices" unheard – a sad reality.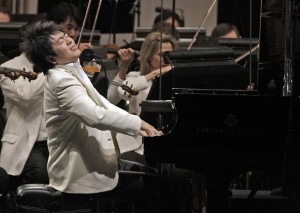 The Ugly :
Lang Lang's accomplishments are measured by his numerous celebrity appearances and product endorsements. Rolex, Nike, Montblanc, to name a few, have jumped on the bandwagon to use him as object of advertisement. This partnership between commercialism and classical music to me is a "banalizing" process, which is inevitable, given the attractive monetary remuneration involved. Personally, I think there is no better opportunity than now for Lang Lang to capitalize on his high profile "brand" to redefine his image, to refine the artistic quality of his music-making, and to set an example that music can be dignified and respectable but still comprehensible and appreciable to the public. What I dread, is the emergence of millions of "Baby Lang Langs" imitating his flamboyance way beyond the boundaries of good taste, his unnecessary gestures and excessive expressivity whether they understand the music or not, and his need to lavishly emote rather than tastefully evoke on stage. Of course, what is worse than having parents glorify his father's child-rearing methodology as the best way to success?
To validate my point, I am posting videos of two spike-haired, tuxedo-clad, head-bobbing 5-year-old pianists, who have achieved "stardom" via television appearances on the Ellen DeGeneres Show, playing piano in a spectacular but uncouth fashion, and became wildly famous when their footages went viral on the internet. To me, those sensational shows are insulting to music. Clearly, most people are convinced that these little stars will metamorphose into huge stars – a "disaster breeds disaster" syndrome. Perhaps Lang Lang and his powerful "Effect" can enlighten the clueless, and discourage these ugly displays of ostentatiousness and crassness.
Lang Lang with Christoph Eschenbach